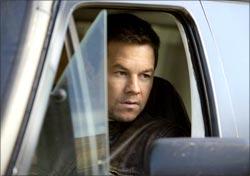 Mark Wahlberg's Contraband, which releases in the US today, looks promising.
Crime and mystery book lovers have known for quite some time that in addition to the huge popularity of the
Millennium
trilogy, there are half a dozen Scandinavian writers who are getting acclaim across the world. The
Millennium
trilogy got a boost recently after the release of
The Girl with the Dragon Tattoo
.
The crime drama
Contraband
, based on an Icelandic crime novel and directed by an Icelandic actor and occasional director Baltasar Kormakur, is getting a wide US release on January 13. It is co-produced by actor Mark Wahlberg, who plays a former smuggler, Chris Farraday, who risks his life to protect his family after a bad run-in with a drug lord.
Chris had long abandoned his life of crime, but after his brother-in-law, Andy, botches a drug deal for his ruthless boss Tim Briggs (Giovani Ribisi), Chris is forced back into his old trade, running contraband, to settle Andy's debt.
Chris is a legendary smuggler and quickly assembles a crew with the help of his best friend to head for Panama and return with millions in counterfeit bills.
Things don't go well and with only hours to reach the cash, Chris must use his rusty skills to navigate a criminal network of brutal drug lords, cops and hit men before his wife Kate (Kate Beckinsale) and their sons become targets.
Baltasar Kormakur (Jar City, 101 Reykjavík) has directed the film, which he says is adapted (he doesn't like the word 'remake') from the Icelandic movie Reykjavik-Rotterdam written by the novelist Arnaldur Indridason.
Kormakur took the idea for the international project to well known British filmmakers Tim Bevan and Eric Fellner of the Working Title company who then roped in their friend Wahlberg.
'It's not uncommon for a film to be reimagined for an entirely new audience,' Fellner muses in the press notes. 'But what was interesting about the development of Contraband is that the original film's star (Kormakur), who was also one of its producers, wanted to change things by directing the remake. Balt has long been known in Europe as a rising-star director. After seeing his other films, we had the utmost confidence in his ability to helm this project and tell a story that was a parallel to the one he had helped to create in 2008. With greater resources, we knew he could expand upon that world and create a thriller that audiences will thoroughly embrace.'
Kormakur has said the story is universal and he had no reservations in setting it in New Orleans and in the drug havens in Panama. 'It (the story) has nothing especially to do with Iceland or Rotterdam. Smuggling in America is more relevant than what we have in my home country.'
For Contraband, Kormakur employed the same casting technique he used during the years he made movies in his home country while acting in films made by others. Rather than choosing an actor by his or her looks, he decided to cast them according to the performer's personality.
'I like to find the core of people,' he says. 'The outer appearance is less important. What is the person? You try to figure that out and make that right for the character.'
Wahlberg has produced or co-produced a number of TV hits including the Entourage series. Kormakur notes, 'Mark has a mixture of boyish charm and toughness, and you believe him as a blue-collar guy. Chris has actually walked out of the criminal world, but then he's forced back in. That's the great thing about heist-thrillers. It's great to see people step outside the norm and do something that the rest of us wouldn't do.'
And Wahlberg, who has excelled in many character-driven films such as The Fighter and The Departed, adds: 'Chris is definitely a thinker, but he is not afraid to raise his voice or get his hands dirty.' For Wahlberg, when his character finds himself back in the game, and possibly over his head, that's when the fun begins, he says in the press notes.
'Chris is continuing to try to figure out a way to survive, to still solve the problem and then get his ass home to his wife and kids,' he says.