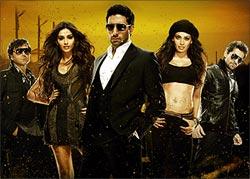 Sukanya Verma writes the music of Players is a mixed bag.
It's the kind of movie where everything and everyone looks fancy and posh. Leggy babes, stylish stubble, leather jackets, gold-rimmed aviators, swanky sports cars, slo-mo swagger, mid-air explosions, you're familiar with the paraphernalia?  
Only Abbas-Mustan's
Players
, for all its projected superficiality, is the official remake of the rather nifty Hollywood heist flick,
The Italian Job
starring Mark Wahlberg, Edward Norton, Jason Statham and Charlize Theron, which itself took inspiration from British original headlined by Michael Caine.
Bottom-line, one need not get dismissive about
Players
and its motley bunch featuring Abhishek Bachchan, Bipasha Basu, Sonam Kapoor, Neil Nitin Mukesh, Omi Vaidya and Sikander Kher. Yet.
The soundtrack by Pritam, to Ashish Pandit's lyrics, follows the same brief given to slick multi-starrers like Dhoom 2 and Race -- sound, style and spunk. Expectedly, the songs go in for the snazzy factor beginning with the theme song, Jis jagah pe khatam, highlighting the coolness behind the titular unit's motto. Neeraj Shridhar, Siddharth Basrur and Mauli Dave's booming voices and a foreboding arrangement strive to convey the sensational spirit of its characters but don't quite make it for the want of hard-hitting zing. Its pep-personified remix by Kiran Kamath is decidedly more successful in its aspirations.
Indian Idol 2 contestant Ritu Pathak flaunts her mettle with the topsy-turvy, Spanish-themed refrains of Jhoom jhoomta ja, often reminiscent of Guzaarish's Udi. As the tune gets ambitious and raises its pitch, Jhoom, however, begins to dodder and slip into off-tune territory.
This very Jhoom transforms into a complete livewire with Siddharth Basrur's thrilling rendition making it an instant winner. Yet another Film Version, this time in Arijit Singh's poised vocals, in all its 1980s retro, foot-tapping glory, oozes zest, resonating the dazzling traits of the former.
The sizzling team of Yashita Yashpal and BOB make the state-of-intoxication a breezy deal with the intensively electronic, Ho gayi tun. As opposed to the run-of-the-mill high-on-booze tracks high on hiccups and drawls, this one goes for a contemporary overhauling, a fun concept rendered with abundant sass and mischief to not work.
It's the battle of resistance and persistence in Buddhi do bhagwan, a distant cousin of Ishq hai tera sona from K3G in terms of tune, wherein a seductive Shruti Pathak tries to get a squeamish URL's attention. If voluble ditties are your thing, dig in. If not, skip.
Mohit Chauhan, riding on the acclaim for Rockstar, exudes his trademark silkiness whilst serenading an equally mellifluous Shreya Ghosal in Dil ye bekarar kyun hai. Gooey duets are a Pritam specialty and the easy-going romance of Dil ye doesn't disappoint. Considering mellowness is the USP of the above track, an unexceptional remix by Hyacinth D'Souza strikes as most unnecessary if not inappropriate.
After four very popular albums this year, Ready, Bodyguard, Dum Maaro Dum and Mausam, Pritam dishes out yet another album that is a mix of sure-shot winners and drab space fillers.
Rediff Rating: