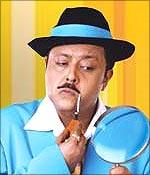 SAB TV's new detective show called Jaankhilavan Jasoos will go on air tonight.
Rumour had it that the character was inspired from Pink Panther and Karamchand but the channel has denied that.
The makers of the show explain, "JJ's (Jaankhilavan Jasoos) character is very dumb, but he tries to show that he is very smart whereas in Karamchand, the detective was intelligent but pretended to be dumb."

Nitesh Pandey plays the title character in Jaankhilavan Jasoos. A theatre artist, he has done television shows like Saaya, Astitva and Hum Ladkiyan. He also had a small but brilliant role in Dibakar Banerjee's Khosla Ka Ghosla.

"I have done some serious shows which had a hint of comedy," Pandey says. "I had taken a break from TV for the last one and a half years. But I had decided that when I come back, I would do a full fledged comedy show."
Talking about his character, he says, "JJ's clumsy efforts at solving cases and distorting evidences by mistake are the USP of the show. His childhood desire is to be a detective. But he has neither talent nor intelligence."
According to Nitesh, comedy is the most difficult genre. "A very important thing that I learnt from theatre is that humour is always based on the truth. This is what tickles the audience. One has to walk a tight rope between not overdoing it and keeping it subtle. The concept of the show is designed in keeping the taste of the desi audience in mind. To make a subtle show like Pink Panther for the Indian masses is not possible."
Jaankhilavan Jasoos will premiere on November 19 at 9pm on Sab TV.