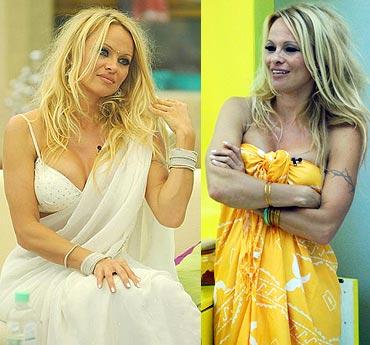 After showing off her curves on Bigg Boss in a white sequined sari, Pamela Anderson changed into a more confortable orange sarong benefitting her casual dressing style.

Gone was the sensuous blouse, bangles and bindi, and was replaced by an outfit more suitable for the babe, whose Baywatch run made the 43-year-old the darling of prime time telly in the 1990s.

Twitter was already buzzing with the star's appearance on the show. 'The length of Pamela's saree in Bigg Boss is equal to combined length of all the clothes she has worn till date,' someone tweeted.

We think she looks great both in a sari and a sarong. What do you think?
What does Pamela look sexy in: Sari or sarong? Write in!