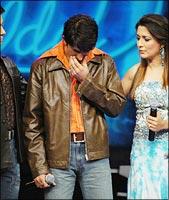 Today is a sad day for Anuj Sharma, who has been voted out of Indian Idol 2. It leaves viewers with just two candidates to choose from -- Karunya N C from Hyderabad and Sandeep Acharya from Bikaner.

We spent a few hours on the sets of the show this morning. And it was a touching experience. Karunya's name was called out as the bottom two of the three. Everybody felt bad, the audience screaming in protest. He was asked to sing a song just in case he didn't make it to the final three. Knowing it could be his last performance, he picked Nusrat Fateh Ali Khan's Piya re Piya re. Like most of his previous performances, it was superb.

Amey Date: Karunya should be Indian Idol 2

The suspense then started to build. Anuj being dropped wasn't exactly a surprise, considering he was in the bottom two a week ago as well. Farah Khan had even said, at the time, that his reaching the top three was surprising.

When

it was announced that Anuj was in the bottom two, he was upset, but didn't show it much. He too was also asked to sing a song, and he picked Chala Jaata Hoon Kisi Ki Dhun Mein from Mere Jeevan Saathi. It wasn't as good as Karunya's performance.

Later, after arguments between judges and the host on different issues, Anuj's exit was announced. He struggled to hold back his tears, but failed. He said he wanted to sing one last song for the audience and his friends, but he couldn't manage for a while, choked as he was by emotion. When he finally sang Hum Hain Iss Pal Yahan from Kisna, his fellow finalists joined him, holding each other tight.

'People expected me to be the next Indian Idol'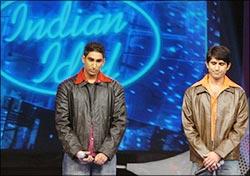 After the show, Sonu Nigam voiced his opinion. "I was worried about Karunya and thought he would be dropped. When I go on outdoor assignments, people tell me they agree with our decisions, but that is not shown in the voting results, which is shocking. We always thought Karunya, Amey and Sandeep would be in the final three, but Amey was dropped. So, you never know."
On Anuj being voted out, Farah Khan said, "I think he is a sweet boy and he has been lucky. Even though he was out in the piano round, we brought him back. He shouldn't react bitterly. In fact, he should learn from this and improve."
"None of the girls made it to the final three. I was expecting at least one. Being men, we would want girls to sing in front of us," added Nigam, laughing. "But, jokes apart, I think it's a chauvinist society. Even girls don't vote for girls." Speaking on the same issue, Anu Malik said, "I felt very bad that all the women were voted out. I think women are the best thing to happen to the world. They are better in so many ways, and are focused. Why shouldn't they be Indian Idols?"
Farah and Anu also felt that people have already decided who the next Indian Idol will be. They maintained that this made them feel relieved.