Home > Movies > Your Say

'Karunya should be the one'

March 21, 2006 16:02 IST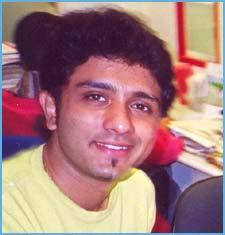 Amey Date may be out of the Indian Idol race. But the 26-year old singer has become an icon, with fans across the country.
Amey discusses his Idol dreams
He managed to make a few more fans when he came to the Rediff office for a chat, after singing us Tu Hi Re and Satrangi Re. In case you missed chatting with Amey, here's what went on:
Amey Date says, Hi to all my fans. This is Amey Date from Indian Idol 2. It's my pleasure to be connected to you. Thanks a lot for sending me so many messages.

---
ashwani asked, My only words, stay cool, realx and enjoy this journey for sometime. Rest assured you have good fortune waiting for you. All the best.
Amey Date answers, Hi Ashwani. Thanks for the suggestions. I am relaxed and cool. My journey is on.
---
farahisme asked, amey why do you think the show refuses to announce how many votes each person got? do you think theyre hiding something??
Amey Date answers, It's the format of the show. This format is being practiced in 50 countries. Its a part of the game. One has to go through the rules and regulations.
---
Seeta asked, Will you sing for Marathi films
Amey Date answers, Yes offcourse I will definitely sing for all the offers I get. I can sing in Punjabi, Marathi, Orioa,Marwadi, Benagali, Gujarati. I would love to sing in English also.
---
Babu asked, Hi AMEY!!. Did u bag any singing offers after leaving the Indian Idol.
Amey Date answers, I am getting offers to sing for some shows, events and jingles for advertisig. Besides Anu Malik had also mentioned on stage that he would make me sing for him. Till now no one has offered me to sing for movies, but i will definitely try for that.
---
ak asked, what was feeling to be disqualified
Amey Date answers, When it was declared that I am out, for two minutes I was little shocked and blank. After that I was back to my normal thoughts. Judges and audience were asking for rematch. I was pretty cool at that time and I decided not to sing for the rematch.
---
ahmadponting asked, Dear amay hi………..its Ahmad ponting with you from Middle East. IM NRI working with Gulf Company as an accounts executive, Firstly congratulation to you for has a great versatile voice. IM sure you can sing classical as well as melodies song in different way and in different style. See IM lyrics writer and I have good collection of songs. IM not professional writer and I write only as a hobby. But I want to give you all of my good song for your album because you win my heart and IM sure that you will reach at the top one day. This is my wish for you. If you are interested and want to make album please contact me on my mail ID ahmadponting@yahoo.com. Waiting for your positive response. With lots of love…
Amey Date answers, I am under a contract for Sony BMG for two years. Till then I can sing only for them.
---
prachihp asked, hey amey tell me about your family background ?
Amey Date answers, I am a typical Maharashtrian middle class guy. My father was working in Technies industries, a pvt co. I am very close to my mother, who is a housewife. My sister is married and I am the only son.
---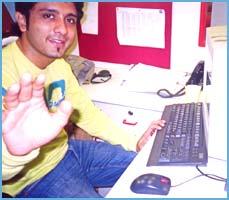 shka asked, Hi amey, who is ur favourite singer in bollywood today.
Amey Date answers, Among the old ones, its Lata Manageshkar, Mohd. Rafi, Kishore kumar and Asha Bhosle. Suresh Vadkar, Sonu nigam and Udit Narayan are among my current favourite singers.
---
himani asked, will u be doing private albums? i really like your song "yeh ishq kya hai" that u had sung in saregamapa days.
Amey Date answers, There are few offers for private albums. With Sony Bmg, I will come out with a private album soon within the next 3-4 months.
---
piyu1512@rediffmail.com asked, Amey, have u left ur studies or completed studying?
Amey Date answers, I completed my graduation in Commerce from Ruparel College, Mumbai. After that I have dedicated myself completely to music.
---
daisy asked, Hi Amey!! You have a mesmerizing voice, and your talented is appreciated by many accross the globe, best of luck for your future projects, hope to see lots of u very soon! ps. would luv 2 see u perform in Canada! smile :)
Amey Date answers, If I get an offer to sing there, I will surely come.
---
mad fan asked, hey amey..i have ur whole interview from radio city in my pc....although i cant understand MARATHI but i still love that song u sang...TARUNAAHE RAATRE ZONI........plz tell me wat it means?!!
Amey Date answers, The songs says that the night is still young. TARUN AAHE RAATRa AJuni......was orginally sung by Asha bhosle and the music was by Hridaynath mangeshkar.
---
anjali asked, dear amey!! me anjali US hun, kasa ahes tu ? i hope tu khoop busy asasheel pan vel kadhun amchyashi gappa marayla yenar ahes, khoop bara vatla. Ata amhi idol baghaycha sodun dila ahe, tuch nahis tithe tar kai upyog..karan Amcha indian idol tuch ahes!!!! amchya saglyankadun tula all the very very very best!!!! ani ho in advance- vadh-divsachya hardik shubhechcha!!!!!!! ani kakunna mhanje tujhya aai la "hi" sang. we all love u...and miss u. LOVE AND GOD BLESS.
Amey Date answers, Thanks a lot Anjali. But do not leave watching Indian Idol, its okay if I am not there, I am always there in the hearts of my fans.
---
kaviaru asked, I don't know why but i feel that the organisers of the show want a female Indian Idol this time and u were the only contender who could beat her so they have planed ur vote out...... Just a thought.... No hard feelings for the organisers. What i feel is that they are doing a good business and they have all the reasons to do so coz they are not here for charity but for business. Anyways just keep yourself boosted and enjoy ur life as it comes. wish you a wonderful future ahead and lots of fun and success in life....... Lots of Love
Amey Date answers, When I was voted out, there was no female contestant left. So there is no question of organisers manipulating the results to get a female Indian Idol. Thanks for thinking about me.
---
Judge asked, AMEY, DONT U THINK THE JUDGES WERE A BIT TOO RUDE TOWARDS ANUJ WHEN THEY WERE ALL FOR U... NO DOUBT U WERE A BETTER SINGER THAN ANUJ ON ANY DAY BUT IS THIS THE WAY TO DEAL WITH ANOTHER PARTICIPANT? WHAT'S UR COMMENT?
Amey Date answers, What should I answer to this. It was a spontaneous reaction from the judges and it showed that they love me so much. But offcourse I feel very sad for Anuj. It was not his fault that he was in and I was out.
---
zari asked, amey tell me ur fav colour,food,music,song?
Amey Date answers, Peacock blue and white are my favourite colours. I like mughlai food like kababs and biryani. Music - soft romantic Song - i like old songs. Lag ja gale by lata mangeshkar is an all time favourite
---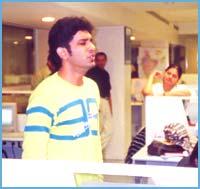 nats_m asked, hey amey,pramila wud lke do knw if u listen to English music? If yes, which is your favourite group/song?
Amey Date answers, I listen very less to English music. But I love Aero Smith's compilations because of the way he renders the song.
---
tkk_in asked, do u think KARUNYA will win "INDIAN IDOL- agla kaun" ?
Amey Date answers, Yes offcourse I think he should be the one.
---
farah asked, amey which music director would be your first choice to work with????
Amey Date answers, A R Rahman.


What do you think about the story?








Read what others have to say:





Number of User Comments: 71








Sub: You are the Indian Idol for Indians.

Hi Amey, I like the voice and the way you sing. More than this you have the best attitude. I saw video clippings of you ...


Posted by Vishnu









Sub: Hai Amey

Hi Amey, I am Shilpa from Visakhapatnam. U know one amazing moment, u r b'day and my b'day are on a same date i.e., on ...


Posted by Shilpa









Sub: hello amey

hello amey i want to be your friend and if you do pls. reply me in this id deepakbhima@rediffmail.com deepak


Posted by deepak









Sub: hi amey

hi amey! i am very big fan of urs.iwhen i heard ur voice for the Ist time i went crazy.many people have dreams of meeting ...


Posted by rhea sawant









Sub: hi

U R d best God Bless You. Take care


Posted by neelmani






Disclaimer