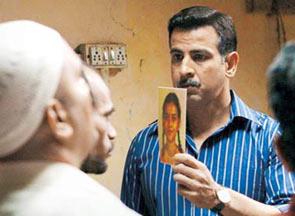 While work on his most ambitious project Bombay Velvet is on, Anurag Kashyap's taut and gritty thriller Ugly screened at the ongoing New York Indian Film Festival.
Anurag Kashyap's newest film Ugly is a dark film, darker than his incest-themed 2010 thriller That Girl In Yellow Boots.
The film was screened at the New York Indian Film Festival recently.
At the question and answer session that followed the screening of this gritty and complex thriller with a moral edge, Kashyap said that the characters in the film are highly complex and morally compromised, and each of us has a dark corner.
One of the main characters in Ugly is the husband and father who is trying to land a lead role in Bollywood. "And he has been trying for 20 years," said Kashyap wryly.

"Yet he won't go for audition for smaller roles or play a junior artist."
The film's release in India, where it could become an art-house cult film, is held up pending a court petition seeking its release without flashing the mandatory anti-smoking sign on the screen.
"No one takes films seriously in India. Not the government, not the judiciary," Kashyap said in response to a question by the moderator, Aseem Chhabra, who is also the director of the influential film festival.
He said Mahesh Bhatt has been fighting the government order on the anti-smoking sign for a very long time.
Ugly will be released in a few cities in Europe in the next few weeks, he said.
Years ago, Kashyap had thought of making a film about the relationship between a father and daughter. He said that Ugly is very different from that project.
He has a daughter, Aaliya, from his marriage to film editor Aarti Bajaj.

He was asked if making Ugly -- in which the wannabe actor's 10-year-daughter is kidnapped -- was difficult because of the marital discord and divorce he had undergone.
He replied that the movie was a kind of closure for him and his ex-wife who has edited it.
He also said that in Maharashtra alone some 3,000 children are kidnapped each year, and like in other parts of the world, often a member of the family or a close friend is involved.
In some cases, he said, people rush to exploit the situation when there is money to be made from the tragic crime. People who have nothing to do with the kidnapping jump into the act of misinformation and extortion to make quick money, he added.
Ugly is inspired by many real life cases, including a lawsuit filed by a wife against her civil servant (Indian Administration Service) husband, accusing him of not consummating their marriage and failing to give her emotional support.

Snippets from many well reported cases echo in the film, Kashyap added.
Among the more disturbing scenes in a film that is full of betrayals and false postures, is one where the daughter confronts her very distracted father and asks him why he comes to fetch her from her mother if he has no time for her.
Kashyap said he was familiar with this complaint. He had heard hurt in his daughter's voice when she made similar remarks when he was caught up with his movie projects.
Ugly, which must have cost a fraction of Kashyap's more ambitious Bombay Velvet, featuring Ranbir Kapoor and Anushka Sharma, is a complex thriller which stoutly refuses to have a cathartic ending.
It's the kind of film where you can lose the thread if you look away from the screen for even a second.
It is also a story of muddled bureaucracy, corruption, double games and is full of verbal and physical violence.
But it is not without humour. Early on in the film a police officer asks a man why he is using another name.
Told that he is an aspiring actor, and that many actors including Rajeev Bhatia (Akshay Kumar) have screen names, the officer snaps, "What is Amitabh Bachchan's real name?" And he answers his own question saying such a big star never changed his name.
Kashyap is one of the co-producers of the much vaunted The Lunchbox, which reached the $3 million mark across North America this week, and is on track to reach $4.5 million, a commendable run for a subtitled film.
Kashyap, 42, has produced and co-produced over 30 films including the recent hit Queen and semi-hit Hasee To Phasee.
He said the release of Bombay Velvet has been locked and it will be out worldwide in late November this year.