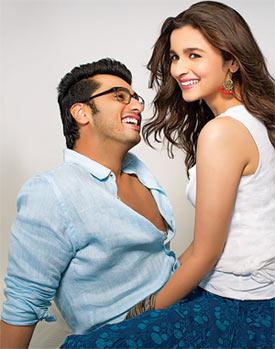 '2 States, for all its modern touches, is a very regressive film, deeply rooted in old fashioned values that surely make no sense in the India of 2014,' says Aseem Chhabra.

An elderly gentleman I know in India was upset when he read in a newspaper that a large percentage of young Indians engage in premarital sex.

I tried to explain to him that times have changed and the report merely seemed to project a reality of the new India, but he would just not accept it.
He said he was better off not knowing and in any case, this certainly could not be true.

I hope this gentleman does not go to watch 2 States -- Abhishek Varman's film based on Chetan Bhagat's novel 2 States: The Story of My Life.

Krish and Ananya, played with considerable charm by Arjun Kapoor and Alia Bhatt, kiss and make out a lot in the first half hour of the film.

And they have sex -- at least to the extent a mainstream Bollywood film can allow them to do so.

None of that surprised me.

Bollywood has slowly started reflecting what are surely the lives of many young Indians, not just in big cities, but also in medium level towns and definitely in the Diaspora (remember Salaam Namaste?).

Even Shah Rukh Khan bent his longstanding 'no onscreen kissing' rule, puckered up in Jab Tak Hain Jaan, while earlier, his character had an extra-marital affair in Kabhi Alvida Naa Kehna.

What I found interesting in 2 States was that Krish and Ananya have sex in her dorm room, although that large space certainly did not reflect the real student housing situation in India.

I wonder what the authorities at IIM- Ahmedabad thought about those scenes. I even wondered just how far Bollywood has moved on. Just when I had vocalised the words -- MBA students and sex on campus -- suddenly Krish and Ananya's respective parents appear on the scene.

And all my thoughts about Bollywood moving with the times went south.
2States, for all its modern touches, is a very regressive film, deeply rooted in old fashioned values that surely make no sense in the India of 2014.

The film is packed with stereotypes that may be presented as comedy, but they do not help a nation that looks up to popular cinema for ideas, trends and thoughts.

The main Punjabi character -- played by Amrita Singh -- is so offensive, crude and clueless that I wondered if the filmmakers -- including Bhagat himself -- really understand Punjabis.
The Tamil family -- with Revathy as the mother -- is represented a tad better -- but here too, 2 States just reinforces stereotypes.

And then there is the obsession of the film's protagonists to want a big fat wedding with their parents's blessings.
Krish does suggest a few times that he and Ananya should elope, but she will entertain no such ideas, even when both sets of parents have crossed all limits of decency and are out to totally insult each other, saying hurtful, often racist things.

So what do modern education, high-paying corporate jobs and a shot at sexual experimentation really mean to Varman and Bhagat's lead characters?

Zilch!

They must still be the good boy and girl with the same values of the NRI-bad-boy-with-a-phir-bhi-dil-hai-Hindustani- heart.

They will not get married if their parents are not okay with the match, even when the parents behave like complete morons, almost horrible human beings.

Bollywood and its messed up thinking does not allow Krish and Ananya to really live their lives for themselves. They remain confused, schizophrenic characters until the end.
2 States might make its producers a lot of money, but it is a wrong, almost dangerous, kind of cinema that plays the subtle card of keeping the audience in a passive state.

The film says it is okay to be youthful and having some fun is fine as well, but you are essentially cursed to live out the lives your parents choose for you, unless you can move mountains and thereby change your destiny.

Come to think of it, if the elderly gentleman in India can just overlook the premarital sex scenes towards the beginning of 2 States, he might like the rest of this film, seeped as it is in old regressive values.