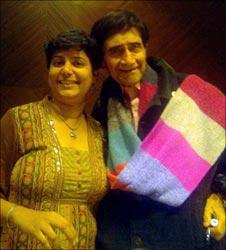 Patcy N was happiest interviewing Dev Anand. She goes back in time to the times she met the legend.

Dev Anand was my first love.

As a child, I wanted to marry him.

I liked everything about him -- his smile, his walk, his style, his mannerisms, the way he shook his head at the end of every dialogue and in his songs. I felt as though he was saying yes to me.

I was upset every time I saw him romancing his heroines.

When Hema Malini shut the doors and windows in the song Pal Ke Liye Koi Pyaar Kar Le in Johny Mera Naam,, I was angry with her and said to myself, 'Devsaab, I will marry you and love you forever, forget Hema.'

When Madhubala sang Achcha Jee Main Hari Chalo, Maan Jao Na (Kala Paani), I would imagine myself cajoling Devsaab to fall in love with me. The 52-year age gap was as nothing to me, so besotted was I.

As inevitably happens, one outgrows one's first love, and I grew up and forgot about my feelings for him.

Years later, after I joined Rediff.com in 2007, I was told to cover the launch of his autobiography, Romancing With Life.

Some of the old feelings came back. I would finally get to meet the man I had idolised, the legend, and maybe even get a chance to talk to him!

I was quite excited by the time I reached the venue of the book launch. But when I entered, there was this huge crush of people -- he was completely swamped and there was no way I could struggle through that mob to meet him and no chance of the private word I had hoped to exchange.

Though I got to see my idol in the flesh, it was from far, far away.

After that, I kept on trying to get an interview with him, but in vain.

Then on August 3, 2010 -- how well I remember the date -- I got another chance. It was at the launch of the film Chargesheet.
When Devsaab entered the hall, there were as many journalists as there are for a big star like say, Shah Rukh Khan. He waved to all as he entered and then spoke non-stop for the next 20 minutes. There was this glow on his face and he was full of energy.

Conference over, we all flocked around him to get a few precious bytes. The next 50 minutes, standing or sitting very, very close to him were the best time of my life. He gave 10-minute sound bytes to each group and I just stood there and recorded it all. It was such fun hearing him speak. He spoke about his life and life in general and every word was full of wisdom.

Standing there, I was smitten by his charm all over again. I actually ran my fingers through his hair and since he wore a wig, he didn't know it. Twice, I laid my hand on his head and in the crowd, he didn't notice. But I had my fill. I had got to touch the man I loved the most and I was on cloud nine.

Every time I got to see Devsaab I would tell my mother in Konkani, 'Mai, Dev Anand shambhar touch kartalo (Mom, Dev Anand will touch hundred).' My mom would say 'Tujhe tondan sakar' which is equivalent to saying 'So be it' or 'Amen.'

My expectations had now increased, and I wanted to do a one-on-one interview with the legend. With the help of a friend and Dev Anand's PR, Hema Upadhyay, I got that opportunity too. I met him in February 2011 -- another red-letter day for me.

I was to meet him at his office in Khar. He was talking to RJ Jeeturaj, but he asked me to come in and sit down.

Dev Anand spoke to me for 50 minutes, about everything, about his struggle in Mumbai, his first break, his friend Guru Dutt, his brother Vijay Anand, his contemporaries, the women in his life and, of course, his next film Hum Dono Rangeen.

I drank in every word.

Then, he told me: "I am sure you are excited to meet me for the first time, but I am doubly excited to see you for the first time because I learn from you. You are the inspiration for my stories, I get my characters from you."

After the interview, he asked me whether I would like to have a photograph taken with him. I was overwhelmed; I stood besides him, and he put his arm around my waist. I'd got the best interview of my life, I got to spend so much time with the legend. I came home very happy.

We published the interview in two parts -- one was about his life and films, and the other on his leading ladies.

Devsaab saw the second part, and immediately called his PR, Hema. 'Dekho yeh ladki ne kamal kar diya, har koi mera interview karta hai aur wohi chaap deta hai, lekin isne kuch alag kar diya,' he said.

Hema called me and told me that Devsaab had praised the interview and these were his exacts words.

My life was made. The man I adored liked my work! What more can I ask for in life?

My last meeting with Dev Anand was on his 88th birthday in September. He looked frail, but not sick, age was catching up, but still I thought nothing can ever happen to him. I asked Hema if he was ill and she said he had flu three weeks ago, he was in bed for three days "and that's it, touch wood, he does not have any major sickness."

And, then, on the morning of December 4, I got a message saying Dev Anand had passed away. I was half-asleep but I immediately jumped out of bed and ran into the living room to tell my mom. We both started surfing television channels to get as much news as possible.

I feel lucky I got to meet the legend four times in my life; I got to touch him and click a photograph with him.

I will never mourn Dev Anand's death because he taught me not to mourn.

During our last meeting he told me: "Death is part of life; everybody has to go, to pass away some day. That doesn't mean when you are working you think of people passing away -- that is negative. Think of life because you are writing about life. My father and brothers passed away. Vijay Anand, Chetan Anand both passed away. It is very sad. I feel sorrow, but sorrow cannot hold me all the time; I have to get out of it."

For me, Devsaab, you will always be alive. I wish I had children so I could to tell them 'This was the man your mother first fell in love with.'

More Tributes:
When Dev Anand visited the Rediff office
Dev Anand taught me what it meant to be hip, cool and Indian
What made Dev Anand different from Raj Kapoor, Dilip Kumar?
'You will always remain our Hero, Devsaab'
Dev Anand, The Star who became the Sun