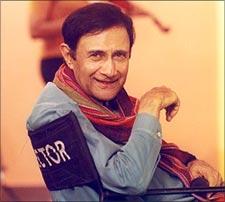 Sudarshana Dwivedi looks back to the time she interviewed Dev Anand.
It came so suddenly. Usually such news is preceded by some report of illness, may be hospitalisation, some anxious moments that prepare you for the eventuality.
But no such warning signs here.
You just wake up and find an era gone; a legend quietly slips away and claims its rightful place in infinite eternity. For me, it is a nameless loss of something that started long ago.

It was the time when the golden trio of Indian cinema was wooing the audience with their different strengths without indulging in the numbers war or race for the emperor's chair. Dilip Kumar, Raj Kapoor and Dev Anand had their separate strengths and loyal following.
Television had yet to intrude into our lives, books and periodicals always took priority over frivolous entertainment (read films) and parents decided which films to watch and when.
So while our home overflowed with books and periodicals to the tune of giving a good sized library a complex, film viewings were few and far between. My parents, though ardent movie buffs in their time, chose only meaningful films for me and my siblings.
So while a Raj Kapoor or Dilip Kumar movie could be considered as the right viewing for us, a Dev Anand film continued to tantalise us only from the pages of magazines.

It did not deter me, however, either from devouring every scrap of information regarding him or from having a massive crush. In fact, anyone trying to speak a single word against him would have the whole female pack led by me at his throat. (This kind of loyalty was later reserved only for Dharmendra in my family.)
What started as childhood adoration developed into teenage adulation and continued with passing years. My fetish for black socks resulted from seeing him wearing the same in Jewel Thief.

Once I was living on my own, I would watch all his films first-day-first-show, sometimes even twice or thrice. The anguish of Din Dhal Jaaye and Kya Se Kya Ho Gaya (Guide), the haunting poetry of Neeraj in Prem Pujari, the mischief of Nafrat Karnewalon Ke Seene Mein (Johny Mera Naam) left an indelible impression.
His repertoire of black and white era movies, be it Kala Bazaar's Khoya Khoya Chand, Kala Paani's Acha Ji Main Haari or Tere Ghar Ke Samne's Dil Ka Bhanwar Kare is sheer enchantment time and again.

When I came to Mumbai in 1972, after marriage, my husband, aware of my fascination for Dev Anand, asked if I would like to meet him. But I declined. The web of fantasy I had created around the actor was too fragile. I did not want to be disillusioned.

Years went by. I met various personalities from diverse fields of life in the course of my work as a journalist -- Smita Patil, Sanjeev Kumar, Sunil Dutt, Shah Rukh Khan, Hrishikesh Mukherjee, Gulzar, Justice H Srikrishna, Bal Thackeray and R K Laxman just to name a few.
Only one man I assiduously avoided meeting, whose every film I continued to watch even when I had certain questions and reservations about the products.

It was 1995, when I thought, 'What the heck! He is not getting any younger.' Do I really want to regret later not meeting him when I could just for the fear of shattering my illusion of him?'

I thought I would call him up and see how he responds. And would you believe it was the man himself who not only picked up the phone, but there and then fixed up the time and venue of the interview. It would be the understatement of the year to say I was amazed. I was thrilled to the core.

The day dawned. At the appointed hour, I was present at Navketan, the top floor of which used to be the star's sanctum sanctorum. As the lift took us there, I was calm and confident to all outward appearances, but inside I was wondering if he would live up to the image I have of him.

All my apprehensions just melted away when he himself greeted us at the door. Dressed in a yellow shirt and brown corduroy pants he was so full of life and energy you could feel it vibrating all around him.
The room had a few wall length photographs of him on one wall but as far as I can recall now, the all other walls were lined with bookcases, displaying not only a vast number but a well thumbed variety as well.
He spoke animatedly about his early life, struggles, influences, loves gained and lost, future plans and hopes. But throughout -- even through personal or difficult questions -- he neither evaded the issue or raised his voice. He was as happy answering queries as I was putting them to him.
The meeting lasted almost three hours without any interruptions and as I shook his hands it felt as if I have known him all my life. That was his charisma.

As he came to see me off to the lift, opening and closing the grills himself, he displayed the effortless chivalry and genteelness that was a part of his personae. It was not only his image of an eternal lover boy that earned him a special place in women's heart forever, but his whole attitude towards love and beauty that made him endearing.
That was why when an aging Raj Kapoor took his place behind the camera or a Dilip Kumar tried discovering his other side in Saudagar, the never say die Dev Anand continued his romance with screen, colourful shirts and scarves till his last film.
His show was his own till the end -- be it concept, music, lyrics or treatment. He truly romanced with life in all its colours and shades defying age and illness without ever compromising on what he stood for -- Love.

He was that great lover who evoked that emotion in the viewers too. The shock of hair, the twinkle of the eye, the mischievous toothy grin and the typical dialogue delivery that were his trademark might have diminished with the imprint of time, but the bubbling joy and energy, which only love can provide never deserted him.
Remembering him, I recall John Lennon's celebration of love: 'All you need is love and love is all you need to know.'

He knew it, I am sure.

Please post Your Tributes to Devsaab here
Other tributes:
'You will always remain our Hero, Devsaab'
Dev Anand, The Star who became the Sun