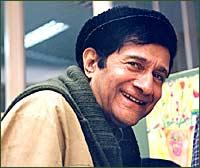 'Why should I give you an interview? What will you ask me that has not been asked before?' Devsaab asked A Ganesh Nadar.

I grew up watching Devsaab's movies -- Guide, Johny Mera Naam, Hare Rama Hare Krishna were personal favourites.

When I sought an interview with Devsaab, I called him on his cellular phone. "Why should I give you an interview? What will you ask me that has not been asked before?" Devsaab asked.

"Guide was a masterpiece. Was it difficult living up to its standards in your later movies?" I asked.
"Good question. Please call me next week," he replied, after a hearty laugh.
Unfortunately, the interview never happened because he was too busy.
The first time I met Devsaab was when he came to the Rediff.com office for a Rediff Chat. Suparn Verma (the movie director; Ek Haseena Ek Khiladi, Acid Factory) was then working at Rediff.com had invited the legend.

Almost nine years later, I met Devsaab at the release of his autobiography, Romancing With Life.
At the event I asked about his first love, Suraiya. "I have mentioned Suraiya," he said, not without some emotion. "The book would not be honest without mentioning her. Parting with her was painful. I met her for the last time on the terrace of her building in Marine Drive (in south Mumbai). That was the saddest day of my life."

I mentioned that the book was incomplete as it left out many years of his life. Also, many people were not even mentioned.
He laughed. "This is my first book, not the last," he said. "I will be writing another book and that will include all that is missing here."
Alas, that did not happen either.

I once dropped in at his office in Pali Hill, northwest Mumbai, and found only rubble where the building should have been.
I was shocked, so I called him to ask about it.
He took my call even though stars of his legendary stature do not take calls from unknown numbers.
"There is nothing to worry. We are re-constructing an office," he said, and gave me the address of his new office.

He did not ask why I needed to go to his office.
I went to his office and met his son Suneil. I told Suneil I wanted to write a piece on 60 years of Navketan Films, Devsaab's movie company. He was polite, but asked me to come another day.

Devsaab was busy with Chargesheet at the time, so that feature did not happen.
Devsaab was present when Rajnikanth screened Robot to the Mumbai film fraternity last year.
Devsaab looked as young as ever with his trademark jacket. It was pouring that day, but Devsaab walked in without an umbrella or raincoat. He did not hurry inside; he just enjoyed the rain.

When Rajesh Khanna swept aside every hero in the realm in the early 1970s, Devsaab was like the North Star, unmoved. He made Johny Mera Naam, Hare Rama Hare Krishna, Amir Garib, Heera Panna, Blackmail, Shareef Badmash in those years when Rajesh Khanna shone a superstar like none other.

Even when Amitabh Bachchan rose like a meteor, Devsaab stood his ground. After all, he had refused to do Zanjeer, which turned Amitabh's luck forever after all those early flops.
Devsaab did not want to act in a film where there was no duet with the heroine. After all, some of the greatest duets in Hindi cinema -- which all of India seem to sing on Sunday when we learnt of his unbearably sad passing into the ages -- were filmed on him.

Director Farah Khan had invited Bollywood's biggest stars to feature in the title song in her Om Shanti Om. She invited Devsaab too, but he turned her down. 'I am always the hero; I don't do guest appearances,' he told Farah.
You will always remain our Hero, Devsaab.
No one else evokes so many lovely songs, so many unique memories, so many romances, such enthusiasm like you do.
Please post your Dev Anand tributes here
Listen to Dev Anand's songs here

Other Encounters with Devsaab:
Meeting Dev Anand
The Star who became the Sun