India's growth is expected to inch closer to that of China in near future, a top World Bank economist said on Tuesday.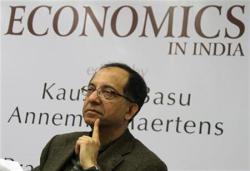 The World Bank had yesterday released its latest issue of Global Economic Prospects 2013, in which the economies of developing countries like India, China and Brazil are projected to be recovering and higher growth rate.

The World Bank expects that by 2015, the growth rate of China would be 7.9 per cent and that of India 7 per cent, World Bank chief economist Kaushik Basu told reporters during a conference call.

He added that the gap between the two Asian giants closes.

"We do expect India to inch closer to China and for a very, very good reason - not an analysis of what's happened
over the last one year or two years, but a bit of a sweep of history," he said.
While the world economy growth is projected to inch up from 2.3 per cent in 2012 to 2.4 per cent in 2013, with the high-income countries remaining at the same level of growth of 1.3 per cent in both 2012 and 2013, it is the emerging markets like India, China and Brazil that would show significant signs of recovery.
"Growth in Brazil had gone down quite sharply in 2012 of 0.9. We at the World Bank are expecting Brazil to make a recovery to 3.4 per cent in 2013. We are expecting recovery in the case of China from 7.9 per cent growth in 2012 to 8.4 per cent in 2013.
"We are expecting a recovery in India from 5.1 per cent growth in 2012 to 6.1 per cent growth in 2013," Basu said.
Image:
Kaushik Basu