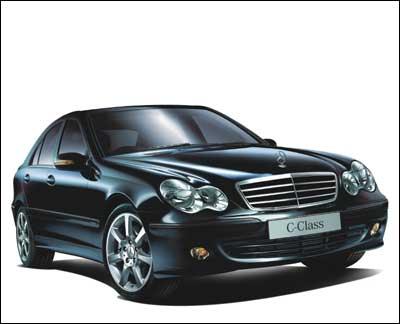 Oh Lord, won't you buy me / a Mercedes-Benz / My friends all have Porsches / I must make amends / So Lord, won't you buy me / a Merceeeeedes-Benz...' Not my words, but Rock queen Janis Joplin's. And in any case, I don't have any friends who have Porsches, let alone posh cars.
But you know what, this is the song I am usually humming while at work, at home, in the loo, even while driving. In fact, especially while driving a Merc. Even one that looks virtually identical to the one it's replaced.
Enter the 'new' C-Class. It is new, no doubt, having been launched in Europe this April, and we in India have got it at almost the same time as UK and Japan. But its newness is equivalent to the Classic Milds cigarette pack getting those bevelled edges, or a packet of Surf 'Now With Neurons!' or whatever they put in it to make your clothes turn whiter. Okay, it's not that simple in case of a sophisticated automobile, but still, it's reason enough for me (and my colleagues) to organise a 'new' C-Class for a shoot and a drive. It's a Merceeeeedes-Benz, you see.
The good news first. Usually, whenever DaimlerChrysler India launches the facelifted version of any of their Mercs, it's an opportunity for them to raise the prices as well. This time, surprise, surprise, the new C's price is at par with the model it replaces.
Except for that famous two per cent cess, both the C 220 CDI and C 200 K, retail at the same price as before. Which is Rs 25.23 lakh and Rs 22.98 lakh (ex-showroom Mumbai), respectively.
So what are the new bits in the C-Class? They are not immediately apparent to the untrained eye, so you'd better pay attention now and train your eyes. The front end is marginally tweaked with a redesigned bumper and grille, and the introduction of clear-lens headlamps and fog lamps.
The seven-spoke alloys are new and the tyres are now bigger: 205/55 R 16 rubber vis-à-vis 195/65 R 15s in the earlier model. Which means they fill the wheel arches nicely. The taillamps and the brake light are shinier, while the rear bumper too, has been slightly changed.
The biggest changes are inside. The central console is more like the one you'll see in the E-Class and is much more sophisticated with those push-push toggle controls. The instrument panel is quite sporty now, with a chronometer-like design and chrome rings around the gauges with a white backlit light.
And the warning lights come on only while there's something to warn you about. And DaimlerChrysler have come out with an innovative material for their seat upholstery, which, um, is economical for them. It's called Twin-leather, where some parts of the seat has faux leather, while other sections are padded with genuine leather.
The external mirrors can now be folded at the touch of a button and a new generation 'Audio 20 CD' makes it to the new C. A Thermatic automatic climate control is now standard, not to be confused with Thermotronic climate control. What's the difference? Er, I am not sure, it's a bit confusing actually.
That, more or less, is that. What's the big deal, you may ask. It's like this. Like Janis Joplin, I am so enamoured with Mercedes that even if it comes with a revised windshield wiper, I am willing to take the entire car for a test-drive. Come to think of it, the new C does get that smashing Bosch wiper that's on the E.
You know what I am talking about, right? This super wiper is a long piece of limp rubber that's been attached to a wiper arm with rectangular holes in it. So when your watchman finishes cleaning the car and leaves the wipers upright, it looks odd, because the rubber is droopy and um, flaccid. Don't laugh, because there's a brilliant bit of thinking that's gone into it.
Conventional wipers lift when the car's moving at speed, consequently, they don't clean as well. Here, the wind is actually used to force the wiper down on the windshield and do a better job of removing those offending raindrops, so there.
Back to where I was. Yes, even the wiper is reason enough to take the C for a spin. There have been no changes in the powerplants. The Supercharged C 200 K's 1796cc inline four petrol engine still produces 158 bhp at 5500 revs and 22.4 kgm of torque at 3500 rpm onwards.
While the C 220 CDI's 2148cc inline four common rail turbodiesel still offers the same 141 horses at 3800 revs and 34.3 kgm at 1800 revs.
Every time I sit in a C, I still get the heebie-jeebies. It's a combination of the singular pleasure the brand evokes in me and the fact that I am driving someone else's frightfully expensive car on our scary roads.
But those heebie-jeebies feel so good. I am cosseted in those Twin-leather seats, which are now electrically adjustable for height and backrest rake. I had the C 200 K with me, with the five-speed automatic transmission. The miracle that is supercharging. The same car in the C 180 guise refused to go anywhere and was content to watch piddly Maruti-800s overtake it. With the boost in power, the C 200 K is much better to drive.
Acceleration is not instantaneous, still, it's smooth and enjoyable. But the delightful automatic gearbox is better appreciated in the C 220 CDI, where it is well-matched to the oil-burner's performance. Go for the six-speed manual gearbox in the petrol C – if it's of any help, the gear lever has also been redesigned and the gears fall in place much more smoothly.
Since the C-Class is more of a driver's car, DaimlerChrysler has incorporated their Direct Control package in the new version. Which means that the C is that much more sporty to drive.
The steering feels much more responsive and the ride, which is always brilliant, has been firmed up a little bit. So a small recommendation. Even if your chauffeur is the one piloting your C, sit in the front seat. You don't have legroom at the rear anyway.
So is it a compelling buy? Well, if you want a small Merc, this is the car. An all-new C-Class will take couple of years, and the new A-Class is too small. So go ahead, while I still continue requisitioning the Lord with Joplin's powerful ditty.
Powered by