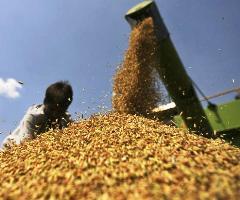 Food Minister K V Thomas said on Monday the recently enacted food law will protect 67 per cent of the population from price volatility.

India has taken several measures to curb food price rise and are showing 'promising results', he said, while addressing the FAO session on international food prices.

"The landmark National Food Security Act gives 'Right to Food' to 67 per cent of the population by ensuring them foodgrains at the most affordable prices, thereby protecting them against price volatility," Thomas said.

The provisions under the law will result in availability of sufficient food for an active and healthy life of poor people, he added.

Addressing a separate session on world food security, Thomas said that India's food law marks a paradigm shift in approach to food security -- from being a welfare measure to rights-based approach.

The act legally entitles up to 75 per cent of the rural population and 50 per cent of the urban population to receive 5 Kg of foodgrain per head per month at a highly subsidised rate under public distribution system, he said.

Having enacted this historic law, it is necessary to ensure its proper implementation and sustainability, he added.

Noting that several steps taken to check prices of essential food
items are yielding results in the domestic market, the Minister said there was a decline in prices of food in August this year in India as compared to the corresponding period of previous year.
"The decline was mainly observed in cereals, oils/fats and sugar through there is a hike in the prices of milk and meat.
"The rate of inflation for milk and sugar was stable at a lower level and it was declining for edible oils," he said.
Besides taking measures to contain food price rise in India, the country has taken steps to meet the foodgrains requirement of many nations and has always been in the forefront to contribute to the global food aid programmes directly to the needy countries as well as through World Food Programme.
The country had exported 15 million tonnes of rice and wheat since export curbs were removed in September 2011.
Thomas further said that India is supporting the initiatives launched by G-20 forum, especially the Agricultural Market Information System and the Rapid Response Forum, towards addressing volatility in global food prices.
India has already taken necessary measures in this direction by appointing the nodal points for AMIS and RRF to make these mechanisms fully operative, he said.
"Initiatives like the AMIS and the RRF are timely steps in the right direction and we would appeal to all nations to participate actively in this mechanism," he said.