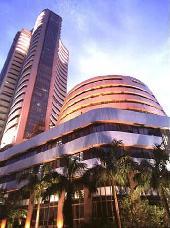 Markets ended lackluster trading session on a flat note this Friday as sentiments remained cautious ahead of the Union Budget on February 28 and mixed cues globally.

Congress-led United Progressive Alliance government will unveil the austere Budget next week which is expected to have the unintended impact of adding to inflationary pressure, dampening chances for rapid interest rate cuts that the government wants, reports showed.

Asian markets also recovered from Thursday's sell-off after weak business conditions in US supported hopes that the Federal Reserve may not discontinue its economic stimulus earlier than expected.

The Bombay Stock Exchange's 30-share index Sensex fell 8.35 points to end at 19,317.01 while the National Stock Exchange's 50-share Nifty shed 1.95 points and ended at 5,850.30.

Meanwhile, Asian markets such as Japan's Nikkei gained 0.7% to 11,386, Hong Kong's Hang Seng fell 0.5% to 22,782, Singapore's Straits Times was down 0.1% to 3,285, while China's Shanghai Composite declined 0.5% to 2,314.

European markets traded on a positive note after better-than-expected German business confidence data. France's CAC gained 0.8% to 3,654, Germany's DAX rose 0.4% to 7,615 while UK's FTSE was up 0.4% to 6,315 in early trades.

Back home, real-estate, IT, healthcare , oil & gas and banking sectors gained while FMCG, autos, metal led drop on BSE.

Among key Sensex stocks, Bharti Airtel gained 4.6%, Wipro and TCS rose 2.4% and 0.4% respectively, Bajaj Auto gained 0.7%, ICICI Bank rose 1.2%, Reliance Industries gained 0.7% on BSE.

Among losers, HUL and ITC declined 2.6% and 1.5% respectively, Sterlite and Hindalco Industries dropped nearly 1% each, SBI and HDFC Bank fell 0.6% while Maruti Suzuki ended down over 2% on BSE.

The other key notable movers include, TVS Motor which ended down nearly 2.6% at Rs 40.85 as proxy advisory firm Institutional Investors Advisory Services (IIAS) has opposed the proposed appointment of Sudarshan Venu, 24, to the board of directors of the Chennai-based company.

DLF touched a yearly high of Rs 281.80, before ending up 3% a Rs 281 after the management announced its intention to reduce its debt by half to Rs 11,000-12,000 crore over the next 2-3 years.

Housing Development Finance Corp, country's biggest mortgage lender, declined nearly 2% after global brokerage firm Goldman Sachs cut its rating to 'sell' from 'neutral' citing concerns India's economy would recover at a "modest" pace and the prospect of rising competition.

Bharti Airtel, country's biggest telecom services provider, surged nearly 5% on reports company planning to meet global investors starting on Monday for a potential benchmark-sized dollar bond sale.

Jet Airways, country's biggest aviation firm, dropped nearly 6% after the Abu Dhabi-based Etihad Airways put a host of new conditions including an option to buy up to 49 per cent stake in the firm.

The broader markets ended flat too with mid-caps and small-caps inching up by 0.1% on BSE.

The market breadth was flat. Out of 2,994 stocks traded, 994 stocks declined compared to 947 advances on BSE.