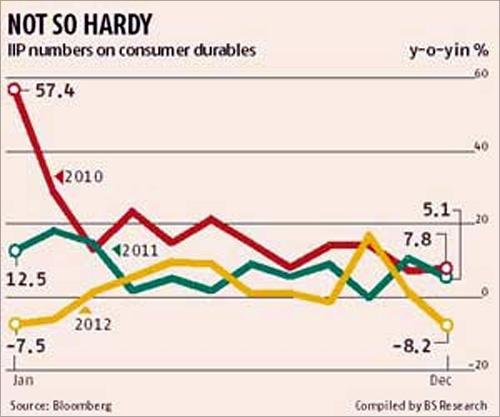 The production of durable products (refrigerators, washing machines, air conditioners and conventional television sets) is contracting in India, according to new data released last week.

The Index of Industrial Production (IIP) - the country's chief barometer of factory output - released numbers numbers for the month of December 2012. According to these, the consumer durables output declined by 8.2 per cent over the year-ago period - the sharpest fall seen in the 2012 calendar year.

Numbers for previous months were no better. For January, February and September 2012, for instance, the consumer durables output declined 7.5, 6.2 and 1.5 per cent respectively. For the months of March, July, August and November 2012, growth in output was between 0.8 and 1.3 per cent only - paltry when compared with the IIP data for 2011 and 2010 respectively (see chart).

In all, eight of 12 months in 2012 saw negative or low-single digit growth in output — certainly not good news for companies operating in the space.

IIP, for the record, is an indirect indicator of consumer demand. So, why are consumers not picking up durable products as they did earlier?

Shantanu Dasgupta, vice-president, corporate affairs & strategy, Whirlpool, has a ready answer, "The twin impact of shrinking disposable incomes as well as high cost of goods is what is leading to a deferment in purchases of consumer durables."

Typically, durable products are not perceived to be essential commodities. They are discretionary products, says Dasgupta. "And when purchases can be postponed, consumers are opting to do just that," points out George Menezes, chief operating officer, Godrej Appliances.

On an average, the replacement cycle for home appliances has increased from two to three years earlier to about four years. "This means consumers are not going for a change even four years after the purchase of their products. This naturally impacts sales," adds Menezes.

It doesn't help that the price of home appliances has increased by 15-20 per cent in the last one year as the rupee depreciated by 22 per cent.

To tide over this issue, for instance, air conditioner makers, who have been the most hit thanks to both weak sentiment as well as uncertain weather (the last two summers have been cool hitting AC sales) have resorted to desperate measures such as launching knocked-down split air conditioners for as low as Rs 19,000, 32
per cent lower than the price of a regular split AC.
"The attempt is to provide an affordable option to first-time buyers as well as those residing in small towns," says B Thiagarajan, President (air-conditioning and refrigeration products group), Blue Star. "When entry barriers come down, consumers are more likely to sample the product," adds Suresh Kumar Bandi, Divisional Deputy Managing Director, Panasonic, which has launched low-cost split ACs under the Cube brand name.
Besides Blue Star and Panasonic, Voltas is another company that has taken the low-cost route, launching stripped down ACs in a bid to boost sales this summer. Last year, the AC market fell 25 per cent, according to industry sources. It currently stands at three million units.
Manufacturers of television sets too are rapidly moving to the more lucrative flat panel TV segment as the larger, conventional TV market simply stagnates. Conventional TVs, pegged at 10 million units, have been de-growing at the rate of about 10-15 per cent in the last few years, thanks largely to obsolescence. But in the last one year, the fall has been even steeper at the rate of 20 per cent as consumers simply looked the other way owing to a general slowdown.
This degrowth has prompted players such as LG and Samsung to take their eye off the category. Both companies have indicated that they no more intend to invest in conventional TVs, focusing their attention on flat panels, which today constitute one-third of the total TV market pegged at 15 million units.
Onida, meanwhile, is now attempting to convert itself into a lifestyle player, focusing its attention on kitchen and home appliances, moving away therefore from the conventional TV market.
Only Videocon continues to operate in the market with a share of about 33 per cent. H S Bhatia, Chief Marketing Officer, Videocon Industries, says that the company has no plans to vacate the category despite its de-growth. "As a player, we are well-entrenched in the category and have no plans to step out of it," he says. Besides the flagship brand, the Venugopal-Dhoot-promoted company also makes conventional TVs under the Sansui brand name.