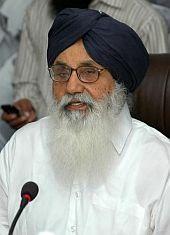 Wooing voters for his party candidate in the Moga assemby byelection, Shiromani Akali Dal patriach and Punjab Chief Minister Parkash Singh Badal on Tuesday regaled the crowds with his wit and sarcasm mainly directed at his political opponents.
"Every election is a health tonic for me and my good health is bad for Congress' health," he told an election meeting in Moga.
Referring to repeated comments on his health by Punjab Congress chief Amarinder Singh during campaigning for the bypoll, Badal said, "Sorry captain sahib, I have no good news to give you about my health. I am too hale and hearty for your good. My good health is bad for your health!"
"What a pity that an organisation like the Congress should believe that their political future depends entirely on my health. Captain sahib, if you are praying only for my bad health, I and my doctors have no good news to give you on this," he told the meeting.
"I am not only healthy but keep getting healthier and healthier and younger and younger. Election especially works on me like a magic tonic," he said.
"The Congress and its leaders are still to regain full consciousness after the sunstroke they suffered in the state assembly poll and the party needs immediate and major surgical intervention to save it from sinking even deeper into coma," the SAD supremo said.
"The Congress is in last gasps of a dying man and Moga will see its last rites as a party in Punjab," he said.
Captivating the people with his inimitable style, Badal, turning to his personal physician, said "if possible, spare some time to look after captain sahib's health also. He needs you more than I do."
"After the Moga result, captain sahib and his Congress party are going to need a lot of anti-depressants.
"Keep these anti-depressant tablets ready and please deliver these to captain sahib personally at his residence, lest he tries to drown his blues by taking some other liquid forms of medicine," the chief minister said.
"I am a people's man and I am most comfortable only with them. I am not a palace pet," he said in a veiled dig at Amarinder.