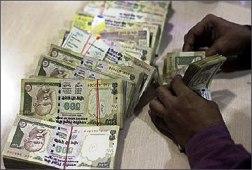 The rupee on Tuesday fell back after hitting two-week high levels to close with a loss of 12 paise at 54.61 against the dollar on heavy demand of US currency from importers despite heavy capital inflows.

At the Interbank Foreign Exchange market, the rupee commenced strong at 54.37 a dollar from last close of 54.49.

Tracking the strong uptick in stock markets and early dollar sales by exporters, the rupee improved further to log nearly a two-week high of 54.34.

However, dollar demand from importers, mainly oil refiners, and some banks as also rise in dollar overseas later weighed on the rupee. It fell to a low of 54.69 before settling at 54.61, clocking a net fall of 12 paise or 0.22 per cent.

On Monday, it was up by 27 paise or 0.49 per cent.

Pramit Brahmbhatt, CEO, Alpari Financial Services said, "The rupee traded on a volatile note initially rising on sharp gains in domestic equity markets but later
turned weak due to demand from oil importers. . .the widening trade deficits and the dollar demand at lower levels is limiting gains in rupee."
The dollar index, consisting of six major global currencies, was up by 0.10 per cent while New York crude oil was quoting above $94 a barrel in Europe on Tuesday.
The premium for the forward dollar recovered on fresh payments from banks and corporates.
The benchmark six-month forward dollar premium payable in June rose to 166-1/2-168 paise from Monday's close of 163-1/2-165 paise.
Far-forward contracts maturing in December also firmed up to 320-322 paise from 311-313 paise.
The RBI has fixed the reference rate for the US dollar at 54.5425 and for euro at 72.8525.
The rupee improved further slightly against the pound sterling to 87.70 from last close of 87.72.
The rupee turned negative against the Japanese yen to end at 61.59 per 100 yen from 61.01.
It, however, declined further against the euro to 72.89 from previous close of 72.79.