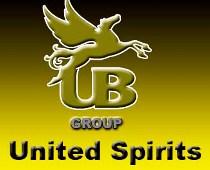 Foreign institutional investors have pared their stake to a three-year low in UB Group firm United Spirits, which is currently awaiting regulatory nod for sale of a majority stake to global liquor giant Diageo.

As per the latest shareholding pattern data of the company, foreign institutional investors held 45.81 per cent stake in Vijay Mallya-led UB group firm United Spirits Ltd as on December 31.

This is the lowest FII holding in the company since 34.99 per cent over three years ago on September 30, 2009.

Besides, the FIIs' ownership in the company has been on a declining trend for four consecutive quarters now -- falling from a high of about 53 per cent at the end of 2011.

On the other hand, the domestic institutions have upped their stake considerably in the past one year from 2.51 per cent at the end of 2011.

In the past quarter alone, domestic institutional investors raised their stake from 4.94 per cent to 6.21 per cent.

The non-institutional investors' stake also rose from 15.5 per cent at the end of 2011 to 20.21 per cent as on December 31.

The promoters currently hold 27.5 per cent in USL, down marginally from 28.01 per cent at the end of 2011.

However, nearly 98
per cent of the promoter shares in the company are pledged with various lenders.
USL promoters have entered in a deal with UK-based Diageo Plc, under which the global liquor major would acquire up to 53.4 per cent stake in United Spirits, including 26 per cent through an open offer for public shareholders.
Recently, Sebi had sought some clarifications from merchant bankers of Diageo regarding the open offer.
The open offer had to be deferred as Sebi was yet to give its go-ahead for the same.
Any acquisition of 25 per cent or more stakes in a listed company triggers a mandatory open offer for purchase of additional 26 per cent stake from the public shareholders and the same needs to be cleared by the market regulator.
The proposed open offer for an additional 26 per cent stake in USL entails purchase of about 3.8 crore shares at a price of Rs 1,440 per share, totalling to Rs 5,441 crore (Rs 54.41 billion, by Relay BV, a wholly-owned subsidiary of Diageo.
United Spirits, the country's largest spirits company, is part of Vijay Mallya-led UB Group, whose aviation venture Kingfisher Airlines is grappling with turbulent times.