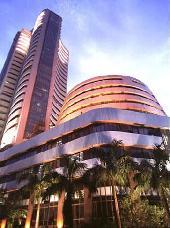 Markets have surged once again, on the back of buying interest in realty and banking shares.

The benchmark index crossed the 20K mark to a high of 20,014. Sensex is now up 95 points at 20,002. NSE Nifty has managed to hold on to gains as well and is now up 31 points at 6,055.

Most Asian markets ended lower Tuesday as worries about the US debt ceiling impasse led investors to take profit after a strong recent run.
Mainland Chinese stocks extended their rally on more buying amid hopes for greater foreign participation in the domestic markets, while Japanese shares advanced after the yen dropped to multiyear lows Monday.

Japan's Nikkei added 0.7% at 10,879. Straits Times, Kospi and Taiwan Weighted ended in the red.

BSE realty index surged 1.3% to 2,281 on hopes that easing inflation would help the central bank to cut rates at its policy meet during the end of the month.

FMCG, bankex, consumer durables and auto indices added 0.5-1% each.

On the other hand, BSE metal index showed some weakness, owing to global pressure. The index was down marginally at 11,071.

Bharti Airtel was the top gainer among Sensex stocks -- up 5.5% at Rs 347.

Software services exporter Tata Consultancy Service gained the most in more than eight months in Mumbai trading after posting better-than-expected earnings and prompting a raft of analyst upgrades.

HSBC upgraded TCS to "overweight" from "neutral," and "modestly" increased its profit outlook for the year ending March 2014 by 2%age points, citing improving margins and an expected rise in demand.

CLSA described the quarterly earnings as "picture perfect" and upgraded the stock to "outperform" from "sell." Shares of TCS were up 1.7% at Rs 1,356.

Index heavyweight and cigarette maker ITC added 2.3% at Rs 284, rebounding from its earlier losses.

The company announces Q3 results on Friday, 18 January 2013.

ICICI Bank, Tata Power and Hindalco advanced in trades, Bajaj Auto was up 1.3% at Rs 2,119 ahead of its results.

Metal shares declined. Sterlite slipped 1.3% at Rs 117. Jindal Steel also dropped, as did Coal India, Dr Reddy's and Sun Pharma.