Markets ended lower this Friday with 50-share Nifty index slipping below key 6,000 support levels for the first time since January 11 on concerns over growth slowdown in Asia's third-biggest economy after country's manufacturing slowed to a three-month low in January.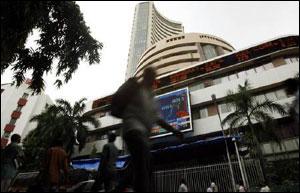 Risk appetite was also frail after index stocks such as Bharti Airtel and Bharat Heavy Electricals posted below estimate Oct-Dec results exacerbating growth woes.
The Bombay Stock Exchange's 30-share index Sensex fell 105.73 points and ended at 19,789.25 while the National Stock Exchange's 50-share Nifty declined 35.85 points to end at 5,998.90.
In the results calendar, Adani Enterprises, Karur Vysya Bank, MCX, TVS Motor are scheduled to announce third-quarter results later today while Bank of Baroda, JK Cement, TajGVK Hotels, United Spirits, Rural Electrification Corp on Monday.
The HSBC Markit manufacturing Purchasing Managers' Index (PMI) for India, fell to 53.2 in January, after surging to a six-month high of 54.7 in December
Asian shares ended mixed on back of modest recovery seen in China, however, caution remained ahead of U.S. non-farm payrolls report later today, which will likely show a rise of 160,000 jobs and the jobless rate staying steady at 7.8 percent.
Hong Kong's Hang Seng fell 0.03% to 23,721, Taiwan's Weighted index rose 0.08% to 7,855, Singapore's Straits Times inched up 0.12% to 3,286 while China's Shanghai Composite gained 1.4% to 2,419 and Japan's Nikkei rose 0.5% to 11,191.
European shares traded positive. France's CAC 0.27% to 3,742, Germany's DAX gained 0.37% to 7,804 while UK's FTSE was up 0.55% to 6,311.
Back home, consumer durables, healthcare, FMCG, oil & gas, power sectors rose while real-estate, banks, autos, IT, capital goods, technology sectors, declined on BSE.
Among key Sensex stocks, Maruti Suzuki gained 1.6%, Cipla & Dr Reddy's rose 1.58% and 1.4% respectively, Bajaj Auto rose 1.3%, Reliance Industries was up 0.8% ,Sun Pharma gained 0.2% on BSE.
Among losers, Tata Motors tanked 4.3%, BHEL declined 1%, Sterlite Industries and Hindalco dropped 2% respectively , HUL dropped 1.7%, Bharti Airtel fell 2.5%, ICICI and SBI Bank shed 2% and 0.5% , Larsen & Toubro shed 0.5% on BSE.
The other key notable movers include, Bharti Airtel that slipped 2.6% after posting disappointing set of numbers. India's top mobile network operator, fell for the twelfth quarter in a row and missed estimates by a wide margin dragged down by higher costs.
Airline carrier Jet Airways swung back into profit of Rs 85 crore for the third quarter ended December 2012 mainly due to rising fares in an under-serviced market and on lower costs. In the same period a year ago its net loss was Rs 101 crore. The stock ended tad up 0.1% in a negative Mumbai stock market.
Oil India's $575 million share auction was fully covered on Friday, provisional data from the National Stock Exchange showed.Shares of OIL fell by 2.5% at Rs 525.55 apiece on the BSE
Bharat Heavy Electricals Ltd, India's top power equipment maker, fell 1% after it missed analyst estimates with a 17.5% fall in third-quarter net profit, hit by a slowdown in new orders, sending its shares down more than 4%.
The broader markets ended lower with mid-caps and small-caps inching down 0.1-0.2% on BSE.
The market breadth was negative. Out of 2,987 stocks traded, 1,149 stocks declined compared to 954 gained on BSE.