Markets ended lower on Thursday following expiry of January derivatives contracts as investor's booked profits in index heavy-weights coupled with looming concerns over global growth slowdown after weak economic data from US and Germany.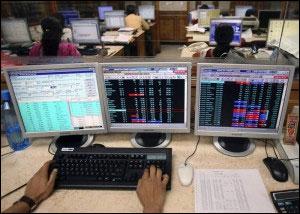 The Bombay Stock Exchange's 30-share index Sensex fell 110.02 points and ended at 19,894.98 while the National Stock Exchange's 50-share Nifty fell 21 points to end at 6,034.75.
In the results calendar, Adani Enterprises, BHEL, Corporation Bank, Bharti Airtel, Jet Airways, Karur Vysya Bank, Marico, MCX, TVS Motor are scheduled to announce third-quarter results tomorrow.
US, world's biggest economy, experienced the first quarter of negative GDP growth since the Great Recession.
Meanwhile, US Federal Reserve did not announce any policy change on Wednesday . It did change its assessment of the economy and acknowledged that "economic activity paused in recent months", but added that it was "in large part because of weather-related disruptions and other transitory factors".
European shares fell as a drop in German retail sales and a huge quarterly loss from Deutsche Bank, country's biggest lender, dashed hopes of a quick rebound.
France's CAC fell 0.35% to 3,756, Germany's DAX declined 0.16% to 7,798 while UK's FTSE was down 0.3% to 6,303.
Asian shares ended mixed. Hong Kong's Hang Seng fell 0.4% to 23,729, Taiwan's Weighted index rose 0.22% to 7,850, Singapore's Straits Times inched down 0.1% to 3,282 while China's Shanghai Composite gained 0.12% to 2,385 and Japan's Nikkei rose 0.22% to 11,138.
Back home, consumer durables, PSU, real-estate, FMCG rose while banks, metals, IT, oil & gas, technology sectors, declined on BSE.
Among key Sensex stocks, BHEL gained 2.5%, GAIL rose 1.6%, Coal India rose 0.8%, ITC was up 1.4% ,Sun Pharma gained 1% on BSE.
Among losers, Sterlite Industries and Jindal Steel dropped 1% , Tata Power dropped 2.4%, Bharti Airtel fell 2%, ICICI and HDFC Bank shed 2% , Reliance Industries was down 1.4%, Larsen & Toubro shed 1.4% on BSE.
The other key notable movers include, Colgate-Palmolive (India) that fell 3% after reporting 4% year-on-year (yoy) drop in net profit at Rs 111 crore for the third quarter ended December 31, 2012 (Q3) due to higher advertisement expenses.
ICICI Bank, country's biggest private-sector lender, fell over 2% as investor's booked profits after upbeat results. ICICI Bank posted a 30% jump in net profit at Rs 2,250 crore for the quarter ended December 2012. It was Rs 1,728 crore in the same period a year ago.
Punjab National Bank has posted a net profit of 13% for the quarter ended December 2012, to Rs 1,306 crore from Rs 1,150 crore in the corresponding year ago quarter. The stock jumped 10% on BSE today.
DLF, country's biggest developer, gained 2% after realty giant said it has sold the 150MW wind turbine project in Gujarat to Bharat Light and Power for Rs 282.30 crore as part of its strategy to exit from non-core businesses.
Tata Global Beverages (TGBL) gained 4% after posting a 25% year-on-year (yoy) growth in its consolidated net profit at Rs 80 crore for the third quarter ended December 31, 2012 (Q3) due to improved performance in branded operations
The broader markets ended mixed with mid-caps gaining 0.7% while small-caps shed 0.1-0.1% on BSE.
The market breadth was positive. Out of 2,950 stocks traded, 884 stocks gained compared to 739 declined on BSE.