Bharti Airtel on Friday reported decline in its consolidated net profit for the 12th consecutive quarter, falling 72 per cent to Rs 284 crore (Rs 2.84 billion) for the quarter ending December 2012, due to high interest costs, forex fluctuation and tax provisions.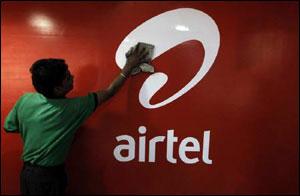 The company's net profit stood at Rs 1,011 crore (Rs 10.11 billion) in the third quarter ended December 31, 2011, Bharti Airtel said in a statement.
"The consolidated net income was impacted by higher depreciation and amortisation cost (Rs 316 crore), net interest costs (Rs 284 crore), forex fluctuation losses (Rs 261 crore) and tax provisions (Rs 109 crore).
Shares of Bharti Airtel fell by 2.71 per cent to Rs 330.20 on the BSE in the early trade.
The company's total revenues rose 9.5 per cent to Rs 20,239 crore (Rs 202.39 billion) in the October-December quarter from Rs 18,477 crore (Rs 184.77 billion) in the year-ago period.
"Market conditions have been challenging in recent quarters due to pricing pressures and rising input costs, which have put enormous pressure on the sector and consequently the margins," Bharti Airtel chairman and managing director Sunil Bharti Mittal said.
However, the worst seems to be getting over with corrections taking place in customer acquisition practices and the tariffs, which are driving quality of acquisitions and improving efficiencies, he added.
The company's overall customer base stood at 262.27 million across mobile telephony, telemedia and digital services across geographies.
Monthly average revenue per user (ARPU), a key metric for telecom carriers, from Bharti's Indian operations declined to 185 during the reporting quarter from 187 in the same period last year.
The revenue from African operations rose by 15 per cent year-on-year to Rs 6,170 crore (Rs 61.7 billion) during the reported quarter, it said.