Falling for the fourth straight day, the rupee on Monday lost 35 paise to end at nearly two-week low level of 53.85 on sustained dollar selling by exporters amid RBI concerns that the country's current account deficit is headed to its highest ever this fiscal.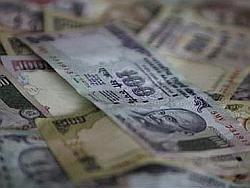 A firm dollar overseas also weighed on the rupee while continued capital inflows failed to restrict the rupee fall, forex dealers said.

The rupee commenced lower at 53.65 a dollar from last Friday's close of 53.50 at the Interbank Foreign Exchange (Forex) market. It tried to mark a recovery immediately and touched a high of 53.55.

However, the rebound proved to be short-lived as it later dropped to a low of 53.86.

"Last year, CAD was 4.2 per cent of GDP, but this year we expect it would be significantly higher than that. It's going to be historically the highest CAD measured as a proportion of GDP," RBI Governor D Subbarao said, though he refrained from giving any figure.

The rupee finally settled at 53.85, a fall of 35 paise or 0.65 per cent.

Pramit Brahmbhatt, CEO, Alpari Financial Services (India) said: "The rupee continued to weaken on the first day of the week on growing concerns of slowdown."

Current account deficit means the country is importing more goods and services than it is exporting, net income and transfers from abroad.

The dollar index, a gauge of six major global rivals, was up by 0.14
per cent in Europe on Monday.
Meanwhile, the Indian benchmark Sensex on Monday declined by 24.20 points, stretching losses to the eighth straight session.
FIIs picked up shares worth $285.17 million last Friday, taking the year's total so far to over $7.5 billion, as per Sebi data.
"The rupee depreciated for the fourth straight session and has already breached its one-week low against the dollar. Negative stock markets and a falling Euro contributed to the weakness in rupee. Technically, the pair has sustained well above 53.00 levels," said Abhishek Goenka, Founder and CEO, India Forex Advisors.
The premium for the forward dollar recouped on fresh payments from banks and corporates.
The benchmark six-month forward dollar premium payable in July edged up to 181-1/2-183 paise from previous close of 179-1/2-180-1/2 paise.
Far-forward contracts maturing in January also settled higher at 344-1/2-346 paise from 340-342 paise.
The RBI fixed the reference rate for the US dollar at 53.6793 and for euro at 71.8690.
The rupee remained weak against the pound sterling to end at 84.50 from last weekend's close of 84.31 while it fell back against the euro to 72.05 from 71.75.
Rupee, however, recovered against the Japanese yen to 57.72 per 100 yen from previous close of 57.93.