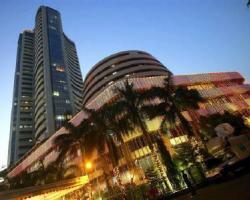 Falling for the eight straight day, the BSE benchmark Sensex today fell by 24.20 points to log its longest string of losses in nearly two years on selling in Maruti, Jindal Steel, Bharti Airtel and ONGC, ahead of release of latest industrial production and inflation numbers.
The Sensex fell by 24.20 points, or 0.12 per cent, to 19,460.57, its lowest close since December 31, 2012. The index has now lost over 544 points in the last eight sessions -- the longest losing streak since May 2011.
Gains in Sensex-based counters like HDFC Bank, Tata Motors, HUL, Cipla, RIL, Dr Reddy's Lab, Sterlite and Hindalco were nullified by losses in ITC, HDFC, L&T, ICICI Bank, ONGC, Bharti Airtel, TCS, Maruti Suzuki and Jindal Steel.
Brokers said continued selling pressure on weak GDP projections and absence cues from Asian markets following closure for Lunar New Year holidays influenced the market.
Trading was cautious ahead of IIP and WPI inflation data to be announced on Tuesday and Thursday respectively, they added. Consumer-based inflation will be out tomorrow.
The 50-issue S&P CNX Nifty of the NSE also eased by 5.65 points or 0.10 per cent to end below 5,900-mark at 5,897.85.
Shares from capital goods, IT and FMCG registered losses while those from realty, pharma and PSU closed with gains.
ONGC fell 1.61 per cent ahead of earnings. Maruti fell nearly 1.8 per cent amid domestic annual car sales set to be in the negative territory for the first time in a decade.
Cipla closed 3.6 per cent up on reports it has postponed plans to acquire Medpro on account of high valuations.
Outside broader indices, state-run MMTC gained 18.96 per cent to Rs 609.55 and Hindustan Copper by 10.48 per cent at Rs 137.05. SKS Microfinance also gained over 10 per cent.