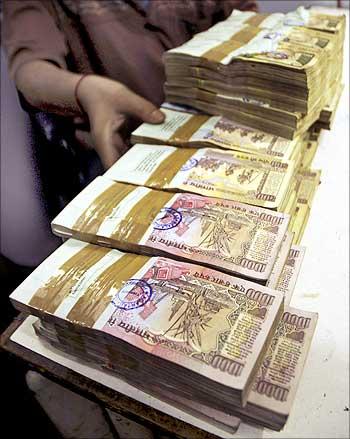 Erasing early gains, the rupee on Thursday closed six paise lower at 53.22 due to sustained dollar demand after government estimates pegged ongoing fiscal's GDP growth at a decade low of five per cent.
The local unit commenced the day strong at 53.12 against yesterday's closing of 53.16 at the Interbank Foreign Exchange (Forex) market.
It touched a high of 53.07 intra-day but failed to maintain the upward momentum and fell to 53.32 after Central Statistical Organisation (CSO) came out with FY2012-13 growth projections. The rupee later settled for the day at 53.22, down six paise, or 0.11 per cent, against the dollar.
"The rupee surrendered early gains after the government GDP estimates for the current fiscal were out, which pegged India's gross domestic product (GDP) to grow 5 per cent. This is the lowest of all growth projections issued by the government and the RBI," Alpari Financial Services (India) CEO Pramit Brahmbhatt said.
Forex dealers said strong foreign fund flows and weakening of dollar overseas against other currencies capped rupee's fall to some extent.
Despite fall in broader indices, foreign institutional investors continued lapping up Indian equities and pumped in nearly $155.5 million (Rs 827.14 crore) today, according to BSE provisional data.
The dollar index, a gauge of six major currencies, was down by 0.24 per cent, while New York crude oil was trading near USD 97 a barrel in European market today.
During Indian Forex market hours, the euro rose to nearly 1.36 against the dollar. "The rupee was able to appreciate from day's lows taking cues from gradual recovery in the euro," said Abhishek Goenka, Founder and CEO, India Forex Advisors.
The CSO today said it would decline from 6.2 per cent in 2011-12 to 5 per cent, much lower than the projections of the Reserve Bank and other agencies.
Meanwhile, the BSE benchmark Sensex today ended at over one-month low of 19,580.32.
The premium for the forward dollar dropped on fresh receipts by exporters. The benchmark six-month forward dollar premium payable in July concluded weak at 180-1/2-181-1/2 paise from Wednesday's close of 184-1/2-186-1/2 paise.
Far-forward contracts maturing in January also settled lower at 341-343 paise from 346-348 paise. The RBI fixed the reference rate for the US dollar at 53.1445 and for euro at 71.9355.
The rupee fell back against the pound sterling to 83.58 from previous close of 83.27 and also turned negative to end at 72.19 per euro from 71.97.
It, however, edged up further against the Japanese yen to 56.74 per 100 yen from last close of 56.76.