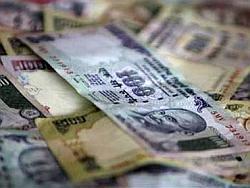 Extending losses for the third straight session, the rupee today lost 28 paise to end at an over one-week low of 53.50, due to sustained dollar demand from importers amid sluggish local stocks.
Forex dealers said capital inflows worth nearly $280 million could not stem the fall in rupee.
The local unit started the day's trade on a weak note at 53.44 against yesterday's close of 53.22 at the Interbank Foreign Exchange (Forex) market. It moved in a narrow range of 53.42-53.65, before settling at 53.50, a loss of 28 paise, or 0.53 per cent.
The BSE benchmark Sensex today lost 96 points to hit this year's lowest level at 19,484.77.
"The rupee weakened against the US dollar today, taking cues from sluggish domestic stocks and fall in euro yesterday. It opened lower after the euro dropped towards 1.3370 levels yesterday after the pessimistic comments by the ECB President," said Abhishek Goenka, Founder&CEO, India Forex Advisors.
The dollar index was down by 0.25 per cent against a basket of six major currencies as the euro today stabilized against the dollar as market focus returned to signs that the euro-zone economy was calming down.
"The better-than-expected Chinese Trade balance numbers and easing of CPI numbers, sharp rebound in JPY and best German export data pushed the dollar index lower from its high point of the day to below 80 levels," Pramit Brahmbhatt, CEO, Alpari Financial Services (India) said.
Foreign institutional investors pumped in a massive USD 278.65 million (Rs 1,490.82 crore) into local equities, according to the BSE provisional data.
The premium for the forward dollar softened further on sustained receipts by exporters. The benchmark six-month forward dollar premium payable in July eased to 179-1/2-180-1/2 paise from 180-1/2-181-1/2 paise yesterday.
Far-forward contracts maturing in January also finished slightly lower at 340-342 paise from 341-343 paise.
The RBI fixed the reference rate for the US dollar at 53.5695 and for euro at 71.7850.
The rupee plunged further against the pound sterling to 84.31 from Thursday's close of 83.58 while reacted sharply downwards against the Japanese yen to 57.93 per 100 yen from 56.74.
It also recovered against the euro to 71.75 from last close of 72.19.