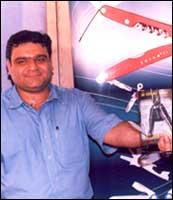 The United States-based Leatherman -- the world's largest player in the multi-utility tools segment, with a market share of 54% -- has arrived in India, or in Chennai, to be precise.
The Leatherman history: The history of the product can be traced back to the day Tim Leatherman, an engineer, and his wife decided to travel around Europe in their 1968 model Fiat which they had purchased for $300. Unfortunately, the travel was marred by car trouble. As they travelled, Tim Leatherman conceived the idea of a pocket survival tool which he didn't have with him at that time. He then made a cardboard model of a tool kit when he was in a hotel in Tehran.
It took several years for the tool to take real shape, and Leatherman's invention, named Mr. Crunch, was patented in 1980.
Finally, in 1983, Tim Leatherman and his college friend Steve Berliner founded the Leatherman Tool Group. What started with 200 tools in the first year grew to 2.7 million tools in 2003 which has increased to more than 3.5 million today. Over 10,000 tools are made everyday at the Leatherman factory in Portland, Oregon.
From the United States, Leatherman tools started travelling to other countries and now, the tools have their presence in more than 100 countries with a market share of 54%. The users of Leatherman tools range from those in the security business, and paramilitary and defence forces to frequent travellers and adventure sport enthusiasts.
For the first time, Leatherman is entering India, one of the largest emerging markets in the world, through Young India Films, a Chennai-based company.
Vivek Bhasin, Director of Young India Films, the exclusive distributor for Leatherman in India, spoke to rediff.com after the launch about the strategies planned for the Indian market.
What was the business reason behind bringing Leatherman to India?
Young India is a company that has trading as its strength for the last 40 years. When we felt the need to expand to a larger market, we decided to bring in select products from abroad. We didn't want to get into the regular products.
We also have a division that deals with disaster management and defence-related products. As you know, Leatherman caters largely to the defence segment in the United States. We also will be looking at targeting the defence sector in India.
How easy was it to strike a deal with a manufacturer that has 54% of the international market share?
A company like Leatherman is a professional organisation, and whoever they choose to partner with should match their wavelength and their needs in the market. Perhaps, they realised that we have the capability to reach the Indian market.
When you approached them, were they looking seriously at the Indian market?
A couple of companies had tried to work with them but nothing materialised. Probably those people did not provide a detailed understanding of the market and the innovative methods they would use to market a Leatherman product and make a success out of it.
Leatherman recognises and respects India as a potentially large market. They said, 'India is an important market for us, and we want to see how we can position ourselves in the Indian market.'
In the future, they may even bring select products for the Indian market. If you see the 2005 catalogue of Leatherman, you will understand the importance they give to India.
A few years ago, when Ford came to India, they talked about India's huge middle class market but soon they realised that their cars are not affordable. You are also going to target a niche market in India especially with the products priced between Rs 2500 and Rs 9,500. How optimistic are you?
We are very positive about the niche market of travellers, engineers, IT professionals and defence personnel, not to mention the domestic segment. We are very focussed and clear about the market that we are addressing.
A Leatherman product will not be available in every retail store; only in select ones. Only time will tell the kind of success we will achieve. In the next six to eighteen months, we will know how the Indian market will react.
Our target for this year is close to Rs 10 million. We also plan to achieve a growth of 20-30% every year.
It was reported in the papers that after 9/11, sales of Swiss knives came down drastically.
Quite possible. I can't talk about Swiss knives, but I know that it is a fact. But let me also add that even now, there are diehard users of tools like Leatherman or Swiss knives.
What was the reason you chose Chennai to launch the product? Is it only because you are a Chennai-based company?
One of the main reasons to launch Leatherman here is because we are based here. It is easier for us to facilitate things in Chennai in the beginning, and we plan to move on to the other markets after testing the waters here.
Secondly, the response to a new product and product acceptance is interesting in Chennai. You will really know where you are positioned as far as Indian markets are concerned, if you test here.
After Chennai, you have chosen Bangalore, then Delhi and them Bombay. Any particular reason for such an order?
We have certain plans in mind in terms of marketing the product. For example, we are planning this idea called Leatherman-on-call. We are going to target this product to certain institutions. We realise that kind of buying will happen much better in Chennai and Bangalore mainly because you have so many IT firms with thousands of young professionals working there. We see them as our potential buyers.
But by the end of 2005, we plan to cover the whole of India.
How mature is the Indian market to view an international product like Leatherman?
Mature enough for it to be accepted. The profiles of our buyers are two; one is the buyer who is already a user of the tool. The second is the youth who are looking for a product like this which could help them make a fashion statement. Yes, Leatherman is a fashion statement.
Do you feel it would help you expand your market as you are entering the field at a time when India has the largest young population in the world?
Definitely. There is already a need for such products. If you look at the buying patterns of today, a large number of buying is done by those who are in the age group 26-33. This segment comprises youth who have the money power to buy anything they want, and prefer to spend on quality products.
Photograph: Sreeram Selvaraj