The controversies that rocked the international fashion world in 2016.
This year we saw several celebs making headlines for the wrong (and few right) reasons too!
A famous TV personality was robbed in a hotel room and the impact was so severe in her life that she went off social media.
Then a famous clothing brand was caught in amidst controversy when they roped in two transgender models as their new faces.
There have also been plenty of exciting new beginnings and a royal union! :)
Let's cut right to the chase! Here's a round up:
Selena Gomez was crowned the queen of Instagram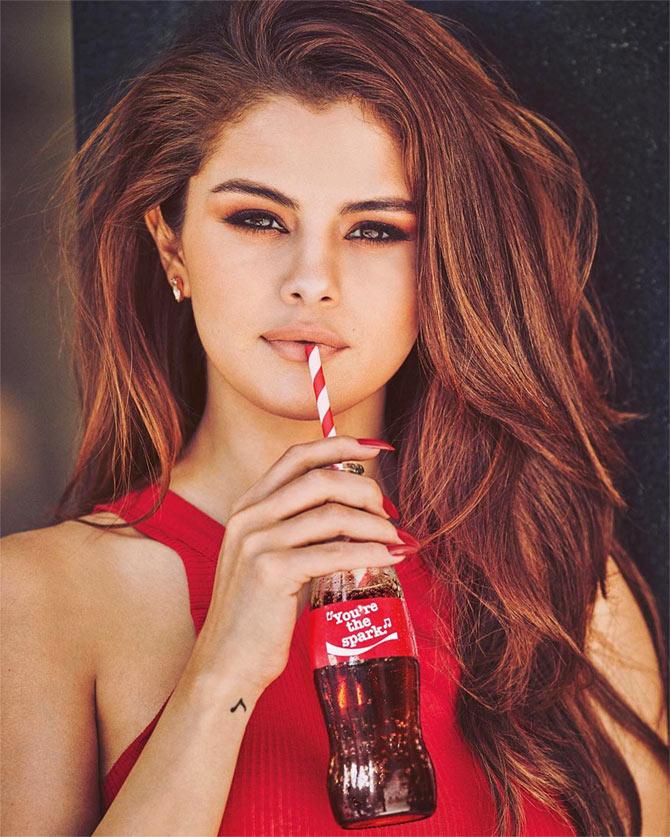 IMAGE: The picture of the singer (above) garnered 4.4 million likes on Instagram.
Photograph: Kind courtesy Selena Gomez/Instagram
Selena Gomez can well be remembered as the 'woman of the year'.
A picture of the singer (above) garnered 4.4 million likes on Instagram, making it the most-liked Instagram pic of all time.
The previous record (3.7 million likes) was held by Selena's ex Justin Bieber, who uploaded a picture of Gomez and him sharing a kiss.
But Selena's pic made new records in the history of Instagram.
She captioned the picture: 'When your lyrics are on the bottle.'
In the photo, Selena is seen dressed in a red T-shirt, as she stares at the camera, with a bottle of coke in her hand. The bottle features lyrics from her song Me & the Rhythm.
There's no denying that the singer looked stunning in this picture, with her long hair thrown over her shoulders.
*****
The 45-year-old model who turned into a media sensation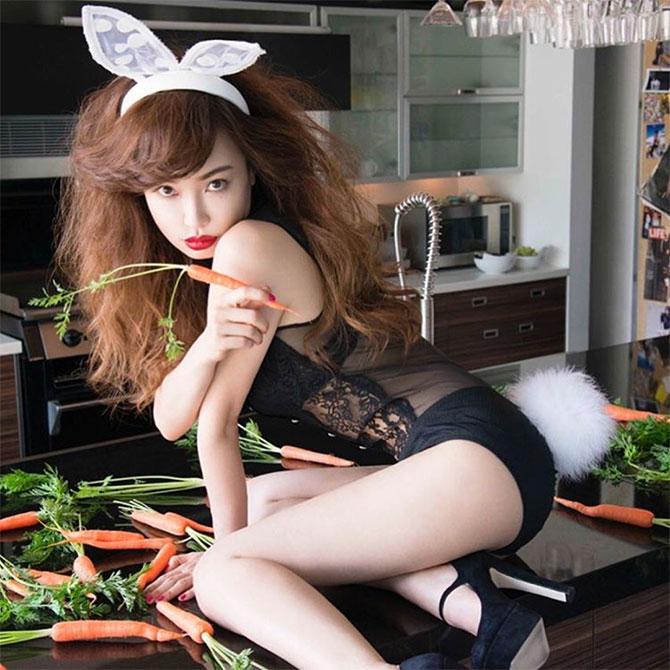 IMAGE: Risa Hirako has over a lakh followers on Instagram.
Photograph: Kind courtesy Risa Hirako/Instagram
One look at Risa Hirako, a Japanese model, and you'll refuse to believe that she is 45 years old.
The model turned into a media sensation all thanks to her Wikipedia page which stated that she was 45 years old!
According to the page, Risa was born on February 14, 1971.
She claimed that the credit for her ageless beauty goes to healthy eating.
With over one lakh followers on Instagram, Risa suddenly shot to celebrity fame this year.
'The Tokyo-based beauty stripping down to bikinis and lingerie and even dressing up in Cosplay as a bunny -- complete with carrots -- has been mistaken for being in her twenties, and the truth is she's actually 45,' reported Mirror.uk.co.
*****
When designers refused to dress plus-size model Ashley Graham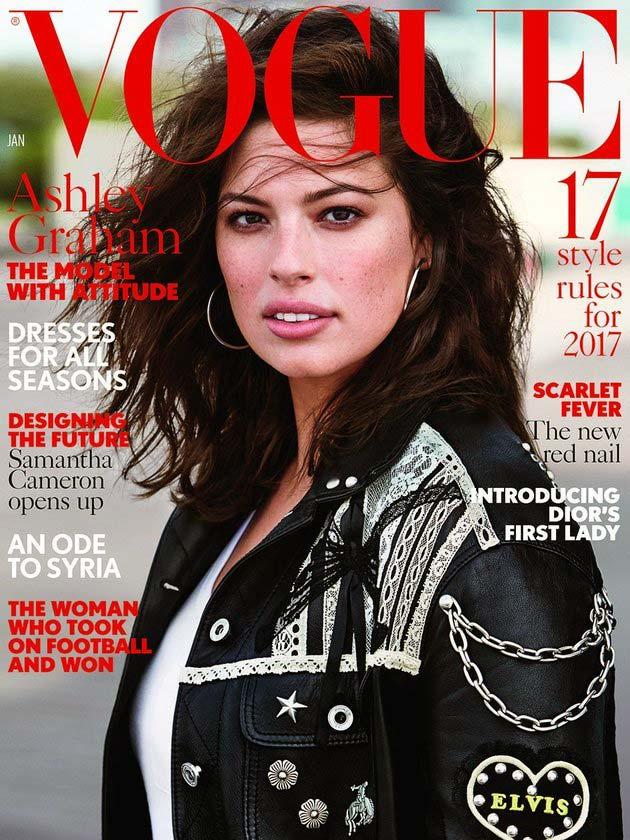 IMAGE: Ashley Graham on the cover of Vogue UK's January 2017 issue.
Photograph: Kind courtesy Vogue UK
Ashley Graham hates the term 'plus sized model' but there is no denying that her confidence to showcase her large frame has been appreciated world over.
Despite being voted Glamour's Woman of the Year and being the first curvy model to pose on the cover of Sports Illustrated Swimsuit Issue, it seems certain designers did not want to dress up the 28-year-old.
The model posed on the cover of Vogue's January issue. According to Vogue UK's editor–in-chief Alexandra Shulman many (fashion) 'houses flatly refused to lend us their clothes.'
'The shoot was put together fairly last-minute and we are all very grateful to the people at Coach who, under the creative direction of Stuart Vevers, moved speedily to provide clothes for us that had to come from outside their sample range,' Shulman added.
The editor said she was happy that the shoot turned out well and her team pulled it off successfully. "They were enthusiastic about dressing a woman who is not a standard model."
*****
Two transgender models became the face of Diesel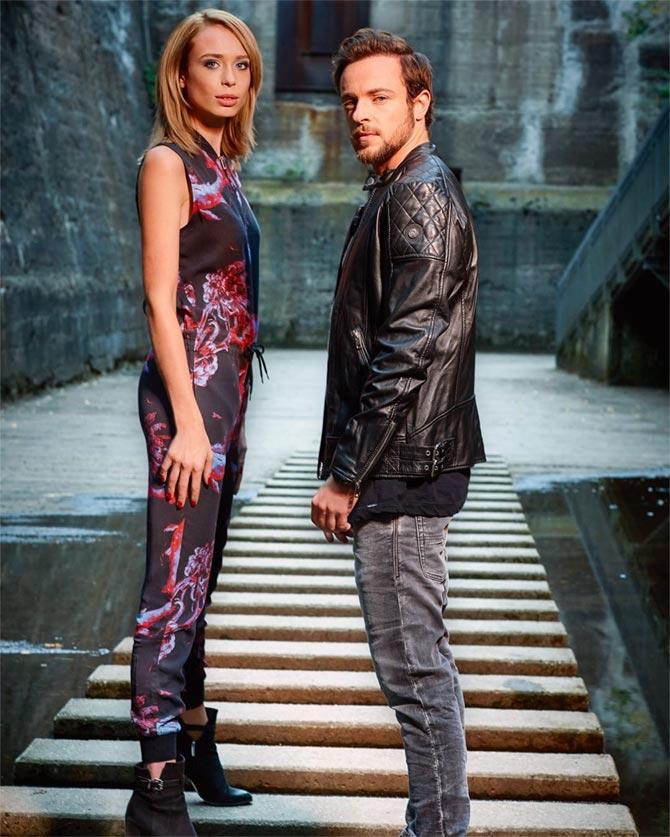 IMAGE: Loiza Lamers (left) and Benjamin Melzer (right)
Photograph: Kind courtesy Loiza Lamers/Instagram
Clothing brand Diesel roped in transgender fashion models Benjamin Melzer and Loiza Lamers as the new faces of their latest campaign.
It's probably the first time that a high-end clothing brand had pulled off a feat of this sort.
Not new to the world of modelling, Melzer was the first transgender male to appear on the cover of Germany's Men's Health.
Transgender model Loiza Lamers shot to fame after winning the title of Holland's Next Top Model.
Both these transgender models are working actively towards 'raising awareness to create more opportunities for transgender models in campaigns for major brands.'
*****
Kim Kardashian robbed of $10m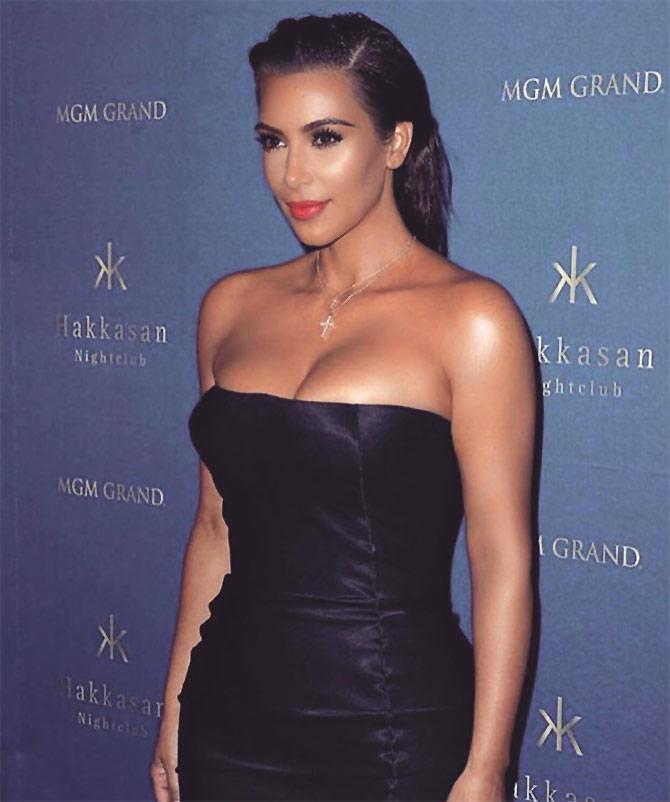 IMAGE: Kim Kardashian stayed away from social media sites post the robbery.
Photograph: Kind courtesy Kim Kardashian/Instagram

Speculations are rife that Kim Kardashian, who went through a violent robbery, had herself invited the robbers by flaunting her acquisition on social media.
As per critics, the 35-year-old reality star brought the armed robbery by flaunting her wealth on social media, reported the Daily Mail.
'She's tearing herself up that she snapchatted the ring so much and wore it all the time,' a source informed.
For the unversed, the Keeping Up With The Kardashians star was recently bound and gagged in her luxury apartment in Paris by two armed men pretending to be police.
The robbers reportedly forced their way into the hotel apartment and made off with 10 million dollars in jewellery, part of which included a four million dollars diamond ring gifted by her husband Kanye West.
Post robbery, West's family had been spotted with extra bodyguards and maintained a rare silence on social media.
'The rest of the Kardashian-Jenner family wants to change things, and Kim will be scaling back her public appearances,' an insider said.
*****
Miley Cyrus gets a tattoo of boyfriend's fav snack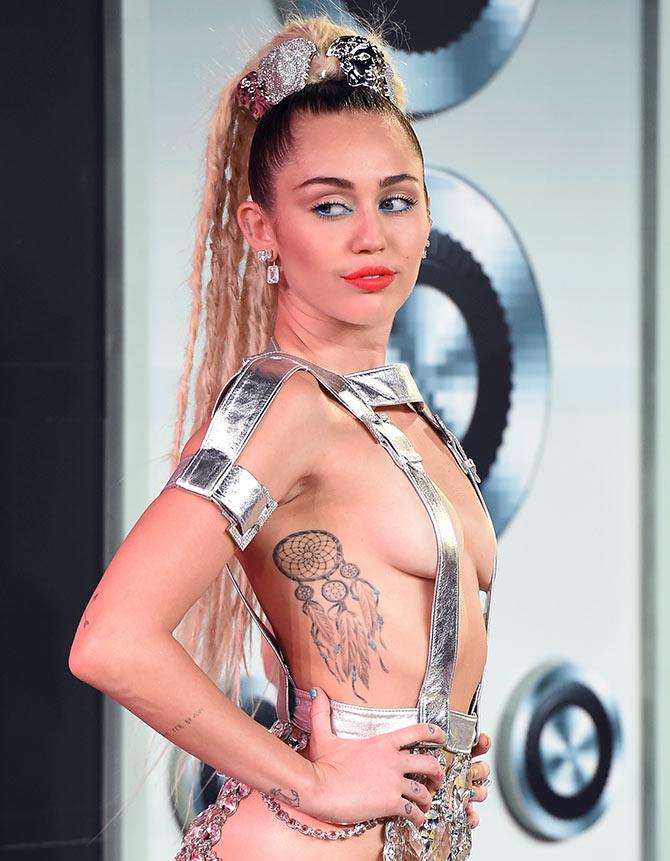 IMAGE: Miley Cyrus flaunts her dreamcatcher tattoo.
Photograph: Jason Merritt/Getty Images

To show her love for beau Liam Hemsworth, the 23-year-old popstar got his favourite Aussie snack, vegemite inked on the back of her arm, reported US Magazine.
A Los Angeles-based tattoo artist Doctor Woo, who was enlisted by the Wrecking Ball singer for her tiny tattoo, uploaded a black and white photo of Cyrus' new ink on his Instagram account recently.
"@mileycyrus don't play when it comes to #vegemite," he captioned it.
Hemsworth's love for salty snack is nothing unknown.
In his interviews earlier, 26-year-old actor spoke about growing up on vegemite with his brothers Luke and Chris Hemsworth.
The lovebirds met on the set of their film The Last Song in June 2012 and started dating shortly after. Despite several tiffs, the duo rekindled their romance after this New Year.
Though nothing is confirmed yet, rumour mills churned that the couple would like to get hitched in the summers.
Reportedly, they want it to be a beach wedding.
*****
And the most googled actor of 2016 was...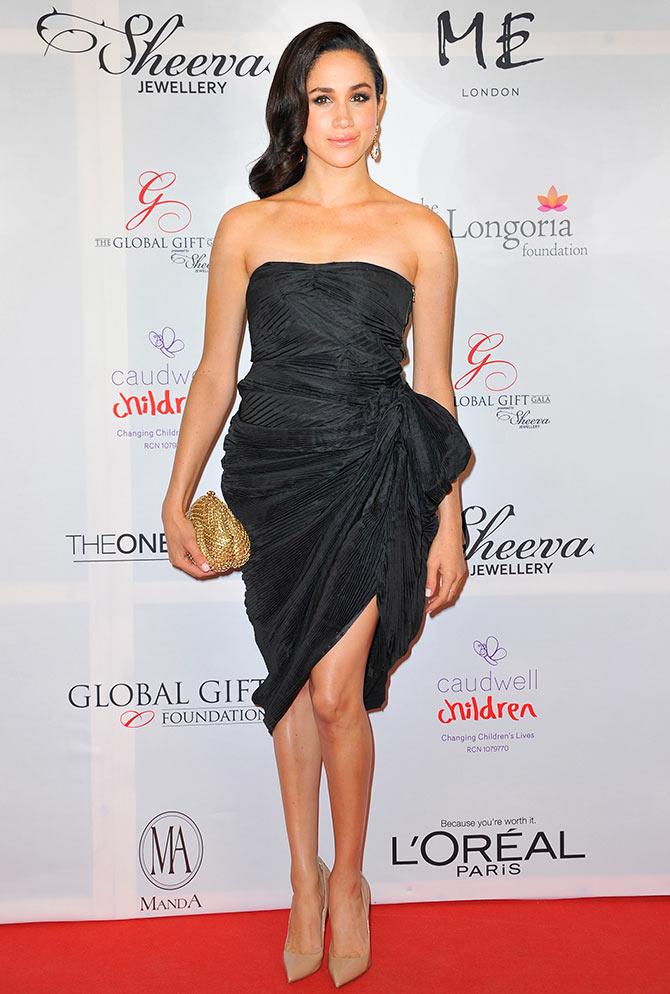 IMAGE: You will remember Meghan Markle from the famous TV series Suits.
Photograph: Gareth Cattermole/Getty Images

Meghan Markle, best known for her role in the TV series Suits is way more popular than you thought.
Prince Harry's girlfriend, according to Google was the most searched female actor of 2016.
The actor-entrepreneur hit the headlines sometime in October 2016 when it was reported that she was dating the Prince.
Meghan, 35, was searched more than Oscar winners Brie Larson and Alicia Vikander.
Also see: 8 reasons to love Prince Harry's 'girlfriend'
*****
Look who got crowned Model of the Year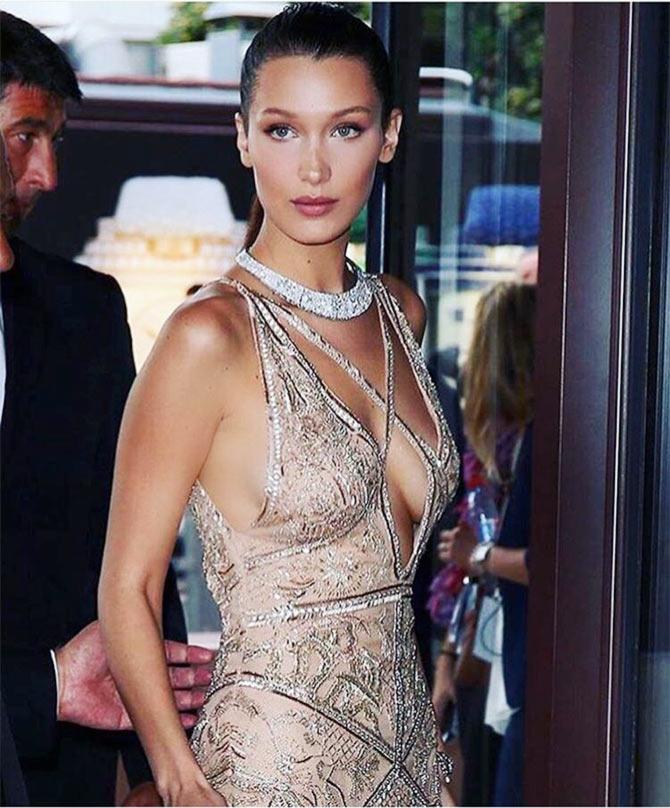 IMAGE: Bella Hadid sizzles in a cleavage baring cut-out gown.
Photograph: Kind courtesy Bella Hadid/Instagram
Bella Hadid was crowned the 'Model of the Year' at GQ magazine's annual awards ceremony in London.
The 19-year-old, who was surprised to have bagged the award, claimed she was 'having a heart attack a little bit'. She received the award from fellow model, Ashley Graham.
With the trophy in hand, Bella addressed the audience with her thankfulness speech.
She paid tribute to her mother, former model and reality star Yolanda Foster.
'This is the first time my mom has been out of bed in four years and got her hair and makeup done. I'm so happy she's here,' Bella said.
The model also mentioned her mother's tribulations when battling Lyme disease (an infectious disease caused by bacteria).
The 19-year-old beauty was in the news again in 2016 when she had a bad fall on the ramp.
While walking in the Michael Kors Spring 2017 fashion show, showing off a ruffled, knee-length dress with towering platform heels, she lost her footing.
She tumbled right in front of the photographers' pit, landing on her hands and knees, as some members of the audience, which included Vogue boss Anna Wintour and actresses Emily Blunt and Sienna Miller, gasped in shock, reported Hollywood Life.
*****
Look who wore the Fantasy Bra this year!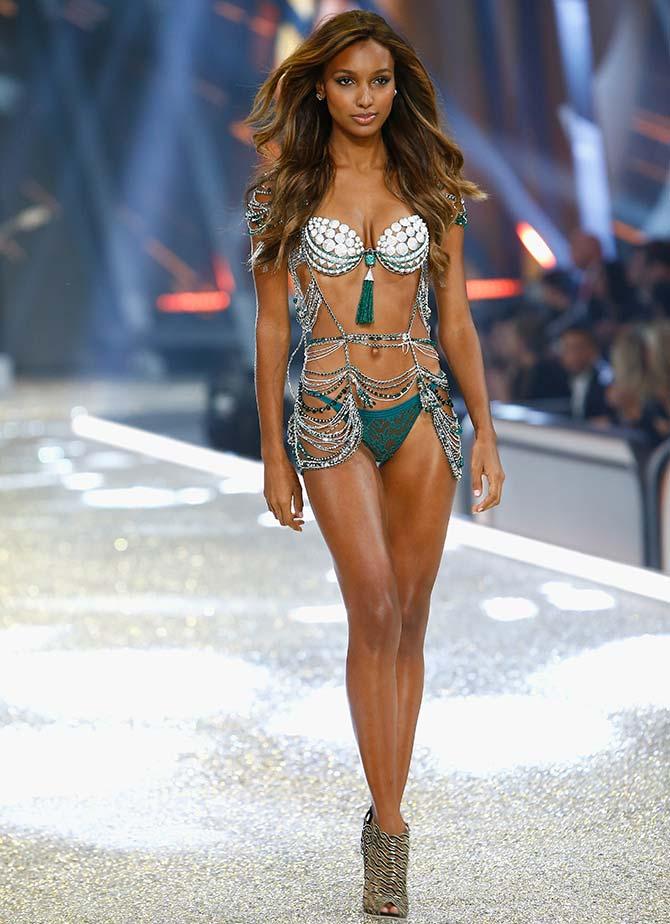 IMAGE: VS model Jasmine Tookes dressed in the Fantasy Bra.
Photograph: Julien M Hekimian/Getty Images

This year, Jasmine Tookes was the lucky model to wear the $ 3 million Fantasy Bra, crafted using 9,000 gemstones and weighing more than 450 carats.
'Jasmine supposedly had to sit in plaster for three hours so VS could create a mould they could design around,' reported Huffington Post.
It was so heavy that Tookes had to incorporate back exercises in her prep!
Jasmine was the first black woman to model the Fantasy Bra in nine years.
According to Huffington Post, 'The California native is no stranger to wearing beautiful creations. As well as her high-profile role as one of the U.S. lingerie brand's Angels, a title she has held since 2015, she has also carved out a successful career in high fashion, walking for Chanel, Oscar de la Renta and DKNY during the spring/summer 2017 season earlier this fall.'
*****
This man made it to 'Women of the Year' list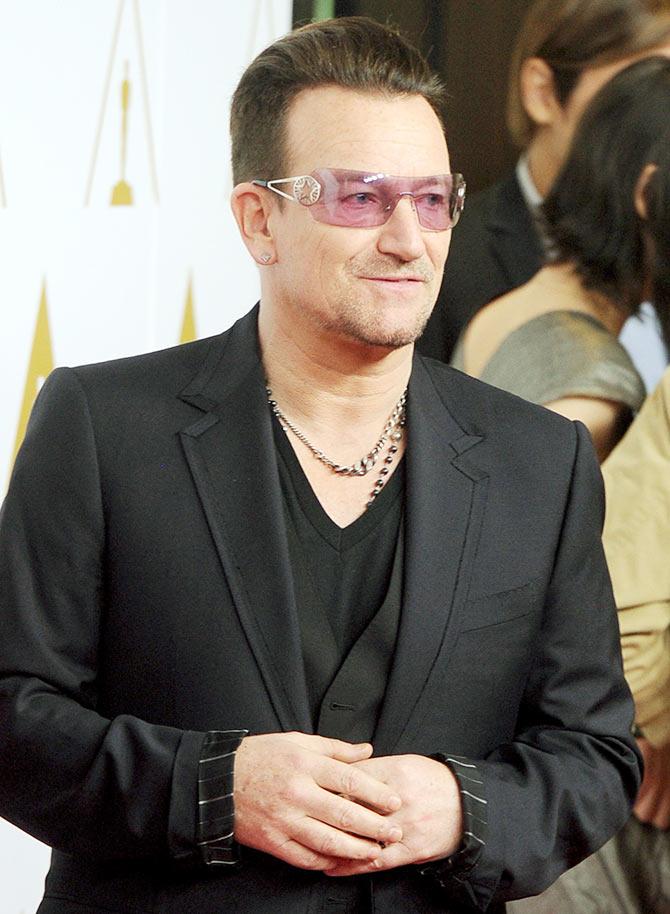 IMAGE: Bono, musician and frontman of rock band U2 is on Glamour's Women of the Year list.
Photograph: Kevin Winter/Getty Images
Quite unusual, but for the first a man was included in Glamour magazine's 'Women of the Year' list.
Bono, singer and frontman for rock band U2, -- who was felicitated with powerhouse women like model Ashley Graham, American actor Zendaya, Olympic gymnast Simone Biles and finance minister of France Christine Lagarde -- has been campaigning for women's rights.
The singer said he was 'sure he didn't deserve it' but the battle for gender equality couldn't be won 'unless men lead it along with women'.
He further added that he was 'grateful' for the honour and said men were 'largely responsible for the problem, so we have to be involved in the solutions'.
In fact, Glamour magazine cited that the musician's campaign 'Poverty is Sexist' -- that aimed at helping the world's poorest women -- was also considered while giving away the award.