Apple Watch Series 3 is a promising health and fitness companion.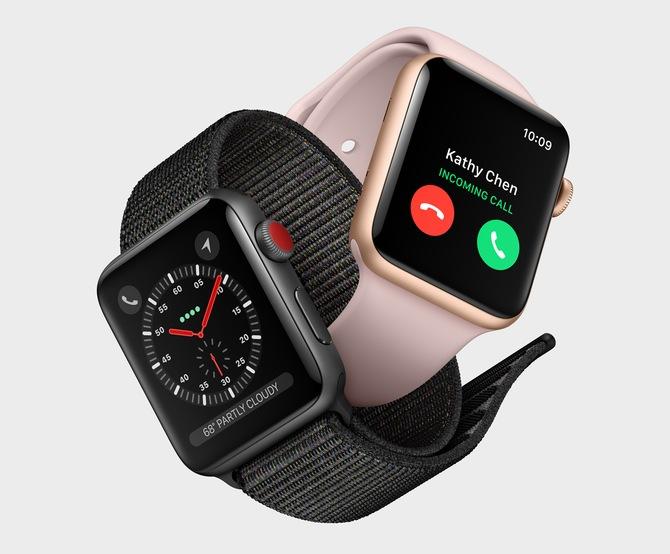 All photographs: Courtesy apple.com
With the growing market for smart watches, Apple -- along with the iPhone 8 and iPhone 8 Plus, and the iPhone X -- also unveiled its Series 3 watches in four variants: Apple Watch, Apple Watch Nike+, Watch Hermis and Apple Watch Edition, all four to be sold in the US as GPS + cellular options.
'We believe the addition of cellular will transform the way people use Apple Watch, providing a new sense of freedom since they can stay connected with or without their iPhone,' says Jeff Williams, Apple's chief operating officer. 'Apple Watch Series 3 combined with the power of watchOS 4 is the ultimate device for a healthy life.'
India, however, will get only the GPS version for now.
Apple Watch Series 3 GPS runs on a S3 Dual core processor. It is water resistant up to 50 meters, but always remember not to wear it while scuba diving and waterskiing or other activities involving high-velocity water or submersion below shallow depth, the company website warns.
It also comes with a barometric altimeter, a heart rate sensor, an accelerometer, a Gyroscope and ambient light sensor.
You can stay connected via Wi-Fi (802.11b/g/n 2.4GHz) or Bluetooth 4.2.
The Apple Watch Series 3 GPS sports second-generation OLED Retina display with Force Touch screen and is strengthened by Ion-X glass to protect its surface against scratches.
This watch is available in 272x340 pixels (38mm) and 312x390 pixels (42mm) formats.
According to Apple, the built-in rechargeable lithium-ion battery can last up to to 18 hours on normal usage. It can be charged using a magnetic charging cable and a USB power adapter.
On the flip side, it just offers the 8GB storage option.
The The Apple Watch Series 3 GPS, which comes with aluminium casing and a Sport Band, will be available in India on September 29, 2017 at a starting price of ₹26,000.
---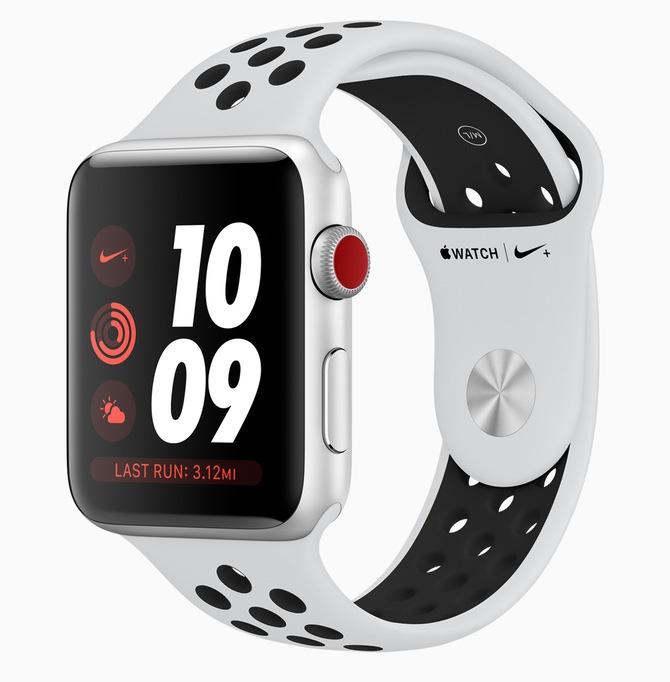 The other watch to look out for is the Apple Watch Nike+, which also starts at ₹26,000, and will be available in India from October 5, 2017.
There is nothing much to differentiate this variant from Apple Watch Series 3, but since it is branded as Nike+ it comes with a Nike Sport Band.
Apple notes, 'The Nike Run Club app has been updated to introduce exciting new features: Audio Guided Runs deliver world-class coaching and motivation from Nike's elite coaches, athletes and entertainers, while the Cheers feature makes running more fun by allowing your friends to send audio-based cheers, which will motivate you during a run.'
---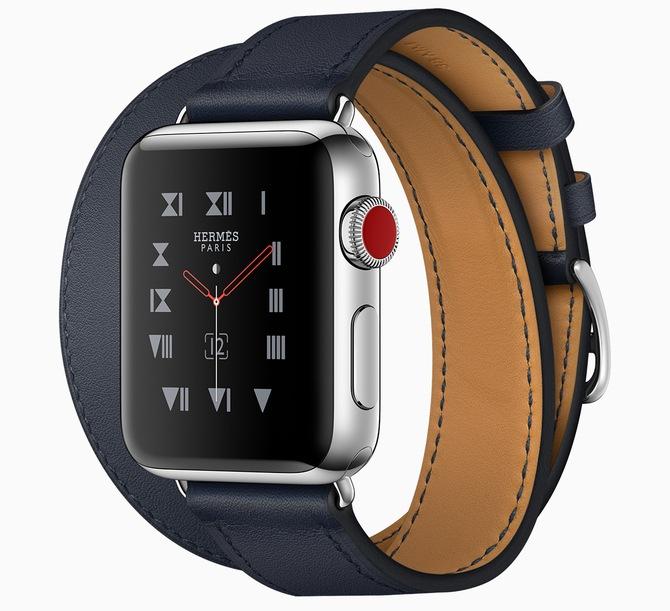 Not everything from Apple's new wearables catalogue is coming to India. At least not right away.
1. Apple Watch Series 3 GPS + Cellular, which starts at $399, will be available from September 22, 2017, in the US only. But barring a few features, almost all the specs are the same as the GPS version that will be available in India.
It is available in aluminum and stainless steel casing with a Sport Band or Milanese Loop. The Series 3 GPS + Cellular has Siri as the digital assistant. It's storage is maxed at 16GB.
On the connectivity front since it is available in cellular mode, it will support LTE and UMTS3 bands.
2. Apple Watch Hermès -- with its Hermès designs inspired bands and watch faces -- will be available in the US only at $1,149.
3. Apple Watch Edition -- boasting a ceramic case and sport band -- will be available in the US only at $1,299.
However, the fact that the Apple Watch Series 1 -- which released last year and is available in India -- will be made more affordable than before softens that blow.
An SP1 dual core processor is at the heart of the Series 1 watch and among other things it is splash resistant.
This watch is also bundled with a series of useful sensors like Heart rate sensor, Accelerometer, Gyroscope and Ambient light sensor.
It too comes in an aluminium casing and with a sport band.
The remaining specs are the same as the latest Apple Series 3 Watch, but are available for sale at Apple stores in India starting at just ₹21,900.