Price, specifications, features and all that you need to know about Apple's hot new 10th anniversary phone.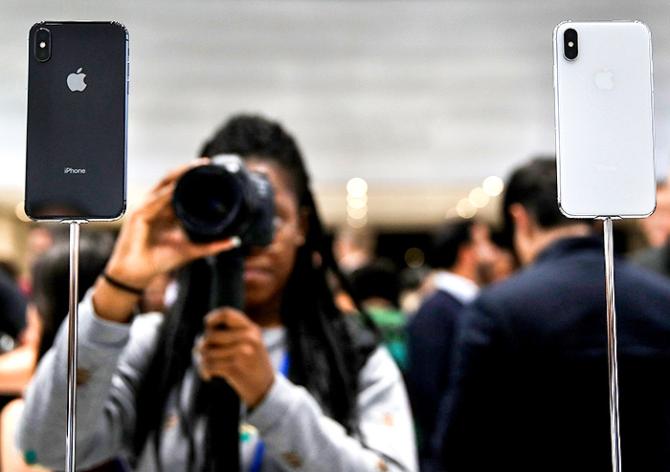 The iPhone X, available in silver and space gray in 64GB and 256GB models, is displayed during an Apple special event at the Steve Jobs Theatre on the Apple Park campus on September 12, 2017 in Cupertino, California.
Don't miss: 10 years of iPhone, 10 years of madness!
Photograph:

Justin Sullivan/Getty Images

.
The iPhone X -- the Roman 10 -- the latest flagship handset from Apple is being called 'the biggest leap forward' since the original iPhone 10 years ago.
"Ten years later it is only fitting that we are here in this place, on this day to reveal a product that will set the path for technology for the next decade," Apple chief executive officer Tim Cook said yesterday while unveiling the anniversary phone.
The unveiling comes with Apple seeking to recapture the magic of the first iPhone release in 2007 as it struggles to maintain market share.
Touting the device as the next generation of mobile computing, Apple has upped the ante and boosted the starting price of the new handset to $999 (₹64,000) for United States customers. It will be priced ₹89,000 onwards in India.
The iPhone X will become available in India at the same time as the rest of the world. Orders open October 27, with availability beginning November 3.
Here's what sets it apart.
QUICK READ
IN-DEPTH
1. The iPhone X has an edge-to-edge 5.8-inch (14.7-centimeter) 'super retina' display with improved resolution. 'For more than a decade, our intention has been to create an iPhone that is all display. The iPhone X is the realization of that vision,' said Jony Ive, Apple's chief design officer.
Apple adds, 'The HDR display supports Dolby Vision and HDR10, which together make photo and video content look even more amazing. The addition of True Tone dynamically adjusts the white balance of the display to match the surrounding light for a more natural, paper-like viewing experience.'
2. With the iPhone X Apple finally shifts from LCD screens to OLED technology. But OLED is new only for iPhones; Samsung, for instance, has been using it since it launched its first Galaxy phone.
This is important because, as Macworld notes, 'The display is typically the most power-hungry component in any phone because of the backlight. By removing it, the iPhone will be more power efficient... [OLED also] allows for the entire display module to be thinner, which is an important consideration in a smartphone. Apple could use the extra space to make the phone thinner or add a little more battery capacity.
3. The Super Retina display means the iPhone X has done away with the Home button. 'Simply swipe up from the bottom to go home from anywhere,' Apple says.
It adds, 'The all-glass front and back feature the most durable glass ever in a smartphone in silver or space gray, while a highly polished, surgical-grade stainless steel band seamlessly wraps around and reinforces iPhone X.'
4. With the home button gone, so is the iPhone's fingerprint sensor. So, in another major innovation, iPhone X has replaced fingerprint authentication with Face ID authentication.
It uses 'a state-of-the-art TrueDepth camera system made up of a dot projector, infrared camera and flood illuminator... to accurately map and recognize a face. These advanced depth-sensing technologies work together to securely unlock iPhone, enable Apple Pay, gain access to secure apps and many more new features.'
Apple elaborated, 'Face ID projects more than 30,000 invisible IR dots. The IR image and dot pattern are pushed through neural networks to create a mathematical model of your face and send the data to the secure enclave to confirm a match, while adapting to physical changes in appearance over time. All saved facial information is protected by the secure enclave to keep data extremely secure, while all of the processing is done on-device and not in the cloud to protect user privacy. Face ID only unlocks iPhone X when customers look at it and is designed to prevent spoofing by photos or masks.'
5. All three new iPhone models -- iPhone 8, iPhone 8 Plus, and iPhone X -- come with 12-MP rear cameras and 7-mp Face Time cameras in the front. But like the iPhone 8 Plus, the iPhone X also has an additional rear camera sensor.
'These dual cameras have two different lenses: wide angle and telephoto,' CNET says. 'But Apple squeezed two extra little tidbits into the camera housing on the iPhone X.'
While the iPhone 8 Plus has optical image stabilization (OIS) only for its wide-angle camera -- 'leaving the telephoto camera more susceptible to camera shake' -- the iPhone X has OIS in both cameras.
The iPhone X has an f/2.4 telephoto lens, giving it an edge in depth of field and low light shots, as compared to the iPhone 8 Plus's f/2.8 aperture telephoto lens.
iPhone X also has Apple's new Portrait mode.
6. Video is vastly improved, as well. With the iPhone X, a video can be captured at 60FPS in low-light mode, with faster frame rate support and 4K capture. Slo-mo videos shot in 1080p will have 240 FPS.
7. iPhone X has fun with the TrueDepth camera by bringing the emoji to life. They call it Animoji.
'Working with A11 Bionic, the TrueDepth camera captures and analyzes over 50 different facial muscle movements, then animates those expressions in a dozen different Animoji, including a panda, unicorn and robot,' Apple says. 'Available as an iMessage app pre-installed on iPhone X, customers can record and send Animoji messages with their voice that can smile, frown and more.'
8. Like the iPhone 8 and iPhone 8 Plus, iPhone X is equipped with Apple's new A11 Bionic chip.
The chip, Apple says, 'features a six-core CPU design with two performance cores that are 25 per cent faster and four efficiency cores that are 70 per cent faster than the A10 Fusion... A new, second-generation performance controller can harness all six cores simultaneously, delivering up to 70 per cent greater performance for multi-threaded workloads.'
A11, the company says, will combine greater performance with energy efficiency (read battery life).
9. The battery life of the new iPhone is two hours longer than the iPhone 7.
The iPhone X, like iPhone 8 and iPhone 8 Plus, comes with wireless charging capabilities supported by Qi, the standard in the wireless charging industry.
10. However, even with the iPhone X Apple hasn't caught up with Samsung Note 8's IP68 rating on water and dust resistance. IP68 means a gadget is resistant for about 30 minutes at 1.5 metres depth. All three new iPhones are rated IP67, which means they should remain functional for about 30 minutes at a depth of up to 1 metre.
11. Analyst Patrick Moorhead of Moor Insights & Strategies calls the new flagship iPhone X 'an engineering marvel, especially when compared to the iPhone 7 and iPhone 8' in a conversation with AFP.
He adds that the handset 'is not just a late copy of the competition. Apple did it their way by perfecting the experience, and on their timeframe.'
Tarun Pathak, associate director, Counterpoint Research, tells the Press Trust of India, 'With iPhone X Apple has added a new "Premium plus" category where it can target its loyal users to upgrade to a "premium plus " category while the older generation iPhone users -- iPhone 5 or 6 can still upgrade to iPhone 7 or 8 series.'
However, Jan Dawson of Jackdaw Research cautions that Apple could be stretching its market too thin. 'The challenge for Apple will be whether they've done enough to make the iPhone 8 range compelling,' Dawson says in a blog post. "What Apple doesn't want is for people to want the best but not be able to afford it, and, therefore, hold onto their existing phones rather than buying what they consider second best.'