Price, specifications, features -- it's all here.
Design: Ashish Narsale/Rediff.com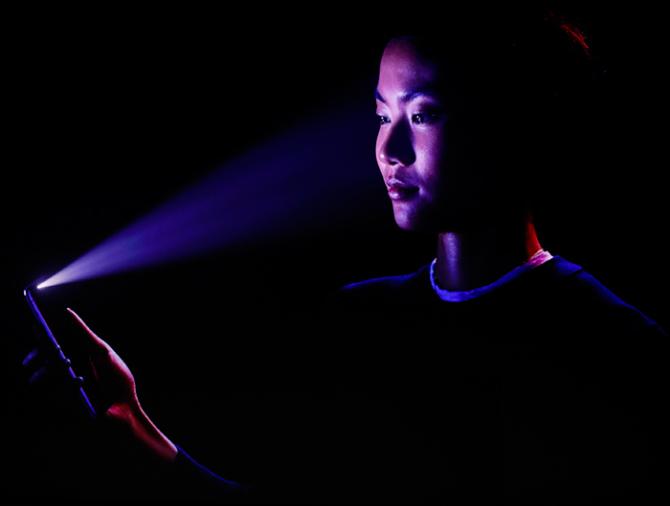 At the iPhone 8 and iPhone 8 Plus launch in California yesterday.
Photograph:

Stephen Lam

/Reuters

.
According to Philip Schiller, Apple's senior vice president of Worldwide Marketing, 'iPhone 8 and iPhone 8 Plus are a new generation of iPhone that improve on everything we love about iPhone.'
The iPhone 8 and iPhone 8 Plus will be available to order from September 15, with availability beginning September 22.
However, despite Apple claiming that India is a key growth market where it is bringing all of its 'energies' to expand footprint, India will have to wait a bit longer. The phones will be available here only from September 29.
The iPhone 8 prices in India start at ₹64,000. As always it is cheaper in the United States with a starting price of $699 or about ₹45,000.
QUICK READ
IN-DEPTH
1. Apple claims iPhone has the world's most popular smartphone camera, and builds on it with the iPhone 8 and iPhone 8 Plus.
The phones feature 'an improved 12-megapixel camera with a larger and faster sensor, a new color filter and deeper pixels.'
The phones boast a 'new Apple-designed' image signal processor, which the company says will deliver 'advanced pixel processing, wide color capture, faster autofocus in low light and better HDR photos.'
It also features a 'new quad LED True Tone Flash with Slow Sync,' which will help in producing more uniformly lit backgrounds and foregrounds.
Don't miss: 31 images you won't believe were taken only on an iPhone
2. Apple promises that the new camera will deliver 'the highest quality video capture ever in a smartphone with better video stabilization, 4K video up to 60fps and 1080p slo-mo up to 240fps.'
The Apple-designed video encoder provides real-time image and motion analysis.
3. The iPhone 8 Plus features dual 12-MP cameras and introduces a Portrait mode that introduces dramatic studio lighting effects to iPhone. Apple has said, 'Portrait Lighting is based on extensive research into the art and science of portraiture and core photographic lighting principles.'
4. Additionally, Apple has capitalised on its ARKit platform and to bring the 'ultimate AR experience' to the iPhone 8 Plus cameras.
Apple says, 'Each camera is individually calibrated, with new gyroscopes and accelerometers for accurate motion tracking. AR benefits from A11 Bionic, which handles world tracking, scene recognition and incredible graphics at 60fps, while the image signal processor does real-time lighting estimation.'
5. Both iPhone 8 and iPhone 8 Plus support HEIF and HEVC for up to two times compression and storage for photos and videos.
6. iPhone 8 and iPhone 8 Plus are both equipped with Apple's new and powerful chip, the A11 Bionic.
The chip, Apple says, 'features a six-core CPU design with two performance cores that are 25 per cent faster and four efficiency cores that are 70 per cent faster than the A10 Fusion... A new, second-generation performance controller can harness all six cores simultaneously, delivering up to 70 per cent greater performance for multi-threaded workloads.'
The chip is expected to combine greater performance with energy efficiency (read battery life).
7.The A11 Bionic is expected to make the graphics performance 30 per cent faster because it 'integrates an Apple-designed GPU with a three-core design.'
Apple adds, 'All this power enables incredible new machine learning, AR apps and immersive 3D games.'
8.The iPhone 8 and iPhone 8 Plus feature boosted versions of Apple's trademark Retina HD displays 'with the addition of True Tone adjust... for a more natural, paper-like viewing experience.'
9. Apple has redesigned its stereo speakers for the iPhone 8 and iPhone 8 Plus. They are now 'up to 25 percent louder and deliver deeper bass.'
10. The iPhone 8 and iPhone 8 Plus will be available in 64GB and 256GB capacity models, just like its competitor -- the Samsung Galaxy Note 8, which was launched on the same day.
11. However, unlike the Note 8's 6 GB RAM, the iPhone 8 comes with 2 GB RAM while iPhone 8 Plus comes with 3 GB RAM.
12. Also, unlike the Note 8's IP68 dust and water resistance -- resistant for about 30 minutes at 1.5 metres depth -- both the iPhone 8 and iPhone 8 Plus are rated IP67. An IP67 rating means the iPhones should remain functional for about 30 minutes at a depth of up to 1 metre.
13. On the design front, both the iPhone 8 and iPhone 8 Plus have a new glass back design, which, Apple claims, is 'made with the most durable glass ever in a smartphone.'
Both phones will be available in three new finishes: space gray, silver and gold.
14. With iPhone 8 and iPhone 8 Plus, Siri debuts new male and female voices, and 'can translate US English phrases into Chinese, French, German, Italian or Spanish.'
15.The phones continue to further Apple's vision of a 'wireless future' with the glass back design enabling Qi compatible wireless charging.