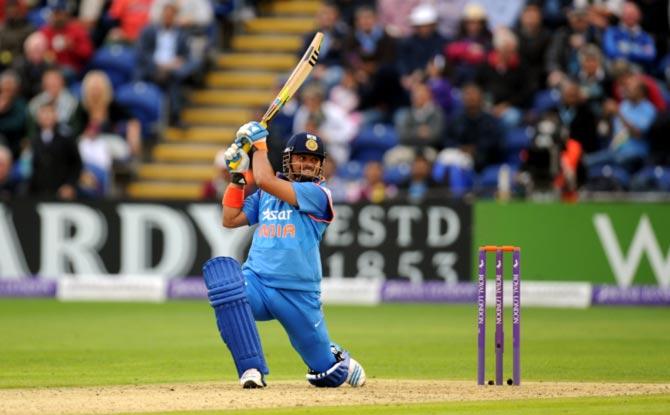 Suresh Raina hits a boundary. Photograph: Stu Forster/Getty Images
Suresh Raina, who scored a 75-ball 100 in India's thumping victory over England in the second ODI, says he wanted to bring fresh energy in the team and is glad he could with his overall performance.
India's 133-run victory in the second ODI against England at Cardiff on Wednesday was mainly because of Suresh Raina's breezy century. Naturally, the batsman who joined the squad after the 1-3 debacle in the five-Test series that preceded the ODIs, was ecstatic.

"I felt really good scoring my first ODI century in three years. I wanted to bring fresh energy in the team, and I am glad I could do that with my overall performance today," Raina, who scored a 75-ball 100, told bcci.tv.

"This knock is one of the most special ones for me given the circumstances and the conditions. We hadn't won the game in a long time and to help the team break that jinx with a century was very satisfying."

It was Raina's first ODI century since 2010 and his first outside the subcontinent, and the left-handed batsman said he worked hard on his game ahead of the ODI series.

"After all the work I had put into my game in Mumbai with Sachin paaji and (Praveen) Amre sir, I was determined to join the team and bring them some happiness, whether it is by scoring a hundred or taking a brilliant catch," he said.

"I had to bring the smiles back on my teammates' faces. I am glad I could do that today. The team's environment is very good right now and I hope we continue this performance in the remaining matches," he added.

Despite India losing the Test, Raina said India is a good side.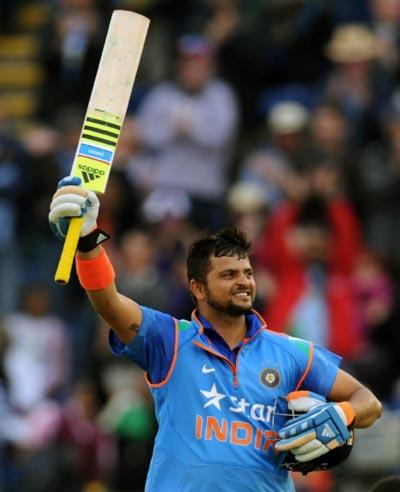 "We didn't do well in the Test series but that doesn't mean we are a bad team. We are ranked No. 2 in ODIs and are the reigning World Cup and Champions Trophy winners. MS (Mahendra Singh Dhoni) did a very good job of leading the team after the Tests and maintain the confidence of the young boys. We had decided that we would run for each other and share each other's success. That showed in our fielding performance."

Raina said the fact that Dhoni knows his style of play, helped them to build the innings as they shared 144 runs for the fifth wicket in 16.5 overs to help India put up 304-6.

"The good thing about batting with MS is that he knows my game and he would never ask me to give up my natural game. At the same time, he would keep talking to me during the innings to ensure I don't throw it away," he said.

"After I got my fifty, I got a bit conscious because I hadn't scored a century since a long time and I wanted to finish well. Rohit also got out after his fifty and I was determined to carry on till the end.

"After a while I started to play my shots, which did disturb the bowlers' rhythm. They struggled with their field placements and bowling areas. That's when I knew that I was dominating them and was thinking one step ahead of them," Raina revealed.

He also contributed with the ball, trapping Chris Jordon in front of wicket in the 34th over.

The part-time spinner said he had worked on his bowling.

"Yes, I bowled well and got Jordan's wicket. Sometimes, even if you are a part-time bowler, after you bowl four-five tight overs you gain much more confidence and it becomes difficult for the batsmen to take you lightly.

"I have worked a lot on my bowling and I hope I get to bowl a lot in the future as well," said Raina.
Image: Suresh Raina celebrates after scoring his century.
Photograph: Stu Forster/Getty Images