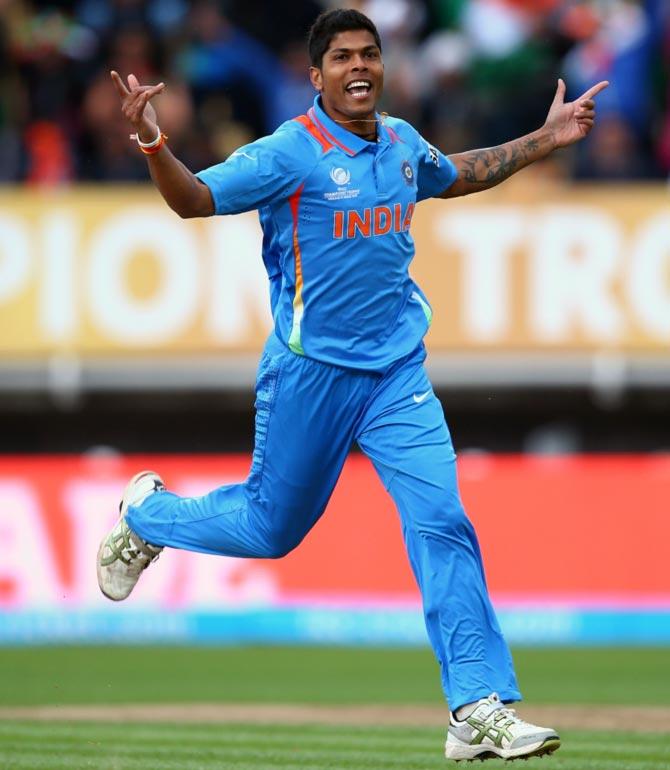 Umesh Yadav of India. Photograph: Michael Steele/Getty Images
Fresh from his good showing for India 'A' during their recent tour of Australia, paceman Umesh Yadav revealed that his Kolkata Knight Riders bowling coach Wasim Akram helped him get his yorkers right and he is now keen to use the toe-crushers against England batsmen in the limited overs series.

"I had a problem with the yorkers as my ball often strayed on the leg. Wasim bhai helped me with that. He said, 'when you are at your bowling mark and about to bowl a yorker, just keep all your focus on the spot you want the ball to pitch and don't think that it will go down the leg side'," Yadav said.

"He said 'it is very important to be aware of your whole body and its position – whether your bowling arm is following the ball and how your follow-through is. You have to ensure that your body and mind are in perfect sync. Even the slightest of angle change will affect where your ball pitches'. He (Akram) told me to make sure the body is always behind the ball and you follow the ball till the end," he told bcci.tv.

Yadav also shed more light how Akram's tutelage had made a difference to his bowling.

"If at the last moment, your body is not in the perfect alignment of the ball, you should not try to swing the ball because it will either stray down the leg side or too wide outside off. The better your body control and position at the release point, the more accurately will you be able to bowl where you want to. That body alignment at the time of release is the key to bowling fast while swinging the ball. If your wrist position is wrong, your swing will go wrong. If your head is falling over, your line will be ruined," he said.

Yadav, who claimed a five-wicket haul (5/90) and hit a quickfire 90 in the second unofficial Test match against Australia last month, said getting back among the wickets was a huge confidence booster for him and is hoping to carry his recent good form into the England ODI series.

"That tour was very good for me. I bowled well and picked wickets on flat pitches. There was bounce but they weren't as quick as we had expected them to be. So we had to assess the wickets, study the bounce and bowl accordingly," the 26-year-old said.

'Everyone knows how to bowl a yorker but not everyone can'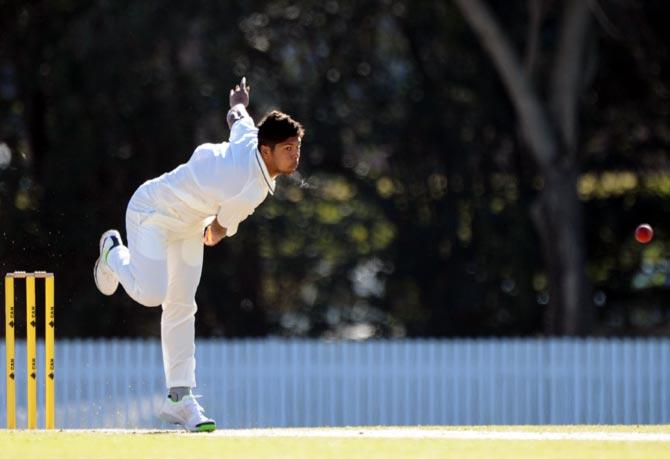 Umesh Yadav of India. Photograph: Matt Roberts/Getty Images
Noting that the wickets in England are generally softer and have spongy bounce, Yadav said his plan will be to try and bowl as full as possible in order to give the ball the time to swing. The Indian pacer said he will use the toe-crusher regularly in England.

"The ball stops before coming on to the bat here unlike in Australia, where it skids through. The good thing here is that you just need to bowl with discipline and rest assured the ball will do something," he said.

Yadav said he does not agree with the viewpoint that the yorker has gone out of fashion. The 26-year-old Vidarbha pacer believes it is an important weapon in the bowler's armoury.

"Everyone knows how to bowl a yorker but not everyone can. That is because of the mindset. The key to getting it right is to go with a clear plan, only focus on bowling the yorker and be very confident about it," the pacer said.

"If bowled accurately there is no better delivery than yorker in cricket," he added.

Yadav, who has joined the likes of Bhuvneshwar Kumar and Mohammad Shami for the ongoing five-match ODI series, said he has to share their workload.

"It is only normal for them to be a bit tired. So, the new bowlers who have joined the team will have to take up more responsibilities in that regards. The onus will be on us to take them with us and keep pushing them to carry on," he said.