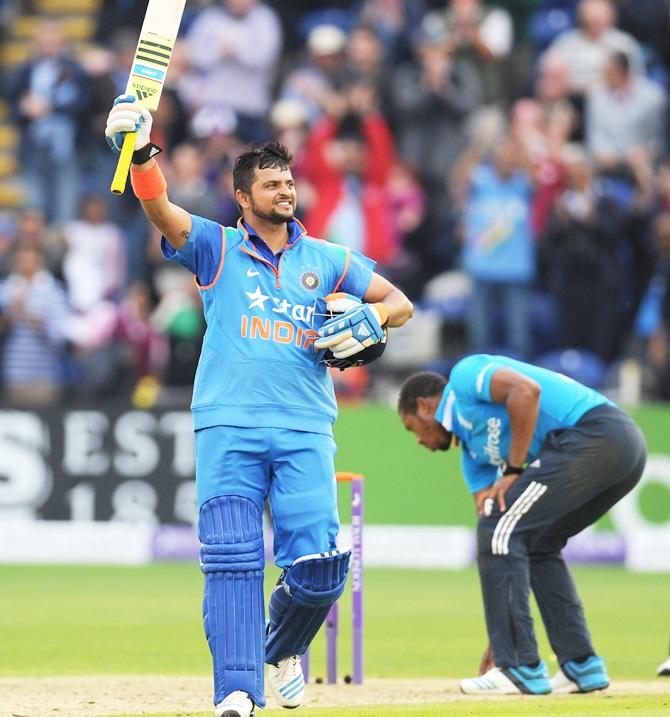 India's Suresh Raina celebrates his century during the 2nd Royal London One-day International match against England at SWALEC Stadium in Cardiff. Photograph: Stu Forster/Getty Images
Indian skipper Mahendra Singh Dhoni heaped praises on Suresh Raina for his match-winning hundred in the second One-dayer against England here today that helped the visitors take a 1-0 lead in the five-match series.
"It was a fantastic knock," said Dhoni, about Raina's 75-ball 100.
India humbled the hosts by 133 runs via Duckworth/Lewis method after the visitors posted 304 for six while batting first. Dhoni said that Raina's knock made the difference.
"By the end of the 30th over, we had not scored too many runs. It was important that he stayed at the crease because he was a set batsman. And we have realised that if we can get a partnership going and have wickets in hand, we can score a lot of runs in the last 10-12 overs. So his innings was very crucial in that respect," he added.
Raina and Dhoni put up 144 runs for the fifth wicket, batting together for 16.5 overs and scoring at 8.55 runs per over, as India plundered 147 runs in the last 15 overs.
The Indian skipper himself scored 52 runs, but the star of the day was surely Raina, who hit 12 fours and 3 sixes during his stay at the crease.
'If Raina doesn't score, some other questions will be asked'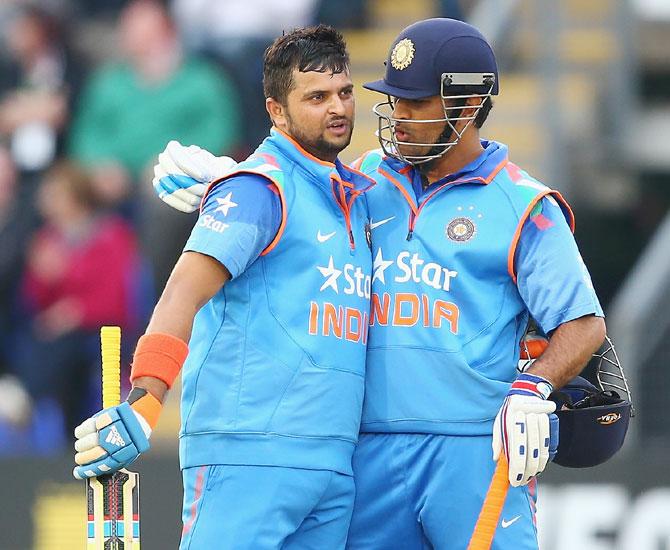 Suresh Raina (left) of India is congratulated by capatin MS Dhoni after reaching his century in Cardiff. Photograph: Michael Steele/Getty Images
"Raina is someone who scores at a very quick pace and he plays authentic cricketing shots. So I feel he played a fantastic innings as once he got his fifty, he continued and moved on to play some fantastic shots and got his hundred," said Dhoni, showering further praise on his team-mate.
With the ODI World Cup just six months away, when asked if this innings confirmed Raina's spot in the squad for India's title-defence, the Indian skipper replied, "The thing is that if a batsman plays one good innings, he is put up on a pedestal. If he doesn't play good cricket or indeed if Raina had not played this innings, the questions could have been very different.
"If Raina doesn't score in a couple of games against the West Indies (at home in October), some other questions will be asked. So let us just say that it was a very good hundred. The World Cup is still three-four series away. Hopefully he won't be injured and will be available for selection at that time as that will be good for us."
'Jadeja has to improve as a bowler'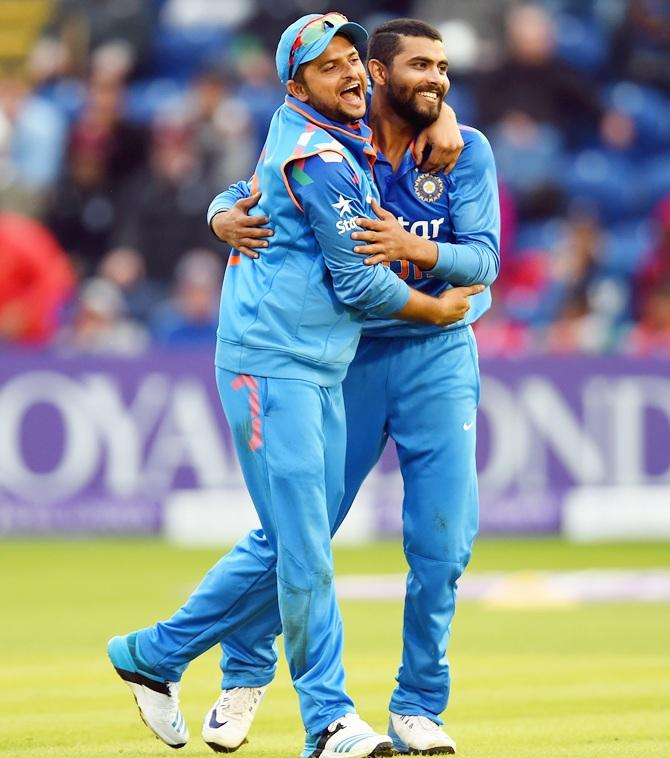 India's Ravindra Jadeja, right, and Suresh Raina celebrate after Chris Woakes was dismissed. Photograph: Stu Forster/Getty Images
Ravindra Jadeja also stood up with his 4-28 in seven overs as England collapsed to 161 all out in 38.1 overs. It further improved Jadeja's ODI record against England, especially in the limited-overs format.
"If we talk about the last few series we have played, whenever the ball has turned slightly, we have seen that it is difficult to score against Jadeja," said the Indian skipper.
"He (Jadeja) bowls in the same area and gets a bit from the wicket and that is one of the main reasons for his success. At the same time, he has also struggled and he has to improve as a bowler and has to do things slightly differently. The key thing is that he keeps improving and gets wickets for us because he is a very useful player for us lower down the order. He can smash a few runs when there are few overs left."
'Five-bowler thing is not a problem in ODIs'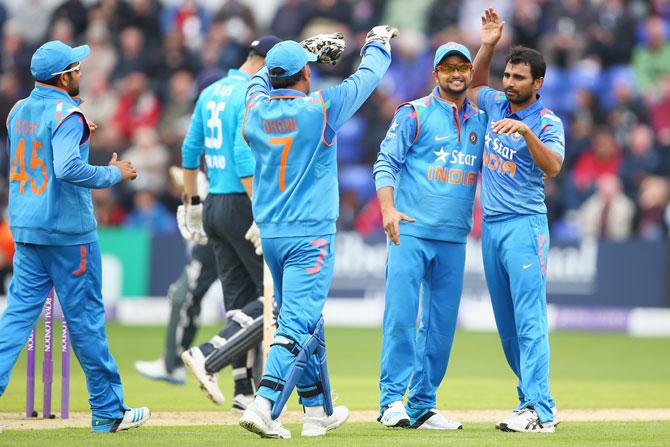 Mohammed Shami,right, of India celebrates with Suresh Raina, second right, and MS Dhoni after capturing the wicket of Alastair Cook of England. Photograph: Michael Steele/Getty Images
Indeed playing Jadeja in the eleven allows India to go in with five bowlers in ODIs as Ravichandran Ashwin too can bat a bit. On the day, the duo had added a few runs in the end of the innings while sharing 6 wickets between them.
"We have been playing in ODIs with five bowlers for ages now," said Dhoni.
"With Jadeja and Ashwin, both of them can bat a bit and bowl a bit. There is also Raina as an option because he can bowl too. If one of the bowlers has a bad day Raina gives me 5 or 6 good overs. Five bowlers get me out of trouble."
"Still the fast bowlers will have to improve a bit more. There was a bit of help for them today but in conditions where they don't have much help, then with current field restrictions they will find it slightly more difficult.
Overall though, the five-bowler thing is not a problem in ODIs because of Jadeja and Ashwin in the eleven," he added.