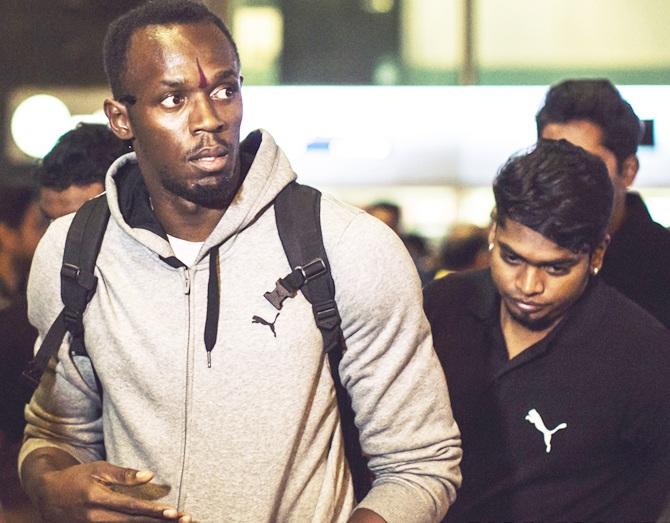 Usain Bolt. Photograph: Courtesy: PUMA
The fastest man on earth arrived at Bangalore International Airport on Tuesday to keep his date with India.
Usain Bolt, on his maiden visit to the country, will feature in a friendly cricket match with India's star players Yuvraj Singh and Zaheer Khan.
The World and Olympic champion will be a part of the seven-a-side exhibition match against a team that will have the country's leading cricketers, including Yuvraj.
The sprinter is certainly no mug with cricket, having exhibited his talent in a similar face-off against fellow-countryman Chris Gayle. In fact, he had him clean bowled immediately after being dispatched for a massive six in a T20 match in the West Indies.

Bolt, whose favourite cricketer is former Pakistan fast bowler Waqar Younis, has claimed in the past that his first love is cricket and as a child he wanted to be a fast bowler.

While Team Bolt will comprise his best friend, Nugent Walker Junior, and Indian spinning great Harbhajan Singh, Team Yuvraj will have his long-time friend and renowned Indian bowler Zaheer.

Both teams will have a specialist wicketkeeper.

The four-over match will be played at the Chinnaswamy Stadium in Bangalore and hosted by former India player Ajay Jadeja.
In a unique format, Bolt and Yuvraj will be present on the pitch to bat throughout their respective overs. Four runs will be deducted every time a player gets out.