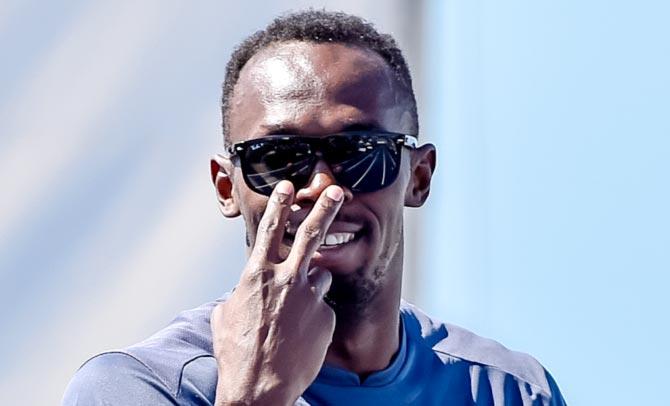 Usain Bolt of Jamaica. Photograph: Buda Mendes/Getty Images
The fastest man on earth Usain Bolt is all set to make his date with India on Tuesday as he features in a friendly cricket match with India's star players Yuvraj Singh and Zaheer Khan.

The World and Olympic champion Bolt will be a part of the seven-a-side exhibition match against a team which will have top cricketers of the country, including Yuvraj.

While Team Bolt will consist of his best friend Nugent Walker Junior and Indian spinning great Harbhajan Singh, Team Yuvraj will have his long-time friend and renowned Indian bowler Zaheer on his side.

Moreover, both teams will have a specialist wicketkeeper.

The four-over match will be played at the Chinnaswamy Stadium in Bangalore and will be hosted by former India player Ajay Jadeja. In a unique format, Bolt and Yuvraj will be present on the pitch to bat throughout their respective overs. Four runs will be deducted every time a player gets out.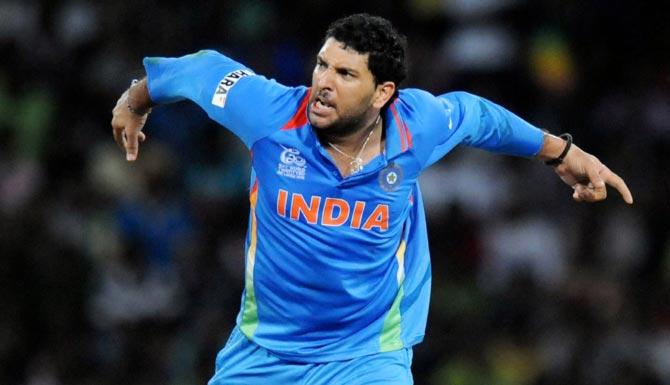 Yuvraj Singh of India. Photograph: Pal Pillai/Getty Images
The star Olympian is no mug with cricket as he has exhibited his talent in a similar face-off against his fellow countryman Chris Gayle, when he had him clean bowled immediately after he was dispatched for a massive six in a T20 match in West Indies.

The ace sprinter, whose favourite cricketer is former Pakistan fast bowler Waqar Younis, has claimed in the past that his first love is cricket and as a child he wanted to be a fast bowler.

The 28-year-old Bolt, who has a liking for Royal Challengers Bangalore, ran his season ending race recently in Warsaw, Poland by clocking a new world indoor best time of 9.98 secs to win the 100 metres. The time, clocked in the main football stadium under a closed roof, bettered the previous mark of 10.05 secs of Frankie Fredricks.

Bolt had also revealed that he will put back his planned retirement until 2017 upon his sponsors' request.

The six-time Olympic gold medallist and world record holder had earlier intended to retire from the track after the 2016 Rio Olympics.