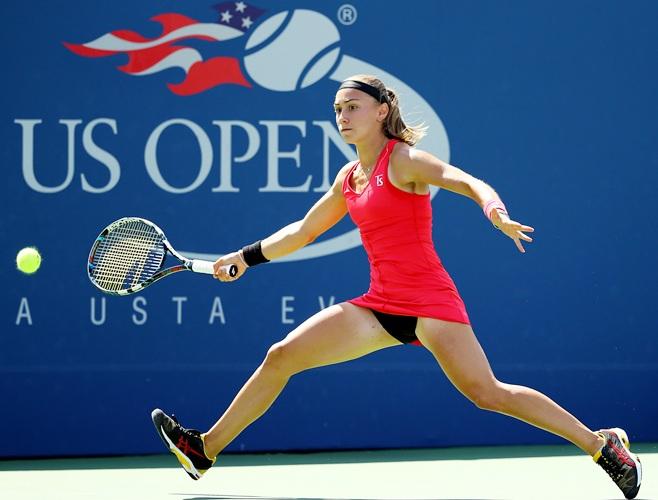 Aleksandra Krunic of Serbia returns a shot against Petra Kvitova of the Czech Republic during their women's singles third round match at the US Open. Photograph: Al Bello/Getty Image
The women's draw at the US Open is in the news for the upsets it created.
Almost everyday even two of the top seeds have fallen to unknown players.
145th-ranked qualifier Aleksandra Krunic and China's Peng Shuai top the list of the unknown players who have caused the maximum damage to the seeds.
Twice Wimbledon champion Petra Kvitova, Simona Halep (2), Agnieszka Radwanska (4), Angelique Kerber (6) and Ana Ivanovic (8) were all victims of their quick-moving, unknown opponents.
Little-known Aleksandra Krunic
Wimbledon champion Petra Kvitova joined a long list of women's upset victims at the US Open when she was ousted in the third round on Saturday (August 31) by 145th-ranked qualifier Aleksandra Krunic.
The diminutive Krunic, a blur as she sprinted and slid into splits stretching for returns, was as surprised as anyone.
"It was an honour for me to be on the same court as Petra, who is a great champion," Krunic said, after the 98-minute match.
"I watched both of her finals matches at Wimbledon. Going to play against such a champion meant to stay on the court as long as possible. Of course, I didn't expect to win. Of course, I hoped to. I'm very happy."
Serial upset-maker Peng Shuai
Shuai Peng of China reacts after defeating Agnieszka Radwanska of Poland in their US Open match at the USTA Billie Jean King National Tennis Center in New York City on Wednesday. Photograph: Julian Finney/Getty Images
China's Peng Shuai knocked out her third seeded player in a row.
The unseeded 28-year-old beat 14th seed Lucie Safarova of the Czech Republic 6-3, 6-4.
Peng had reached the fourth round of Grand Slam singles tournaments five times
The 28-year-old took down yet another seed in Czech Safarova, who had won their last four encounters.
A Wimbledon semi-finalist this year, Peng also eliminated fourth seed Agnieszka Radwanska of Poland in the second round and 28th-seeded Roberta Vinci of Italy in the third.
America's new sweetheart Catherine Bellis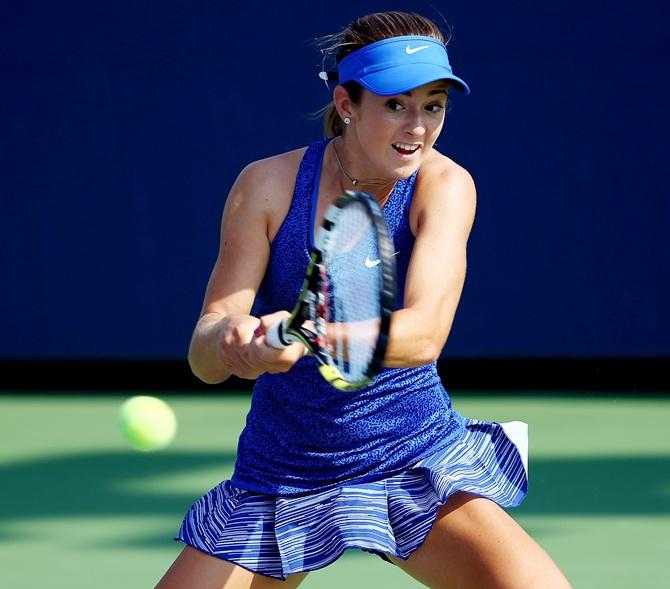 Catherine Bellis of the United States returns a shot against Dominika Cibulkova of Slovakia during their women's singles first round match at the 2014 US Open. Streeter Lecka/Getty Images
American wild card Catherine Bellis hogged the Flushing Meadows' limelight.
She shot from obscurity to fame with a shock first round win over Australian Open finalist Dominika Cibulkova, but could not deliver the fairytale American tennis fans had hoped for, falling 6-3, 0-6, 6-2 to Kazakhstan's Zarina Diyas.
Hundreds lined up at the entrances to a jam-packed Court 17, trying to catch a glimpse of "CiCi" - the teenager's nickname.
With hoards more gathered around giant screens outside the main stadiums, groans of disappointment could be heard across the sprawling US National Tennis Center as the crowd watched the match slowly slip away.
"I think what surprised me is that I could really, like, stay with these pros," Bellis said.
"I think today if I had played a little bit better, it would have been a different result. But, I mean, just that I can play with them is really good."
New Swiss miss Belinda Bencic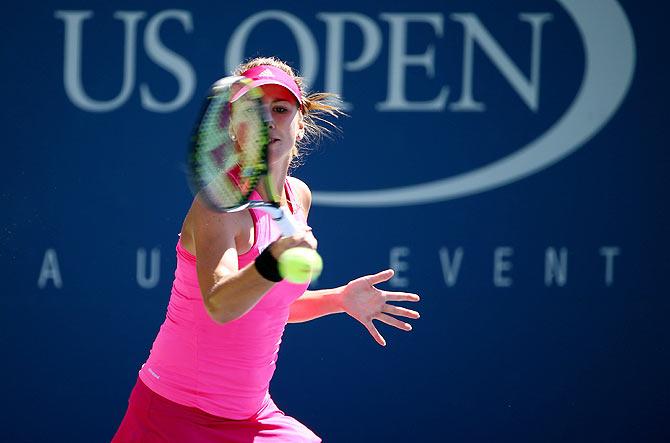 Belinda Bencic of Switzerland returns a shot against Angelique Kerber of Germany during their women's singles third round match on Friday. Photograph: Streeter Lecka/Getty Images
Swiss teenager Belinda Bencic beat a former World No 1 Jelena Jankovic in fourth-round on Sunday to set up an unlikely US Open quarter-final.
The 17-year-old Bencic ousted ninth-seeded Serb Jelena Jankovic 7-6(6), 6-3 to reach the last eight in a Grand-Slam, a first for her.
For Bencic, the victory continued her best Grand Slam showing and made her the youngest US Open quarter-finalist since Martina Hingis won the title in 1997.
Earlier Bencic ousted sixth-seeded German Angelique Kerber on a sunny day that opened up the women's draw.
Bencic, last year's French Open and Wimbledon junior champion, defeated Kerber 6-1, 7-5 to reach the round of 16 in her US Open debut.
Veteran Mirjana Lucic-Baroni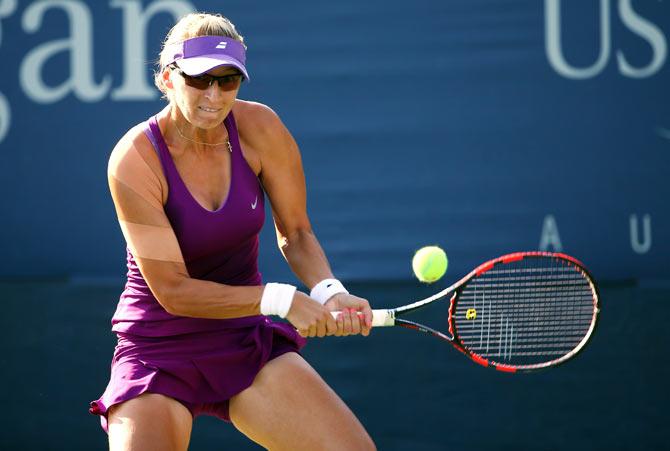 Mirjana Lucic-Baroni of Croatia. Photograph: Streeter Lecka/Getty Images
Croatian Mirjana Lucic-Baroni, a 32-year-old qualifier ranked 121st in the world, dismissed Romania's Halep 7-6 (6), 6-2 to reach the fourth round for her best Grand Slam result since a 1999 run to the Wimbledon semi-finals.
With nothing to lose, Lucic-Baroni cut loose and rifled in 31 winners against Halep, who was on the defensive throughout the 94-minute grandstand match.
Sara Errani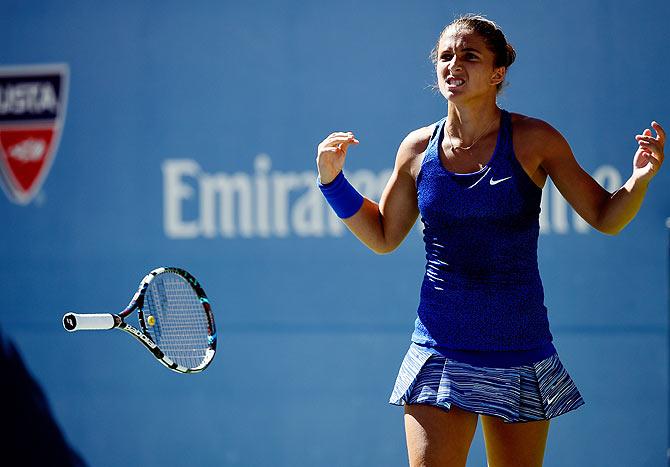 Sara Errani of Italy celebrates match point after defeating Venus Williams of the United States in their women's singles third round match on Friday. Photograph: Alex Goodlett/Getty Images
Italy's Sara Errani posted her first career win over Williams on Friday (August 29).
Errani's passage into the round of 16 was not startling. Loser of all three previous singles matches against Williams in straight sets, Errani outplayed the seven-time Grand Slam winner in a thrilling third-set tiebreaker to win their roller-coaster clash 6-0, 0-6, 7-6 (5).
"That was a really tough match," said Errani, who won 11 of 14 points she contested at the net. "Even though I won the first set 6-0, I tried to give everything I have, focus on every point."
Karolina Pliskova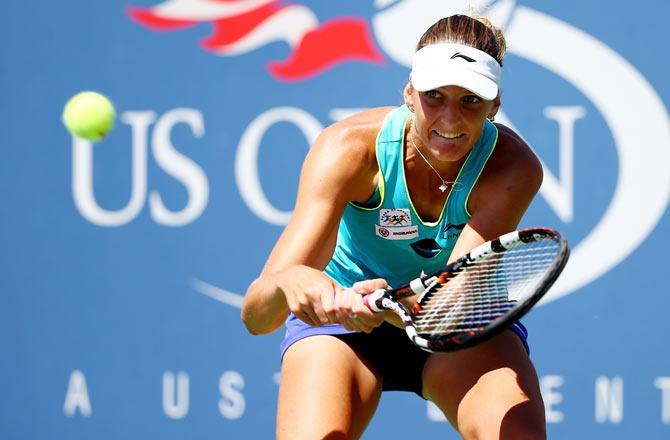 Karolina Pliskova of the Czech Republic returns a shot to Ana Ivanovic of Serbia during their US Open women's singles second round match on Thursday. Photograph: Streeter Lecka/Getty Images
Former World No 1 Ana Ivanovic was upset 7-5, 6-4 by 42nd-ranked Karolina Pliskova of the Czech Republic in the second round of the US Open on Thursday (August 28).
Pliskova, 22, took advantage of a slew of miscues from the eighth-seeded Serb during a windy, 80-minute match in Louis Armstrong Stadium to reach the third round for the first time in a Grand Slam event.
Ivanovic, 26, double-faulted seven times and committed 29 unforced errors as she had trouble handling the heavy, flat groundstrokes from the Czech.
"It's definitely my best match this year," said Pliskova, who has yet to win on the WTA Tour but twice has been a runner-up this year.
"I didn't have that much strategy. I just went and played my game. I want to enjoy myself and I did it."
Pliskova, the 2010 Australian Open girls' champion, has been making tour progress in singles after gaining attention for her success in doubles, partnering with twin sister Kristyna last year to become the first twins to ever win a WTA doubles title.