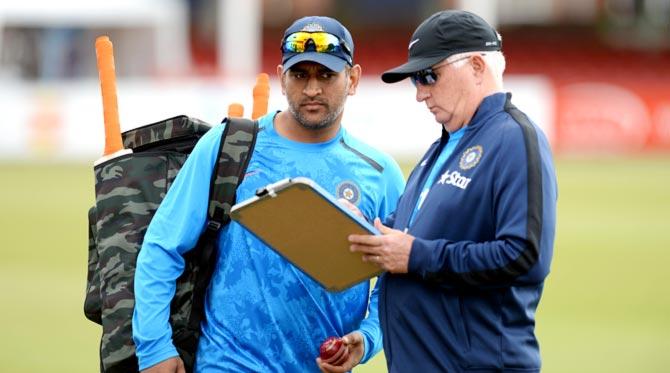 India captain Mahendra Singh Dhoni (left) with coach Duncan Fletcher. Tony Marshall/Getty Images
After taking an unassailable 3-0 lead following the nine-wicket victory in the fourth One-Day International against England, India is likely to give a break to some of their key players in the inconsequential fifth and final match at Headingley, Leeds, on Friday.

Bhuvneshwar Kumar bowled 172.5 overs in the five Tests, picking up 19 wickets and skipper Mahendra Singh Dhoni revealed after the Birmingham win that he had thought of giving the medium-pacer rest after a few Test matches.

"In the middle of the Test series, he was slightly overbowled," said Dhoni after the win in the fourth ODI.

"We bowled him more with the new ball. If Ishant (Sharma) was fit, maybe we could have given Bhuvi (Bhuvneshwar) rest in one of the Test matches in the middle of the series. But we couldn't really do that. It was good on him to go through the Test series despite a few niggles."

Ishant Sharma's injury pullout after just three Tests put more burden on the young Bhuvneshwar as Mohammed Shami, who picked just five wickets in three Tests, failed to live up to expectations.

Dhoni was all praise for Bhuvneshwar's consistent performances with the ball in English conditions.

"He is a fantastic fast bowler because he can swing the ball. And in England, bowlers who can swing the ball are really successful," said the India captain.

"He has bowled the right length. He has exploited the conditions when there was help for him. He pushed the batsmen to play. That is crucial in these conditions. A lot of Indian bowlers when they make debut for the country lose their pace after some time. He is one of those who have gained a couple of yards instead. That really helps because in international circuit once you drop down, even if you are a swing bowler, it is very difficult to maintain that effectiveness," he added.

But the Indian team management may also not want to disturb the winning combination with the 2015 World Cup just six months away. It remains to be seen whether Dhoni focusses on sweeping the series by retaining the same team or giving the benched players a feel of English conditions.

If India does decide to try out the new players, then the likes of leg-spinner Karn Sharma, wicketkeeper-batsman Sanju Samson, all-rounder Stuart Binny, pacer Umesh Yadav and opener Murali Vijay come into the picture.