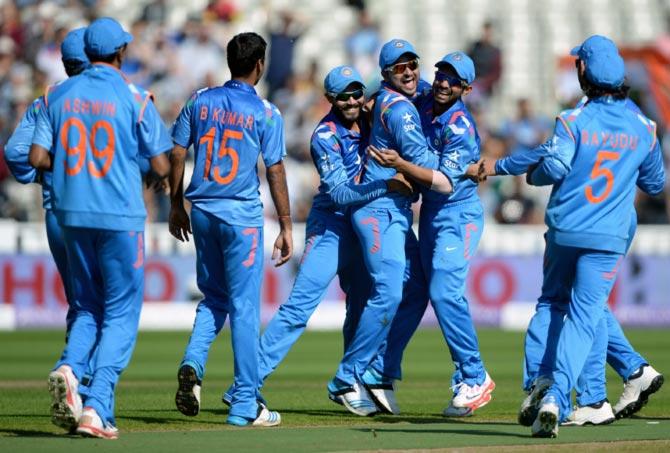 India's players celebrate the fall of a wicket during the fourth ODI against England at Edgbaston in Birmingham. Gareth Copley/Getty Images
Days after Suresh Raina hailed Ravi Shastri's role as Team Director, India opener Shikhar Dhawan echoed similar sentiments, saying the former captain has instilled confidence in the side after the Test debacle.
His comments came after the nine-wicket victory over England in the fourth One-Day International in Birmingham, on Tuesday.
Relieved after coming good with the bat following a string of poor scores in the Test series and then in the second and third ODIs, Dhawan thanked the team's support staff and singled out Shastri.
"I would like to thank the entire support staff, especially Ravibhai (Shastri), who has given us a lot of confidence since he joined the team. A very big thanks to my family for standing by me," the left-handeer told bcci.tv.
Raina had also credited Shastri for the dramatic turnaround in the team's fortunes in the One-Day International series after being thrashed 1-3 in the five-Test series.
"Ravi Shastri gave us a lot of confidence. He came in the team meeting and said a few words to the team which were very inspiring. He was also sitting with me in the bus when we were on our way to the stadium and he told me, 'khadoos khelna hai' (play a stubborn game)," Raina had said, after his match-winning century in the second ODI against England.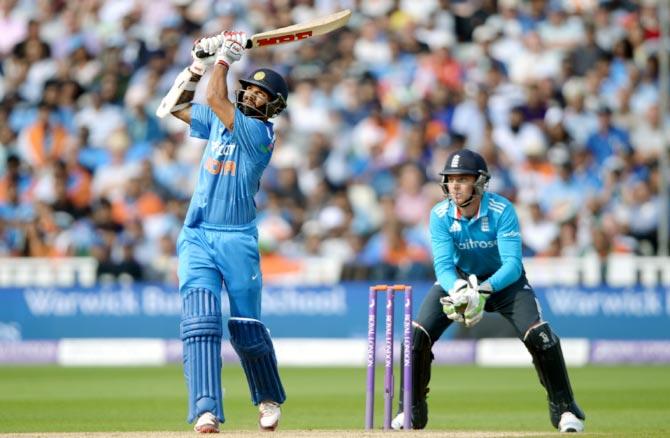 Shikhar Dhawan hits out. Gareth Copley/Getty Images
The Board of Control for Cricket in India appointed Shastri as the team director following India's poor showing in the Tests, prompting speculation over head coach Duncan Fletcher's future.
India came back strongly in the five-match ODI series to take an unassailable 3-0 lead after the first game was washed off.

Ajinkya Rahane slammed a century, while Dhawan smashed an unbeaten 97 as India registered a series-clinching victory over England in the fourth ODI.

The Delhi batsman said winning the series so convincingly is a huge confidence booster for India with around six months left for the 2015 World Cup, to be played in Australia and New Zealand.
"We are playing the World Cup in Australia and New Zealand and six months before that; winning an ODI series in England so comprehensively is a huge confidence booster. It is all the more special given how we bounced back from the disappointing Test series," he said.
"What I will take back from here is the way the entire team stuck together despite what we went through. We stood by each other every single moment and helped each other move on. I am proud of these boys," Dhawan added.
He also expressed relief over getting back among the runs following a poor run with the bat in the Tests and first two ODIs.
"Without confidence, I would not have been able to score runs today. To be honest, even during the Tests and in the first two ODIs, it wasn't like I was struggling to put bat on ball. It happens with every batsman; sometimes, despite feeling good in the nets, you don't score runs in the match."
He attributed his return to form to "a few minor changes in my technique".
"I opened up my shoulder a bit due to which the vision of the bowler and his arm improved a lot. It has also led me into playing straighter than before," he said.


Shikhar Dhawan (left) with Ajinkya Rahane. Michael Steele/Getty Images
Dhawan was all praise for his opening partner, Rahane, who notched his maiden ODI century.
"Ajinkya was in beautiful touch and the way he hit (James) Anderson for those four fours in an over, it released all the pressure. I was not in bad touch myself but my flow wasn't as good as his. So I kept taking singles at the other end and gave him most of the strike initially. It was the perfect partnership between us," he said.
Noting that it is important to be patient and keep the belief intact during low phases, Dhawan said, "I didn't over-think or get too frustrated; I worked hard wholeheartedly and prepared as smartly as I could, and then accepted that this is a bad phase and I have to get through it."
Acknowledging that tough phases teach a player more than good ones do, Dhawan said, "It's when the runs are not coming that even the minutest of flaws are viewed under the microscope. You look into your game and try to pick every single thing you can improve about it. At the end of it, you emerge as a better player than you were. For me failure is not a bad thing because it teaches you how to succeed."