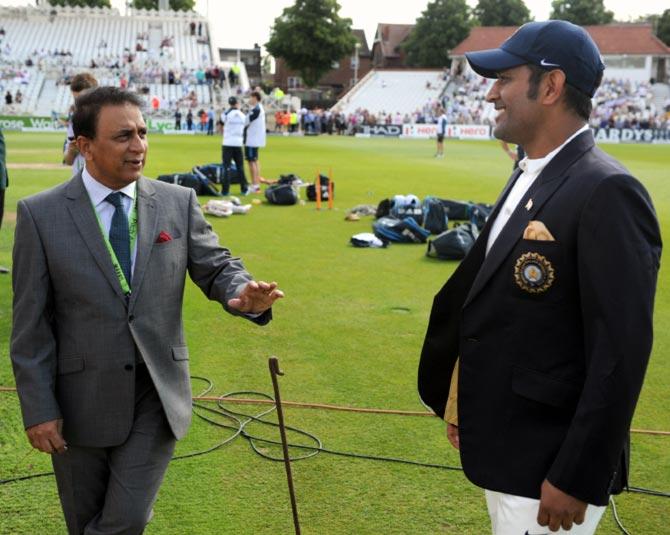 Sunil Gavaskar (left) speaks to India captain Mahendra Singh Dhoni. Gareth Copley/Getty Images
Former India captain Sunil Gavaskar refused to draw comparison between the country's most successful ODI captain Mahendra Singh Dhoni and his predecessors, declaring that the wicketkeeper-batsman's record surpasses that of all his seniors.

India beat England by nine wickets in the fourth match of the series in Birmingham on Tuesday, enabling Dhoni register his 91st One-day International victory as captain and eclipse Mohammad
Azharuddin as India's most successful skipper in the 50-over format.

"If you look at stats after 50-100 matches it will give you a fair bit of idea about consistency of a performer. But what I feel is that is unfair to compare captains of different era," Gavaskar said.

"But going by sheer statistical record, Dhoni definitely tops all and no one can deny this fact. I feel, may be, he is much more comfortable in shorter formats.

"His strength is thinking quickly and 50-over format allows you to do that," the batting legend told NDTV.

He also hailed India's ODI record overseas, but insisted Test cricket is the mother of all formats.

"They are certainly handling the conditions better in ODIs. They have won a lot of ODIs out of the country and have consistently performed in overseas conditions," Gavaskar said.

"In the three ODIs India have completely outplayed England. India definitely have done a lot better that what England did in the Test series.

"But I haven't forgotten the Test series drubbing because, for me, Test is always number one; it separates men from boys," he said.

Gavaskar also hailed young Ajinkya Rahane, who scored his maiden ODI century at Edgbaston as India took an unassailable 3-0 lead in the five-match series.

"Rahane performed well here; he batted well in the earlier overseas series as well. I think he certainly showed he has the capability of batting in every circuit," he said.