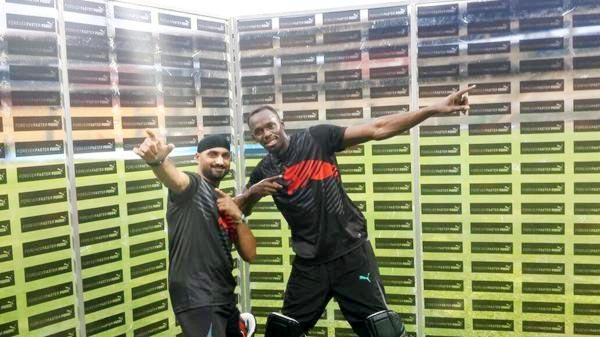 Harbhajan Singh (left) with Usain Bolt. Photograph courtesy: Instagram
Getting a chance to interact with two global sporting legends in the space of two months is an experience in itself, and Indian off-spinner Harbhajan Singh feels "blessed" to have interacted with Pele and Usain Bolt.
What completely floored Harbhajan was the manner in which Bolt, the 'fastest man on earth', bowled during Tuesday's exhibition match -- 'Bolt and Yuvi – Battle of the Legends' -- in Bangalore.
- Thunder 'Bolt' hits Bangalore... with cricket bat and ball
"I think cricket is there in Usain Bolt's blood. Since I got to watch from close quarters, it was amazing to see him run-up to bowl. The perfect delivery stride is understandable because he is a world champion athlete. But the manner in which he loaded at the crease and then bowled the ball left me zapped. He looked like a natural cricketer.
"Probably, he would have been as successful playing cricket as he has been in athletics," Harbhajan, who played alongside the Jamaican legend in the match, said on Wednesday.
Harbhajan, who was in Brazil during the FIFA World Cup, had an opportunity to meet Pele, but Wednesday's meeting with Bolt was "even more special".
"It was a wonderful feeling when Bolt came up to me and Yuvi and said 'I have watched your matches and great to know you guys'. It was great to know while interacting that he is so passionate about cricket," Harbhajan said.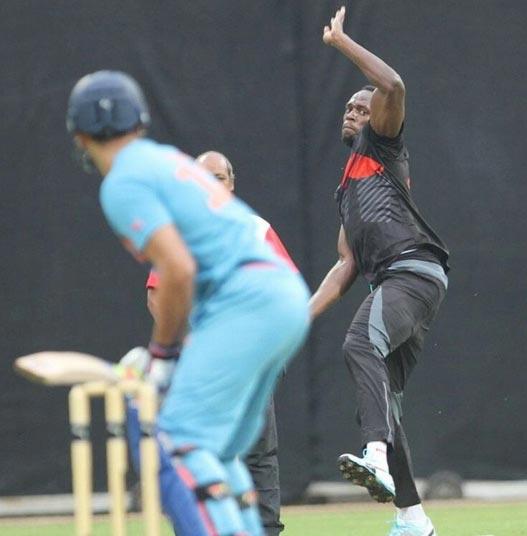 Fury of Speed coming at you, says Usain Bolt. Photograph courtesy: Instagram
The senior off-spinner, in fact, asked Bolt why he did not take up cricket.
"He (Bolt) told me that his coach told him that he was better in athletics!"
Harbhajan spoke at length about Bolt's training schedule and was amazed at the meticulous planning that goes into it.
"He explained to us as to how his training routine changes during competition time and other times. He has a very different regimen as he approaches a competition just like we have a different approach on the eve of the match to other times. If you come to know his detailed training schedule, you would know how much of hard work had gone into making of a champion," said the 34-year-old bowler.
For Harbhajan, however, the most endearing part of Wednesday evening's event in Bangalore was the manner in which Bolt interacted with the fans, who came all the way to the Chinnaswamy Stadium to watch him.
"Bolt's way of mingling with fans really touched my heart. It is a lesson for celebrities from all walks of life that it's the fans that has made us who we are. Long after the event ended, there were a number fans on the other side of the stadium anxiously waiting to catch a closer glimpse of Bolt.
"He walked all the way to the other side, shook hands with at least hundred of them. Imagine how special those young boys and girls must have felt to watch the great man from such close quarters.
"Bolt's behaviour is a lesson for one and all that if we want stardom we have to also gracefully accept what comes with it. He told us that he would be now travelling to the US for other commitments. He is successfully juggling his duties both on and off the field," said India's third highest-wicket taker in Test matches.
Harbhajan will soon be travelling to Raipur to play in Mumbai Indians' qualifying games in the Champions League T20.