Infosys, India's second-largest information technology (IT) services provider, is gearing up its traditional offering of application development and maintenance, albeit with a high dose of automation.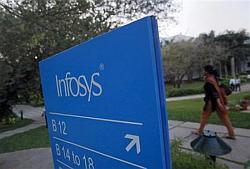 Chandrashekar Kakal, senior vice-president and global head of IT services, one of the company's largest business units, believes automation of IT services is inevitable.

"If you take a step back, IT was the lever used to automate manual processes. In every step of life, automation has impacted business. IT is no exception. IT will be impacted by automation. It is inevitable," he said.

Application management, infrastructure management and business process outsourcing (BPO) could be more automated through autonomic processes, compared to other areas, he said.

"Will it impact off-shoring? I think both can work together and survive. Today, we have mature technology available. We might also look at partners with whom we can work or develop these capabilities in-house. Infrastructure management, application maintenance and BPO are some potential areas," he added.

Kakal said the company had started using tools and algorithms that allowed it to introduce automation in traditional businesses. For instance, at the Infosys BPO, there are zero-touch straight-through processes.

"As of now, our systems are yet to be based on intelligent systems, but that's where we are heading," he added.

Introducing automation into its traditional businesses would allow the company to achieve non-linear growth and aid its bread-and-butter business,
said Kakal, member of the Infosys executive council.
A portfolio shift in the company and growth in product, platforms and solutions would lead to non-linear growth.
"This shift will allow us to record higher revenue per employee. But till then, we have to look at existing services and figure how to use less people and deliver higher revenue per employee. This can be done by using tools, the automation and technology platform, the collaborative platform and an increase in productivity," he said.
Infosys had been working on several platforms, Kakal added. For instance, it had brought out the Infosys application management platform, which combined all the innovation at Infosys and created a platform with all the collaborative technology, knowledge management, work-flow management and team management rolled into one.
"This means for the same level of output, we will require less people. We will be competitive, too," he said.
"Ever since I took over, there is a refocus on the bread-and-butter area. Since we were talking about the '3.0 strategy' and were focusing on PPP, the mindshare had been higher. But we have been slowly working in our bread-and-butter business," he said.
Kakal didn't disclose the revenue from its 3.0 strategy. He said as of now, Infosys had 12 different platforms. "The total contract value on these platforms is about $600 million and there are 70+ clients," he added.