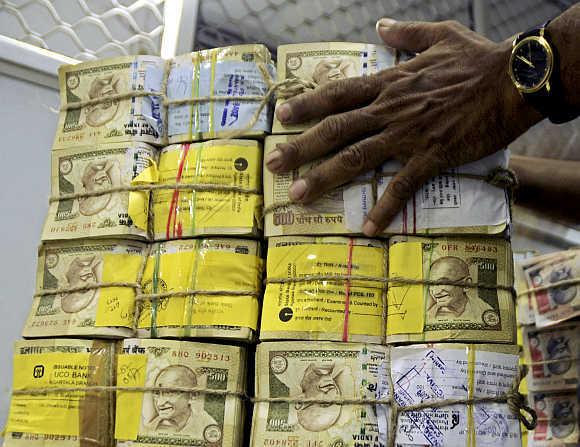 India's external debt rose by almost 13 per cent to $390 billion in 2012-13, mainly due to an increase in short-term trade credit and external commercial borrowings amid a high current account deficit.

At the end of March 2013, India's external debt stood at $390 billion, 12.9 per cent higher than $345.5 billion a year earlier, according to an official statement.
"The rise is mainly due to increase in short-term debt, commercial borrowings and non-resident Indian deposits," the statement said. The level of India's external debt is on a rising trend with the elevated level of the current account deficit and the overall external financing requirements, it said. The current account deficit touched a record high of 4.8 per cent of GDP in 2012-13.
With rising debt flows, deceleration in GDP growth and a depreciating rupee, key external debt indicators witnessed some deterioration as at end-March 2013 as compared to end-March 2012, it said.
"However, debt service ratio, measured by the proportion of total debt service payments to current receipts (minus official transfers) of balance of payments, at end-March 2013 showed some improvement over end-March 2012, coming down from 6.0 to 5.9...," it said.
The country's external debt has remained within manageable limits, as indicated by the external debt-GDP ratio of 21.2 per cent last year, it added.
The share of commercial borrowings in total external debt stood at 31 per cent at the end of March, followed by short-term debt (24.8 per cent), NRI deposits (18.2 per cent) and multilateral debt (13.2 per cent).
Government (sovereign) external debt stood at $81.7 billion from $81.9 billion a year earlier, it said, adding that the share of government external debt was lower at 20.9 per cent compared with 23.7 per cent previously.

It noted that India continues to be among the less vulnerable nations, with its external debt indicators comparing well with other indebted developing countries.
The International Debt Statistics 2013 of the World Bank, which contains data for 2011, shows India in fourth position in terms of absolute debt stock among the top 20 developing debtor countries, it said.
However, in terms of the ratio of external debt to Gross National Income, India's position was the third-lowest, it added.