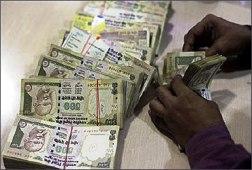 The rupee on Monday closed marginally down at 54.48 against the US currency amid flat stock markets and recovery in dollar against major world currencies.

Dollar demand from importers was little bit more than its selling by exporters, a dealer said.

"The rupee was seen trading in the range of 30 paise.

"The weakness in the rupee was mainly on account recovery in the dollar index and euro slipping below $1.2900 levels," Abhishek Goenka, the CEO of India Forex Advisors, said.

"Positive set of US data and poor economic reports from Europe are restricting the gains in the rupee," he added.

At the Interbank Foreign Exchange (Forex) market, the local unit commenced strong at 54.30 a dollar from last close of 54.47.

It immediately touched a high of 54.26 on hopes of rally in domestic equities.

However, it fell back after hesitancy in local equities to a low of 54.57 before settling at 54.48, showing a mere fall of 1
paisa.
Last Friday, it had tumbled by 33 paise.
"The markets met with sheer disappointment after the government, which won the FDI war last week, did not show up any follow through towards the policy reforms process which has taken a toll on rupee," Pramit Brahmbhatt, CEO, Alpari Financial Services (India) said.
The premium for the forward dollar, however, recovered on fresh payments from banks and corporates.
The benchmark six-month forward dollar premium payable in May rose to 169-170-1/2 paise from last weekend's close of 165-1/2-167 paise.
Far-forward contracts maturing in November also firmed up to 316-1/2-318 paise from 313-314-1/2 paise.
The RBI has fixed the reference rate for the US dollar at 54.3405 and for euro at 70.1320.
The rupee declined further against the pound sterling to 87.41 from last Friday's close of 87.26 and also remained weak against the Japanese yen to 66.29 per 100 yen from 66.14.
It, however, moved up further slightly to 70.34 per euro from last close of 70.38.