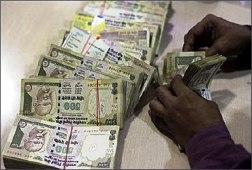 Recouping early losses, the rupee on Tuesday ended higher by nine paise at 54.68 against the dollar on investor hopes of Parliament giving approval to FDI in mutli-brand retail, amid renewed selling of the US currency.

Forex dealers said a weak dollar overseas and firm local equities also supported the local currency.

The rupee resumed a bit lower at 54.78 a dollar from last close of 54.77 and hit a low of 54.96 at the Interbank Foreign Exchange market on some dollar demand from importers and initial hesistancy in local stocks.

However, a late dollar selling by exporters and weakness in dollar overseas aided the rupee to bounce back to a high of 54.59 before settling at 54.68, a gain of nine paise, or 0.16
per cent from its previous close.
"The rupee was mainly helped by beginning of the Parliamentary debate on allowing FDI in multi-brand retail, which boosted investor sentiment," HDFC Bank Chief Dealer Ashtosh Raina said.
Foreign Institutional Investors have infused almost $22.23 billion in the stock markets till December 3 this current calender year, according to Sebi data.
"The rupee is not able to sustain its gains in spite of all the domestic and international factors supporting it.
"Wednesday's voting on FDI in retail in the Parliament will be keenly eyed by the investors," India Forex Advisors Founder & CEO Abhishek Goenka said.