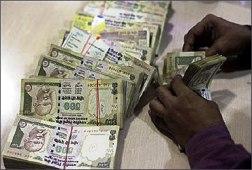 The rupee appreciated for the second straight day to close 14 paise higher at 54.54 on optimism that government would get Parliamentary approval to FDI in multi-brand retail, leading to big inflow of dollars.
Persistent overseas investments in stocks and sustained dollar sales also aided the rupee rise, forex dealers said.
At the Interbank Foreign Exchange (Forex) market, the local currency commenced higher at 54.60 a dollar from last close of 54.68.
FIIs pumped in nearly Rs 880 crore (Rs 8.8 billion) in stocks today as per provisional stock exchange data, helping the rupee rise.
Estimates show the country could receive inflows of around $3-5 billion over the next two years if FDI in multi-brand retail is allowed, traders said.
Later, rupee moved sideways in a narrow range between 54.44 and 54.64 before finishing at 54.54 -- a gain of 14 paise or 0.26 per cent. On Tuesday, it rose by 9 paise or 0.16 per cent.
The rupee's gains were capped by the dollar index recovering its early losses and trading nearly 0.10 per cent up against a basket of six major currencies.
New York crude oil was quoting below $89 a barrel in Europe today.
"Persistent capital inflows by foreign funds into equity market helped boost the Indian currency's value against the dollar. Gains were also supported by the voting to be held at Indian parliament on FDI in the retail sector," said Abhishek Goenka, Founder and CEO, India Forex Advisors.
Rising for the second day, the BSE benchmark Sensex today gained about 44 points to close at a new 19-month high on hopes government would get the Parliament approval to the decision allowing FDI in multi-brand retail.
However, if the outcome of the voting goes against the expectations of the government, then we may see rupee drifting to 55.00 levels again, Goenka said.
Pramit Brahmbhatt, CEO, Alpari Financial Services (India) said: "Expectations of government's push for policy reforms continued to support gains in the rupee today."
Meanwhile, the premium for the forward dollar ended better on fresh payments from banks and corporates.
The benchmark six-month forward dollar premium payable in May rose to 171-172 paise from last close of 169-171 paise.
Far-forward contracts maturing in November also firmed up to 317-1/2-319-1/2 paise from 316-318 paise. The RBI has fixed the reference rate for the US dollar at 54.5690 and for euro at 71.5290.
The rupee recovered against the pound sterling to 87.85 from Tuesday's close of 88.12 and also turned positive to end at 71.39 per euro from 71.49.
It improved further against the Japanese yen to 66.36 per 100 yen from previous close of 66.67.