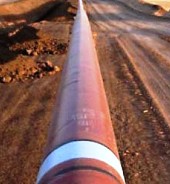 The Cabinet may this week decide on raising natural gas prices for the first time more than three years, a move which will earn the government over Rs 3,000 crore (Rs 30 billion) more in taxes and other levies annually.

The Cabinet Committee on Economic Affairs may this week decide to price all domestically produced natural gas as per a formula suggested by a panel headed by Prime Minister's economic advisor C Rangarajan.

The price as per this formula currently comes to $6.775 per million British thermal unit, 60 per cent more than current rate of $4.2 per mmBtu.

"Contrary to popular perception, we believe the government will benefit financially from an increase in the gas price," Deutsche Bank said in a research note.

The new price will apply to all producers with state-owned firms getting the new rates from current year itself while Reliance Industries would benefit from April next year.

Deutsche Bank estimated that 55 per cent of the increase in price of regulated gas (produced by state-owned firms like ONGC) flows back to the government in the form of royalty, tax and dividends.

"We also estimate that every $1 per mmBtu increase in APM gas price adds Rs 1,500 to the national exchequer,"
it said. Based on the Rangarajan formula, it expected the average annual price to be close to $8 per mmBtu from FY15.
"Given the government's aim to raise domestic gas production and the fact that incremental deepwater gas production in India is unviable below $6.5 per mmBtu, we believe a gas price below $7 per mmBtu beyond FY15 will not serve the government's purpose," it said.
In case gas prices are not raised, Deutsche Bank said it will discourage investments in hydrocarbon exploration and India will miss out on incremental 40 million standard cubic metres per day of peak gas production over the next six years.
While an increase in gas price would bring additional revenues to the government, it will also result in steep rise in electricity tariff, urea manufacturing costs as well as CNG rates.
Power Ministry estimates that the move will result in more than doubling of electricity tariff and a whopping Rs 46,360 crore (Rs 463.6 billion) per annum impact on power plants.
Power cost will jump to Rs 6.40 per unit at the new gas rates from Rs 2.93 per unit currently.
The hike in natural gas price by $1 would result in Rs 3,155 crore (Rs 31.55 billion) per annum hit on fertiliser plants for producing 23 million tonnes of urea this fiscal and Rs 4,144 crore a year for 32 million tonnes of urea production from 2017-18, sources added.