'My mission is to bring the world together by the game of basketball.'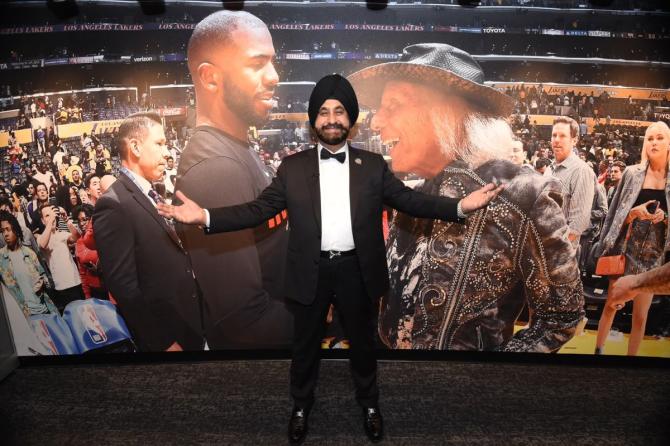 He ain't Michael Jordan or Kobe Bryant nor LeBron James or Steph Curry.
He doesn't even play basketball. Yet, his name features in a shrine for all time NBA greats.
Sporting a turban and a beard, a proud immigrant Indian in Canada, he is amongst the first inductees in the Super Fan gallery at the famous Naismith Memorial Hall of Fame in Springfield, Massachusetts.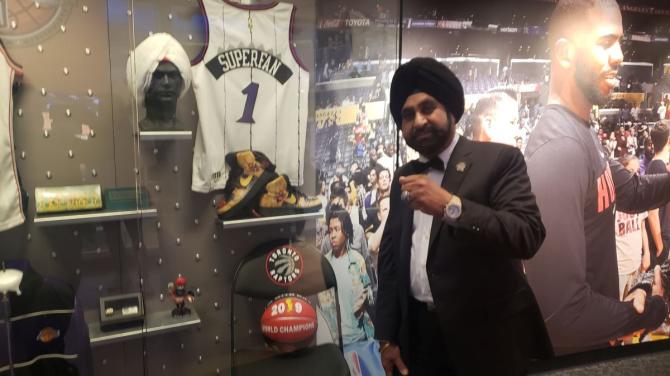 The Toronto Raptors is the only Canadian basketball team based that competes in the NBA (National Basketball Association for someone who has just landed on the planet from Mars).
The Raptors won its first Championship, beating the Golden Warriors, in 2019.
The Raptors Super Fan -- Nav Bhatia, the most visible, aggressive, proudest and loudest supporter of his home team -- hasn't missed a home game in almost 20 years.
Nav's accomplishments are not just limited to basketball. His achievements pan out like a Bollywood script.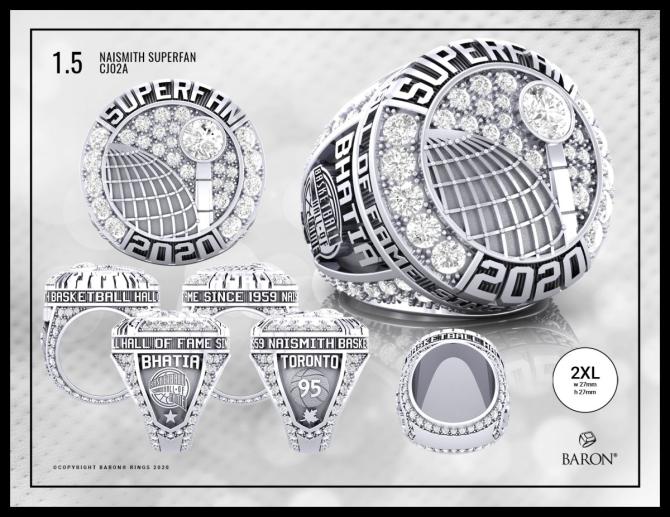 Traumatised by the anti-Sikh riots after Indira Gandhi's assassination in the autumn of 1984, Nav, an engineer by training, and wife Arvinder left India for Canada.
"The sense of insecurity as a Sikh during that time, thousands of my brethren were massacred, business and residential properties owned by Sikhs were being destroyed," he recalls in a 40-minute telephone conversation from his home in Toronto. "My father almost became a casualty of those killings when a burning tire was placed on his head."
Nav had a mechanical engineering degree, but life in the new country was tough.
A true believer in the dignity of labour, he did all kinds of jobs, encountered many hardships and discrimination before he secured a salesman's job at a Hyundai car dealership.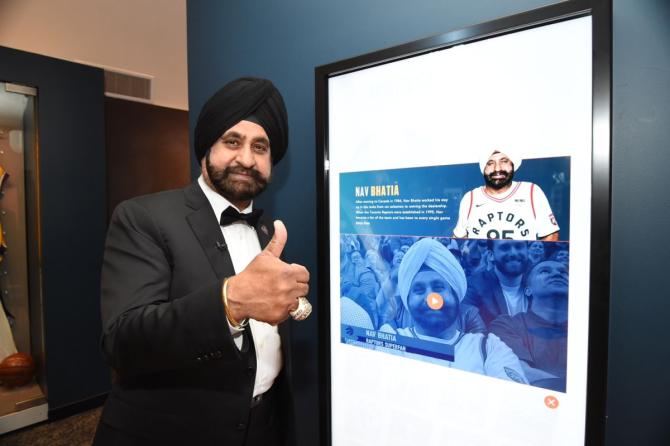 The first day on the job, he endured a barrage of insults due to the colour of his skin and the turban on his head.
Not letting any of this deter him, Nav soldiered on, honestly doing his job.
Blocking the insults, he put his head down and got to work with the best abilities he possessed -- Honesty, truthfulness and treating others as he would have liked to be treated himself.
In three months, he answered his name calling colleagues in the best possible way -- 127 cars sold, a record still unbroken.
"I survived and thrived because of my hard work and also, of course, by the grace of God," Nav tells Rediff.com's US Contributor Abhijit Masih last Saturday afternoon. "I did not consider this as discrimination or difficulties, I considered them as mere road bumps."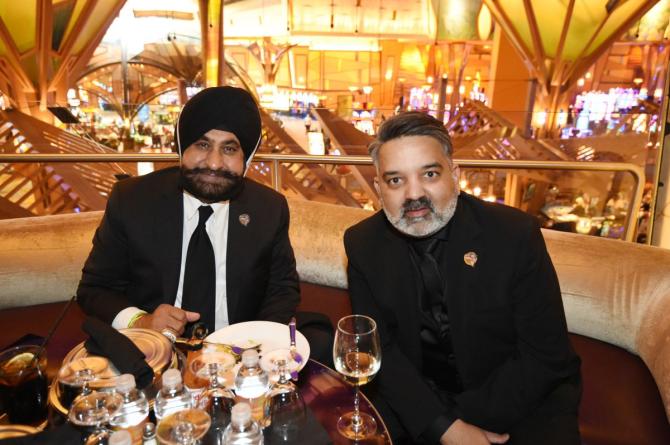 Thirty seven years later, Nav own five car dealerships, including the one where he first worked as a salesman, and employs around 270 people.
From his early experiences as an Indian immigrant in a foreign country, the lesson that he wants to impart to Indians in similar situations is "get out of their comfort zones; do not just limit your social circle to your kind; meet and mingle with people who are not Indian."
"Voice your views and share their culture and most importantly, be passionate about your work. Work hard and you will find success."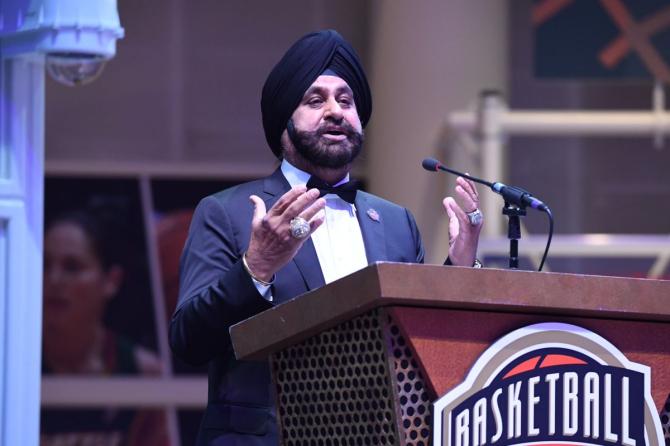 "I used to do three things -- work, work and work, I was a boring guy, working 100 hours a week, he remembers."
To remedy this dreary existence, Nav bought season tickets to Toronto Raptors games in 1995.
The tickets inspired a lifelong passion.
In basketball, he saw an opportunity to correct the wrongs which he had to endure.
By being the most vociferous fan courtside, he ensured that a turban-clad Sikh was noticed by the community. He was also successful in getting a more diverse mix of people to attend Raptors home games in Toronto.
As a guy with a turban, it is unimaginable to think that he, as a fan, would be awarded the Champions Ring, an honour only players receive.
Or to be the grand marshal at the Raptors's Championship victory parade in 2019.
And now, the honour of being inducted into the NBA Hall of Fame.
"All this was possible because of the integrated passion that is shared by all fans irrespective of class, colour, gender or religion," he says.
It was an unbelievable honour for Nav to be inducted in to the NBA Hall of Fame on May 16, 2021.
The event had him jostling shoulders with the likes of Shaq O'Neal, Chris Webber, Chris Bosh and a galaxy of on court and off court stars.
The most humbling moment, of course, was to have his turban adorning the Super Fan gallery at the most hallowed building in basketball.
WATCH: Nav Bhatia's acceptance speech at the NBA event.
As a father to a daughter, the most important project of his life and something that brings him the maximum satisfaction is the Rise Up Daughters of India campaign.
Moved by the rising number of girls dropping out of school due to the absence of toilets, Nav has contributed more than $300,000 for the construction of toilets in schools in the Faridkot region of Punjab.
His next project is to build toilets and basketball courts in Alwar with a commitment of half a million dollars.
Apart from building basketball courts, Nav also plans to bring NBA stars to India, to promote the sport in the country where he was born and spent the first 33 years of his life.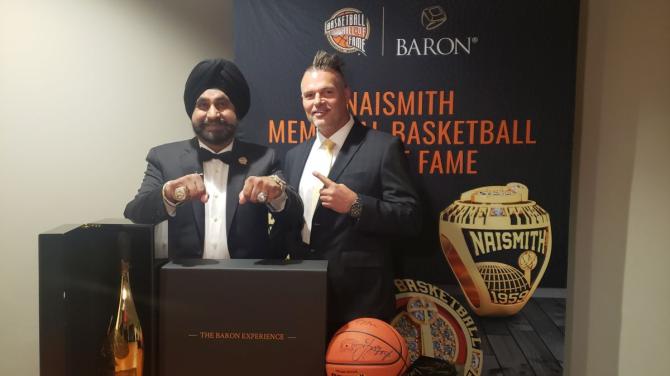 Though a hugely popular figure at Raptor games, the Super Fan's passion has not won him points at home with wife Arvinder and daughter Tia, an actress..
He has been guilty of forgetting wedding anniversaries if there was a Raptors home game scheduled for that day.
"Hate is not the solution, love is. As a Sikh our first morning prayer is Nanak Naam Chardi Kala, teraa bhane sarbat da bhala (pray for blessings and peace for everyone)."
"My mission is to bring the world together by the game of basketball," says Nav, who turns 70 on July 9. "That is my mission and that is what I will continue doing till my last breath."
Feature Presentation: Aslam Hunani/Rediff.com