The Lawn Tennis Association (LTA) has gone high-tech in its bid to end Britain's dearth of world class tennis players.
The country that hosts the most famous grasscourt tournament, Wimbledon, has only two players ranked in the men's top 100 -- Andy Murray and Tim Henman -- and no women.
With Wimbledon starting next week, tennis will come under its yearly spotlight in Britain. The country's hopes are likely to be pinned on world number eight Murray if he overcomes a wrist injury but in another leafy suburb of south west London, the LTA is attempting to groom the champions of the future.
The 32-million-pound National Tennis Centre (NTC) opened in March is aiming to provide everything necessary to aspiring world number ones on a single site.
The futuristic glass building is tucked away in pleasant grounds in Roehampton. The centre has 22 courts, including six indoors, high-performance training facilities, accommodation, a sports science centre and even a special room for players to power nap.
"It's an unbelievable facility," Fed Cup captain and head coach of women's tennis, Nigel Sears said. "We're very privileged to have it.
"It's probably one of the best in the world and in terms of resources that we now have at our disposal, it's never been like this before. We're fortunate to be able to tap into a brand new sports science department and all that brings with it."
MAKE THE GRADE
Britain has not had a Grand Slam champion since Virginia Wade won Wimbledon in 1977 but Sears cautioned against expecting immediate results from the NTC, saying the LTA is targeting promising 15, 16 and 17-year-olds in the hope they would eventually make the grade on tour.
"We're already seeing some short-term results but the British public aren't going to respond until they see players inside 100 and getting direct Grand Slam acceptance," he said.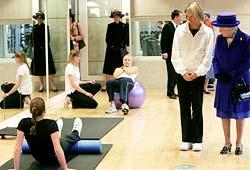 "I'd like to feel that things were really working in the right direction in ranking terms within three to five years."
One of those youngsters starting to see the benefits of having the NTC at their disposal is Amanda Elliott, who reached her first final last month at a $10,000 tournament in Bournemouth on the south coast of England.
"It's unbelievable ... There's everything you need there -- all the medical staff, great food, courts. You can't ask for any more really," said the 17-year-old, ranked 863 in the world.
"It certainly makes it a lot easier to do what you need to during the day. I'm very happy there and I'm very lucky to be there really."
Without the NTC, Elliott might have followed in the footsteps of Murray -- who moved to Barcelona when he was 15 for coaching -- and headed abroad.
"I don't know if it would have been any better than what I could've got if the NTC wasn't there, but I'd have certainly looked into it and just seen what was best for me. But at the moment the NTC is the best thing," said Elliott, who hopes to break into the top 500 by the end of the year. Like Elliott, Murray now uses the amenities at the centre.
CRAMPED FACILITIES
Before the NTC opened, Queen's Club in London hosted the LTA's International Training Centre but the cramped facilities there were far below the standard of those found in countries like the United States.
"I was pretty much based at Queen's for the last five or six years of my career and it doesn't compare to this," said former British Davis Cup player Arvind Parmar, who now coaches a group at the NTC.
"This is amazing and from a completely selfish viewpoint, you look back and think if this was 10 years ago it would have been amazing for me.
"It's nice to have everything here and not have to worry about making appointments at other places. It's all under one roof," added Parmar, who had a top ranking of 137 in the world.
"With a centre of this quality, everything's here for them. If they're good enough and have the ambition to become good professionals then this is one of the places to be in the world. They have world class coaches here and world class facilities."
Sears, a former coach to Slovak Daniela Hantuchova, is clearly excited about the prospect of putting British tennis back on the map with the help of the NTC and other high performance centres around the country.
"It's a facility that British tennis taps into and it's the flagship of performance tennis in this country, but it's not the only place, it's just that's where our main investment is," he said.
"It's a wonderful opportunity and it's nice to be involved, backing British tennis with a clean sheet at a time of change and with the opportunity to try and make a difference."
(Reuters)